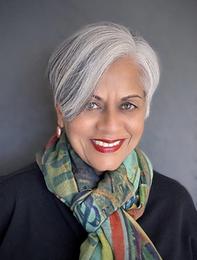 (photo: Garry Bailey)
Alka Joshi is the author of the Jaipur Trilogy, which includes The Henna Artist and The Secret Keeper of Jaipur. Born in India, she has lived in the U.S. for many years. Before turning to fiction, she worked in advertising and PR for three decades. The Perfumist of Paris (Mira, March 28, 2023), the third book in the trilogy, focuses on Radha, the younger sister of eponymous henna artist Lakshmi, as she balances motherhood, marriage and a career as a perfumer in 1970s Paris.
What was the inspiration for The Perfumist of Paris? We've met Radha in two previous books, but how did you decide to give her her own story?
This trilogy evolved over time. I didn't know I was writing a trilogy at first! Malik [Lakshmi's assistant] was a character who just kept bugging me. There was a lot of his story that got cut in The Henna Artist, and I hated doing that to him. I had pages and scenes that never made it into the book, so I decided to tell his story, and that became The Secret Keeper of Jaipur.
Meanwhile, Radha [Lakshmi's younger sister] graduated from boarding school and married a Parisian. When I finished The Secret Keeper of Jaipur, I thought: I need to say something about Radha and where she went. Her career had also advanced during that period. That's when the third book was born.
Radha's character is fascinated by perfume. How does this fascination--which ultimately leads to her career--connect her both to her home in India and her new home in Paris?
I had to start researching perfume and where it's produced, where the ingredients come from, and so many of them come from India! I was so pleasantly surprised by that. Sandalwood, jasmine, spices, hundred-petal rose–all these ingredients come from that part of the world. I love research because I find out all kinds of interesting things.
I still wanted Radha to connect with Lakshmi somehow in this third book, but what does Lakshmi know about perfume? Not much. But the courtesans, who helped Lakshmi figure out how to decorate bodies with henna, know all about perfume. These courtesans in India had accumulated so much wealth over time because of their wealthy patrons, and they helped finance the independence movement in India, beginning with the mutiny of 1857. The British never forgot the courtesans' involvement, so the British began taxing them heavily so they wouldn't have that kind of wealth. I also found out that in the courtesans' world, it's their daughters who inherit everything. Their sons have to go outside of the haveli to make their own lives.
We see Radha struggling to balance career and motherhood in a way that feels very contemporary. What has changed for women in this regard since the 1970s?
I know so many people who are dealing with this issue. One of the things I'm trying to say in this book is--it's been five decades! Why are we still struggling with this? Why do we still have women who feel torn between motherhood and career? Women carry most of the emotional burden of this problem. The 1960s and early '70s were the time when there was a lot of revolution happening--first here in the States and then in Europe. Women were going out into the workplace, abandoning this idea of having to stay home. They started realizing: it's not fair to me as a person to make me half of a person.
Radha must go back to India to find the ingredients and scents she wants to add to her perfume. Can you tell us about your research on these ingredients?
I went to Paris, I went to Lisbon, I went to Grasse [in France]. I talked to a lot of master perfumers. I looked on Airbnb for the apartment I had envisioned for Radha and Pierre with their daughters. I wanted wood floors, high beamed ceilings, tall windows. I found it! It has all this Le Corbusier furniture in it, and I lived there for two weeks. So I knew: it's this far to Notre Dame, which is where they go to look at the gargoyles, and it's this far to the Eiffel Tower, and this is where the girls are going to school. I think that kind of detail immerses your readers in a kind of travelogue. Fun fact: my first trip to Paris was in 1974--the year that the story is set.
Although Radha often feels like a loner, the novel highlights her deep and complex relationships with other women: Lakshmi, the courtesans, her friend Mathilde, her mother-in-law, Florence, her boss Delphine. In what ways do Radha's relationships with other women help her discover who she truly is?
I think women do have very complicated relationships, much more complicated than men. I think women are far more selective in their friendships, and little things their female friends do can impact them. They're very cognizant of everything a female friend does and says. Radha feels one way about Florence until she learns the full story, and then she feels a different way and feels a kinship with her. With Delphine, Radha needed a mentor to help her get up through the ranks--men were not going to help her. Delphine does not spend time worrying about what other people think. And Delphine is so private that we don't know much about her until the very end. Mathilde is very interesting because she has everything we think a woman needs: money, free time, independence. At the point where Mathilde really needs Radha to help her, Radha is not there for her, and there's a lot of guilt there.
Radha's relationship with Lakshmi has also changed over the years: they are more sisters and friends than they were. You find out that Radha has been holding onto a lot of pain. Even with someone that we're really close to, we can be holding onto something that has caused us a lot of pain.
As in all of my books, this is about women finding themselves: finding their agency in this world, finding their power, and also determining what part of their relationships are serving them, and which parts are not. We all get stuck in a way of being, and it's something that Radha has to work through. --Katie Noah Gibson