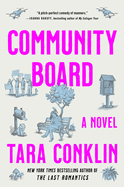 A world crumbles, and practically everything that can go wrong does so in Community Board, a bittersweet, laugh-out-loud novel by Tara Conklin, whose cleverness will warm the hearts of readers.
When 29-year-old Darcy Clipper's husband announces that he's leaving her for his skydiving instructor, Darcy is left stunned, bereft and aimless. She is granted a sabbatical from her job as an actuary near Boston and heads to her old hometown of Murbridge, Mass. However, when she arrives at her parents' house, she discovers that carefree Mom and Dad have set off to Arizona--on a trial run at a retirement community--without even telling her.
Left to her own devices, Darcy hunkers down, nursing her wounds and perusing anonymous posts on a virtual community bulletin board. When a good-natured, nosy neighbor starts leaving cookies for Darcy in Tupperware containers she wants back and then a potbellied pig, a pet gone AWOL, shows up in Darcy's backyard, she starts to emerge from her self-imposed isolation.
Conklin (The House Girl; The Last Romantics) has shown tremendous range in the empathies of her fiction. Community Board is a crafty send-up about one woman struggling to come to terms with--and rebuild--her battered self-esteem over four seasons in the changing landscape of a small town. Darcy may seem a poor soul, but her sharp, bright, enlightened mind--and her snarky, lovably endearing narrative voice, supplemented with zany e-mails and community posts--will easily win the affection of readers rooting wholeheartedly for her reinvention. --Kathleen Gerard, blogger at Reading Between the Lines