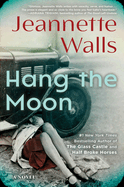 Motherless Sallie Kincaid, cast out of the family's Big House at eight years old, hopes to regain her Daddy's affection but never imagined she'd be queen of anything in Duke Kincaid's Claiborne County. In the fast-paced historical novel Hang the Moon by Jeannette Walls (The Glass Castle; The Silver Star), Sallie confronts the odds, fighting to earn the respect of a corner of Virginia defined by Kincaid power.
After nine years, Duke fetches Sallie from her hardscrabble life with her maiden aunt. It's 1918, and the wife who'd shunned Sallie has died of influenza. Sallie, feisty and wise at 17, is a young woman from the hollows in a "white-gloved" world. Duke respects that she will get her "hands dirty working" and brings her into his business at the Emporium, but after his sudden death she's marginalized in the messy hierarchies of the Kincaid family. Then, it's Prohibition, and the county's economy relies on moonshine whiskey. Sallie embraces the Duke's philosophy that "legal and illegal and right and wrong don't always line up."
Finally claiming her Daddy's big swivel chair in the Emporium, she tells beleaguered citizens: "I am on your side. I will fight for you. You can trust me." Sallie acts on behalf of the "stillers," challenging violent Prohibition deputies and earning her the title "Queen of the Kincaid Rumrunners." Now a fierce businesswoman in a lawless world, she is also pained to learn shocking secrets about her Kincaid heritage. Rich Southern dialect, colorful supporting characters and historic period details enhance this rousing novel of a sympathetic woman, a Kincaid "queen" boldly continuing the legacy of the Duke. --Cheryl McKeon, Book House of Stuyvesant Plaza, Albany, N.Y.