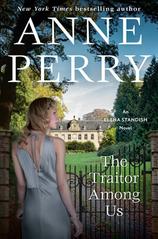 Anne Perry, author of more than 100 novels that have sold more than 26 million copies worldwide, a "crime writer with her own dark tale," as the New York Times put it, died on April 10 at age 84. Born in London, England, Perry spent part of her childhood in New Zealand, where at age 15, then named Juliet Hulme, she was at the center of a grisly homicide. She and her best friend murdered the best friend's mother in an attempt somehow to keep the girls together as Perry's parents were separating and about to send Perry abroad. The two went to prison for five years, were given new identities and instructed never to meet again under penalty of life imprisonment.

Perry's work included two suspense series set in Victorian England: the William Monk novels and the Charlotte and Thomas Pitt novels. She also wrote a series of books featuring Charlotte and Thomas Pitt's son, Daniel, as well as the Elena Standish series, set during World War I, 19 Christmas holiday novellas, a historical novel, The Sheen on the Silk, set in the Byzantine Empire, and short stories. Her most recent novel is The Traitor Among Us, the fifth installment in the Elena Standish series, to be published in September.

"Perry's criminal past was revealed publicly in the summer of 1994 when word leaked out that Peter Jackson would recount her story in his forthcoming film Heavenly Creatures, starring Kate Winslet as the smugly confident teenage girl who later changed her name to Anne Perry and Melanie Lynskey as her sullen and insecure classmate Pauline," the Times wrote. When her past became public, Perry acknowledged the crime, saying "she had been afraid that if she did not go along with the murder plan, her distraught friend might kill herself."

Ballantine Books, her publisher for more than two decades, said her work is noted for "memorable characters, historical accuracy, and exploration of social and ethical issues." In 2000, she won an Edgar Award for her short story "Heroes." She also won the Premio de Honor Aragón Negro in 2015, was selected by the Times of London as one of the 20th century's 100 Masters of Crime, and twice was guest of honor at Bouchercon.

Perry's agents Donald Maass and Meg Davis said, "Anne was a loyal and loving friend, and her writing was driven by her fierce commitment to raising awareness around social injustice. Many readers have been moved by her empathy for people backed into impossible situations or overwhelmed by the difficulties of life. Her characters inspired much love among her fans and comforted many readers who were going through tough times themselves."

In Interiors, a 2009 documentary about Perry, she said, "In a sense it's not a matter--at the end--of judging. I did this much good and that much bad. Which is the greater?... It's who you are when time's up that matters."