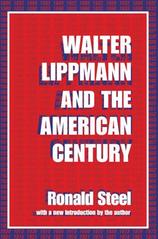 Historian Ronald Steel, "who derided America's Cold War foreign policies as a succession of misguided adventures and wrote a definitive biography of Walter Lippmann, the dean of 20th-century foreign policy realism," died May 7 at age 92, the New York Times reported. "In the high-stakes game of global chess, Mr. Steel infuriated presidents, secretaries of state and other national leaders with astringent yet sparkling essays," which filled seven books and hundreds of commentaries in the New Republic, the New York Times, and the New York Review of Books. He also taught at Yale, Princeton, the University of Southern California, and other universities.

His best-known book, Walter Lippmann and the American Century (1980), was one of the most discussed political biographies of its time and a bestseller. It won the National Book Critics Circle Award for general nonfiction, Columbia University's Bancroft Prize, and the Los Angeles Times Book Prize for History; and was a finalist for the National Book Award and the 1981 Pulitzer Prize for biography. Its critical reception was divided, largely along political lines.

Steel insisted that Washington's strategy for dealing with Moscow--the postwar "containment doctrine" that defined American policy toward the Soviet Union for four decades--had been "wasteful and deluded, spawning costly wars in Korea and Vietnam and obsessions with national security that left Americans no more secure, prosperous or free than the rest of the world," the Times wrote.

In his first book, The End of the Alliance (1964), Steel argued that the North Atlantic Treaty Organization was already obsolete five years after its birth in 1949 and should be dissolved. In Pax Americana (1967), he warned of an obsession with "the Communist menace." The historian Henry Steele Commager called the book "the most persuasive critique of American foreign policy over the last 20 years."

Even after the Soviet Union collapsed in 1991, Steel contended in Temptations of a Superpower (1995) that American foreign policy remained incoherent because, he wrote, it was based on activism by presidents promoting their own political interests and causes, and because the U.S. still viewed itself as a global policeman, determined to guarantee stability around the world. Steel's last book, In Love with Night: The American Romance with Robert Kennedy (2000), attacked what he called myths about the senator that arose after his assassination in Los Angeles during the 1968 presidential primaries.

Steel kept an apartment in Washington for years, and rarely visited his hometown in Illinois. "I lived in New York and Paris and London, and in a dozen other places across the globe that for a time I called home," he told World Authors. "All those places shaped me in one way or another. But somewhere along the way I also stopped trying to escape from the small town. Confinement, I've come to think, lies more in the head than in the place." Walter Lippmann and the American Century is available from Routledge.