Ah, spring. In my spring, here in the wet Northwest, peony stalks are rocketing out of the ground on schedule, and buds abound in my neighborhood. But persistent cold nights killed the produce I preemptively planted in the optimism of a one-off sunny afternoon. Cue the supermarket, where rhubarb now rules, the asparagus is on point, and the bounty of fresh spring produce colors my tastebuds, and my newly restocked collection of cookbooks.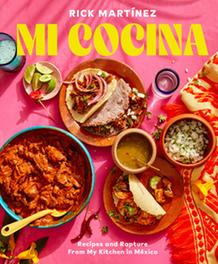 For warm flavors from south of the United States border, I turn to Mi Cocina: Recipes and Rapture from My Kitchen in Mexico: A Cookbook by Rick Martínez (Clarkson Potter, $35). A beloved chef on YouTube (the Food52 channel and Pruébalo in the Babish Culinary Universe), Martínez has helped scores of us cook our way through the pandemic and beyond. Get a vibrant, verdant greens fix with tender herb-laden Arroz Verde, and please pescatarians with buttery shrimp-filled Tacos Gobernador or Tacos Capeados: corn-fried fish tacos with papaya, tomatillo, and a spicy cream sauce worth making a double batch of for dipping, spreading, and surreptitiously sneaking straight spoonfuls of.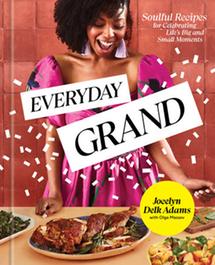 Another new favorite: Grandbaby Cakes blogger Jocelyn Delk Adams's Everyday Grand: Soulful Recipes for Celebrating Life's Big and Small Moments: A Cookbook (written with Olga Massov; Clarkson Potter, $32.50). Adams's philosophy for life radiates positivity: "Acing a test, getting that job offer, finally finishing a book you've been reading for a while should be just as much cause for joy as a wedding anniversary or holiday. We should celebrate our real lives." Especially delicious recipes relayed in Adams's buoyant voice include Crabby Hush Puppies, Mango Jerk Jackfruit Tacos, Peri-Peri Ginger Beer Chicken, and Purple Rain Sweet Potato Swirl Cheesecake.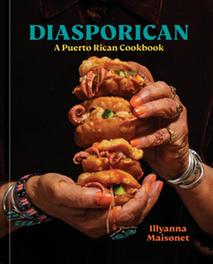 Also worth celebrating: the powerful Diasporican: A Puerto Rican Cookbook by Illyanna Maisonet (Ten Speed, $32.50). The first Puerto Rican newspaper food columnist in the United States, Maisonet delivers a thoughtfully wrought book honoring the myriad and complex flavors of the Puerto Rican stateside diaspora. Her fantastic Papas Rellenas rely on a convenient surprise: instant potato flakes, pairing beautifully with Mami's Mushroom Chicken or Nana's Oven-Barbecued Ribs. To sip, try the silky classic Coquito or Roasted Piña Colada.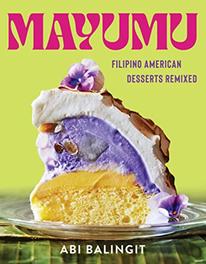 For sweet-tooth indulgence, Mayumu: Filipino American Desserts Remixed by The Dusky Kitchen baking blogger Abi Balingit (Harvest, $40). Balingit's parents were born in the Philippines, but she grew up in California and now hails from New York City. Her approach to sweets blends traditional Filipino flavors with elements of cuisines from the variety of cultures represented everywhere she's lived. Standouts include the Matcha Pastillas, Yema Buckeyes, and Lemon Sunshine Uraro Cookies. And for an unforgettable twist on a classic, try the Adobo Chocolate Chip Cookies--complex and caramelly from brown butter, bay leaves, soy sauce, and vinegar, dusted with pink peppercorns.
As for my own garden? My lettuce and peas are toast. But I'll try again soon, maybe as soon as I finish prepping another round of Balingit's Adobo Chocolate Chip Cookies. This time I'll freeze them in pre-rolled balls to cook on demand--as a reward for, say, digging a few new holes in the garden once the sun returns. --Katie Weed