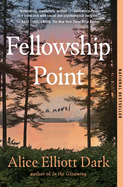 A grand literary novel destined to dazzle readers with an intriguing combination of social drama, satiric wit, and moral gravity, Fellowship Point by Alice Elliott Dark focuses on two dowagers navigating the contours of their eight-decades-long friendship and their roles as stewards of a beloved wildlife sanctuary on the coast of Maine. The 145-acre property serves as the majestic backdrop of Dark's (Think of England) second novel; its history and its future control the overarching theme of this intricately crafted story.
Fellowship Point--a Shelf Awareness Best Book of the Year--opens in the winter of 2000 at Agnes Lee's Philadelphia apartment. She is the celebrated author of a children's adventure book series and a series of adult novels written under a pseudonym. Reeling from her latest cancer diagnosis, Agnes is determined to resolve the future of "the Point" before her death.
Acquired generations ago by a Philadelphia Quaker merchant, the Point is an "Edenically wild" summer retreat. It is presently under the control of Agnes and her best friend Polly Wister, as well as Agnes's cousin Archie Lee. Agnes and Polly want to donate the Point to a land trust. Archie prefers to sell it to developers to build a resort. Polly's eldest son, James, a banker who stands to inherit his mother's share, agrees with Archie. As the plot plays out, the question of what to do becomes miraculously clear, leading to a resolution as unexpected as it is simple.
Fellowship Point revels in overlapping subplots and a cast of superbly drawn, memorable characters wrestling with delicate questions of the heart as well as social issues of property rights and class divisions. As the Point's future is settled, it is clear that Dark's octogenarian heroines will have a significant and lasting impact on the lives of all who come after them. --Shahina Piyarali