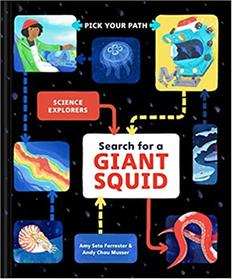 Amy Seto Forrester is a youth services supervisor at the Eugene Public Library, Ore., who is passionate about diverse, engaging books for beginning readers. She is co-founder and co-host of the Guessing Geisel blog.
Andy Chou Musser is the author/illustrator of A Home Under the Stars and co-author and co-illustrator, with Ben Clanton, of Ploof.
Forrester and Musser are siblings and the author/illustrator team behind Search for a Giant Squid: Pick Your Path (Chronicle, $14.99), the first title in the nonfiction series Science Explorers. Here they discuss their shared passion for supporting early literacy, how a book like theirs gets made, and what it's like to work with your sibling.
Would you tell our readers what Search for a Giant Squid is about?
Forrester: Search for a Giant Squid is a nonfiction, choose-your-own-adventure-style book for transitional readers. It's the first in the Science Explorers series.
Musser: Readers step into the role of teuthologist, a scientist who studies giant squid. The first section gives kids information about giant squid, marine biology, how to prepare for an expedition, and more. Then our new teuthologists pick a submersible, a pilot, and a place to dive. Of course, the goal is to find the giant squid, but along the way you might also find a bioluminescent creature or a shipwreck. You might get stuck in a lost fishing net or use explosive bolts to free your submersible from the muddy ocean floor. There are 12 different endings.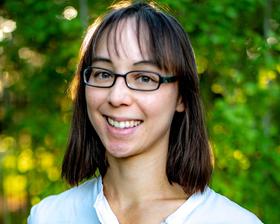 Amy Seto Forrester
How did you decide to work together?
Forrester: I was at an American Library Association conference talking with an editor about the kinds of beginning reader books I wanted to see on the shelves. She knew my brother was an illustrator and asked if we had ever thought about making books together. I floated the idea to Andy, and we decided to tinker around with some ideas.
Musser: It's funny, even though we had been homeschooled together and had both found our way to working in kid lit, I had never thought about making books with Amy. Once we dove in and started working, it was really fun.
The book has an unusual format for a nonfiction title--whose idea was it to set it up as a "pick your path"-style adventure?
Musser: Amy came up with the idea for the concept and format! I didn't really understand her idea until she showed me an early prototype version of the book, and then I was very excited. When Amy and I started writing books together, we talked a lot about the books we loved as kids, and the books we felt were missing from shelves, and her idea for Search for a Giant Squid felt like it was at the intersection of all those things.
Forrester: We've always been fans of interactive and puzzle books, and we wanted to make a book that allowed kids to make the decisions and to have the opportunity to try again if things don't go the way they'd planned.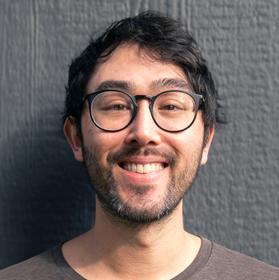 Andy Chou Musser
Musser: As far as how the book works, I think of it a bit like playing a video game.
Forrester: The reader is the protagonist and in charge of the expedition. They get advice from crew members on their team, but it's up to readers to decide where to explore, which animals to follow, and how to handle obstacles.
Did you two collaborate as you wrote and illustrated the book?
Forrester: We collaborated so much! When we're brainstorming, we try to think about the book as a whole, and we both share ideas for the words and pictures, and build on each other's suggestions.
Musser: We're each responsible for our pieces, and I guess you could say we have final veto powers, but we really welcome ideas and edits from each other.
Forrester: For this series, I've been the one to do the initial research, select the focal point species, determine the expedition sites, and interview scientists. I'll write up a draft and then share it with Andy and he'll leave me comments and let me know what's working/not working. Our editor, Victoria Rock, joins the process, and we'll do this a few more times before Andy will start laying out the dummy with the art director, Sara Gillingham. This helps us see how much text is on a page, how the page turns will work, which scenes need to be two-page spreads, etc.
Musser: Once the manuscript has been fact checked, it's time for me to work toward final illustrations using a lot of research and photo reference. Amy and I continue wordsmithing because our goal is always to convey information with developing readers in mind.
How did you do research for this?
Forrester: There were three phases of research for me. The first was to gobble up information about giant squids and deep-sea ocean exploration. Next, I interviewed a lot of scientists and submersible specialists. I asked questions like: "What can go wrong on a dive?" and "How do you poop in a submersible?" They shared photo reference and research, read drafts, and provided feedback. The last phase of research for me was going back and triple-checking all the details, and helping Andy to find photo references, which turned out to be tricky at times!
Musser: Yes, finding photo references proved to be a much bigger undertaking than I expected! Many of the animals I illustrated in the book have only been encountered by scientists a few times, so we had to dig deep to learn about them. Luckily, we found databases that allowed us to double check the photos we found and make sure the animals had been spotted in specific locations and ocean depths that would make sense for our story.
How are you hoping kids will interact with this book?
Forrester: Overall, we really hope that readers engage with this book and this series in a way that makes them wonder, question, and explore. I spend a lot of my time as a youth services librarian thinking about how to curate library spaces, programs, and collections in a way that invites exploration, autonomy, and sparks curiosity. I'm interested in the intersection between curiosity and intrinsic motivation. That's why I find interactive books--and pick your path books in particular--so enticing.
Musser: Including a lot of different types of representation is especially important to us. We hope that kids can say, "That scientist looks like me! I could be a scientist!" As siblings who identify as mixed-race Chinese American, we know firsthand what it's like not to see ourselves reflected in books. Also, I hope the unusual format of this book inspires kids to experiment with writing and illustrating their own unique stories.
And we're excited to currently be working on the second book in the Science Explorers series, which is all about fungi! Can't wait to share more soon. --Siân Gaetano, children's and YA editor, Shelf Awareness