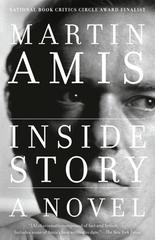 Martin Amis, "whose caustic, erudite and bleakly comic novels redefined British fiction in the 1980s and '90s with their sharp appraisal of tabloid culture and consumer excess, and whose private life made him tabloid fodder himself," died May 19 at age 73, the New York Times reported. Amis published 15 novels, a well-regarded memoir, works of nonfiction, and collections of essays and short stories. He is best known for his London trilogy of novels: Money: A Suicide Note (1985), London Fields (1990), and The Information (1995). Amis's most recent book was the "novelized autobiography" Inside Story (2020), which was shortlisted for the National Book Critics' Circle award for fiction.

Amis published his first novel, the Somerset Maugham Award-winning The Rachel Papers (1973), while working as an editorial assistant at the Times Literary Supplement. His darkly comic Dead Babies was published the following year. He worked as the literary editor of the New Statesman between 1977 and 1979, during which time he published his third novel, Success.

Amis's fame "built to a crescendo in the mid-1990s. One 'scandal,' as chronicled in English tabloids like the Daily Mail, followed the next," the Times noted, adding that in 1994, he dropped his longtime agent, Pat Kavanagh, for the rival agent Andrew Wylie, "whom the British press nicknamed 'the Jackal,' and a larger advance on a novel. The amount Mr. Amis wanted, a reported $794,500 (about $1.6 million today), was deemed unseemly." The same year, Amis made headlines after leaving his first wife, writer and journalist Antonia Phillips, for writer Isabel Fonseca; and for details about some expensive dental work, "although he saw it as an acute medical necessity."

Ultimately, however, it was about the writing. Amis's 1984 novel Money was named by Robert McCrum in the Guardian as among the 100 best novels written in English. McCrum called it a "zeitgeist book that remains one of the dominant novels of the 1980s.... The thrill of Money, which is turbo-charged with savage humor from first to last page, is Amis's prodigal delight in contemporary Anglo-American vernacular."

Amis was often compared with his Booker Prize-winning father, Kingsley Amis. Though Martin Amis made the 1991 Booker shortlist for Time's Arrow and was longlisted in 2003 for Yellow Dog, he never won. He once told BBC Radio 4 he wished he had put "greater distance" between himself and his father, with the "Amis franchise" becoming "something of a burden." He eventually wrote about his father's death in his memoir, Experience (2000).

In a statement, his publisher, Vintage Books, said: "For 40 years Martin Amis bestrode the world of U.K. publishing: first by defining what it meant to be a literary wunderkind by releasing his first novel at just 24; influencing a generation of prose stylists; and often summing up entire eras with his books, perhaps most notably with his classic novel, Money.... He was always unfailingly warm, kind and generous to those fortunate enough to work closely with him."