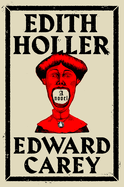 In Edith Holler, Edward Carey (The Swallowed Man; Little) spins a dark fairy tale about a precocious girl confined to her family's theater yet driven to reveal the truth behind the disappearance of children in the city she calls home.
At Edith's christening, an actress prophesied that the Holler Theatre in Norwich, England, would crumble if Edith ever stepped outside of it. Twelve-year-old Edith, imprisoned ever since, hasn't minded much: her imagination can take her anywhere. In 1901, she writes a play about the disappearance of children, which she alleges began with Maw Meg, a madwoman of legendary proportions who turns the children into a dubiously edible paste called Beetle Spread. When Edith's widowed father remarries, a fifth time, to Margaret Unthank of the Beetle Spread dynasty, Edith's play--and perhaps her very life--is imperiled.
There's a whiff of the Cinderella story here--with the evil stepmother making the heroine her cleaner--but the novel gradually edges toward horror. Deathwatch beetles and buckets of blood abound; ghosts and giant puppets join the ensemble as Edith travels the Norwich underworld and marshals the missing children to take revenge and preserve the theater against the twin threats of fire and takeover.
The plot may be overstuffed, but Carey pulls off a fantastic finale. Readers will be second-guessing until the final flourish. Driven by a strong central character and a supporting cast of grotesques (brought to life by Carey's black-and-white illustrations), this is reminiscent of Dahl, Dickens, and Shakespeare at their goriest. A wicked delight. --Rebecca Foster, freelance reviewer, proofreader and blogger at Bookish Beck