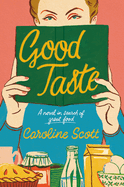 Good Taste, the delicious fifth novel by Caroline Scott (The Poppy Wife), delves into the complicated question of what defines a national cuisine, and serves up a feast of classic English dishes.
It is Yorkshire in 1932, and both Stella Douglas and her native England are feeling depressed. Stella's latest culinary biography hasn't sold well, despite positive reviews, so Stella expects bad news when she's summoned to London for a meeting with her publisher. Instead, she's commissioned to write a sweeping history of English food, a tome that will wave the flag of Englishness and remind housewives and farmers of their national identity. Stella dives into her assignment with gusto, driving up and down the country in search of quintessential dishes, but she finds a disappointing assortment of eels, potatoes, oatcakes, and gravy. Any spices or complex flavors--even apricots and tomatoes--have come to England from other shores. Should she include those outside influences? Meanwhile, Stella's widowed father has moved in unexpectedly, and her best friend, Michael, has gotten engaged to a socialite whom Stella can't stand.
As she struggles with the shape of her book and her life, Stella meets Freddie, a charming antiques dealer with his own ideas about Englishness. But though she enjoys Freddie's company, Stella must ultimately decide what she wants for her life--as a writer, a daughter, and a woman trying to forge her own path, literary and otherwise.
Charming, witty, and full of meditations on what defines true Englishness, Good Taste is a treat for Anglophiles and food lovers alike. --Katie Noah Gibson, blogger at Cakes, Tea and Dreams