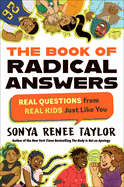 In The Book of Radical Answers, activist, author, and educator Sonya Renee Taylor speaks to tweens in a warm, intimate, and firm voice about relevant and consequential topics, providing easy-to-grasp context and useful tools for navigating life today.
Addressing body image, gender, racism, friendship, climate change, religion, and more, Taylor (The Body Is Not an Apology) shows obvious respect for her readers. She digs deeply into history, science, culture, and attitudes for her remarkably clear and informative answers to questions submitted by 10- to 14-year-olds. Taylor occasionally references her own life experiences and, in some cases, has outside experts weigh in. Each chapter is built on the underlying idea of the need for radical self-love, or the "energy that reminds us that we are already good enough, smart enough, awesome enough just as we are."
Spectacular endnotes include "10 Tools for Radical Self-Love" that boils down the book's content to some seriously straight-talking, common-sense advice. A comprehensive glossary--more than 20 pages--defines ableism, xenophobia, and everything (alphabetically) in between; and a list of resources gives readers more places to find support and knowledge. Twins illustrator Shannon Wright adds flair to the whole with spot art of diverse young people on every chapter heading.
Taylor's fiercely critical approach to the topics she covers balances gorgeously with the rock-solid support she offers young people, resulting in a book that brings hope and wisdom to readers at the perfect tweeny moment. Plant this book on the front desk of every library and book shop! --Emilie Coulter, freelance writer and editor