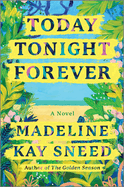 In her juicy second novel, Today Tonight Forever, Madeline Kay Sneed turns her insightful eye to the complicated dynamics at a destination wedding. Against the pastel-perfect backdrop of Watercolor, Fla., Sneed (The Golden Season) paints a nuanced portrait of family ties, gender politics and identities, love, grief, resentment, and faith--all before anyone declares "I do."
Bride and influencer Daisy is determined her wedding weekend will be perfect, though the shadows of her past keep sneaking in. Daisy's brother, Deacon, is prepared for (but still resentful of) the side-eye from their parents' friends after his gender transition. Bridesmaid Athena, Deacon's BFF, is reeling from her divorce, grieving her father, and not thrilled to be a bridesmaid in yet another straight wedding. And Athena's brother, Leo, who has loved Daisy all his life, must decide if his emotions will derail the day.
Sneed choreographs her narrative like Daisy's Instagram feed, giving readers a peek into multiple perspectives. She captures complex wedding-day dynamics, including two bridesmaids whose frenemy relationship keeps escalating; stressed-out mothers and interfaith questions; the presence of Athena's ex-wife with her new girlfriend; and a figure from Daisy's past. Many of Sneed's characters (who hail from Houston, Tex.) are or have been steeped in evangelical Christian values, and Sneed explores the ramifications of a faith system that can feel at once comforting and constricting.
With warmth, humor, and a thoroughly modern sensibility, Sneed guides her characters through treacherous waters, honoring their pain and ultimately giving them the chance to choose love in its varied forms. --Katie Noah Gibson, blogger at Cakes, Tea and Dreams