Week of Friday, May 26, 2023
Nana Kwame Adjei-Brenyah delivers a scathing condemnation of the penal system in the novel Chain Gang All-Stars, in which prisoners fight to the death to shorten their jail time. Bestselling Chinese author Murong Xuecun reports from inside Wuhan via eight testimonies in Deadly Quiet City, "an urgent chronicle of a pivotal period in world history, and a fierce indictment of the Chinese Communist Party." The team behind Her Right Foot, Dave Eggers and Shawn Harris, introduce, in The Eyes and the Impossible, an animal world that exists alongside our own for "a thought-provoking examination of identity, belonging, and freedom."
The Writer's Life spotlights a brother-sister team whose "pick-your-path" work of nonfiction, Search for a Giant Squid, puts readers in the role of scientist, testing their hypotheses.
The Best Books This Week
Fiction
Sing Her Down
by Ivy Pochoda
Ivy Pochoda (These Women; Wonder Valley) unleashes a combination of raw energy and poignant loss in Sing Her Down, a ferocious, feminist western. After just a few years in prison, Florence "Florida" Baum is told she qualifies for early release because the ongoing Covid-19 pandemic is endangering prisoners. But Florida soon realizes there are two catches. First, she must stay in Arizona, despite desperately wanting to return to her home of Los Angeles. And second, violent and volatile fellow inmate Dios is getting out, too. Florida, born and raised in wealth and privilege, claims she's different from the other women she's been with in captivity, but Dios is determined to prove to Florida that there is as much darkness inside Florida as there is inside herself.
Pochoda's succinct, tense prose sets readers balancing on a tightrope from the start. Told in clipped, atmospheric sections from the perspective of Dios, Florida, an inmate named Kace who hears the voices and stories of others in her mind, and Lobos, a cop with her own troubled past that she wants to escape, Sing Her Down keeps readers destabilized, running from one haunted voice to the next.
As these combustible voices ignite one another, it is Florida's story that takes center stage, positioning her as the novel's troubled protagonist. But while Pochoda invokes the classic western showdown of the hero facing off with a villain both in its opening imagery and in its breathless conclusion, she refuses to make Dios--or any other woman in this blistering and uncanny world--an easy villain. --Alice Martin, freelance writer and editor
MCD, $28, hardcover, 288p., 9780374608484
Rogue Justice
by Stacey Abrams
After reading Rogue Justice, the second Avery Keene thriller by politician Stacey Abrams (While Justice Sleeps), even her staunchest detractors will have to admit: she really knows Washington politics. And national security. And the cyber world. And how to combine these elements into a fleet-footed, spine-chilling narrative.
It's some weeks before the presidential election, and Supreme Court law clerk Avery Keene is on Capitol Hill, testifying. The subject at hand: the impeachment of President Brandon Stokes, whom Keene is accusing of "criminal conspiracies that would make Nixon blush." Later, she receives a call from Major William Vance, Stokes's former right hand, now a fugitive. Respecting Keene's integrity, Vance warns her that he's learned of a planned technological attack on the United States. Some days after her chat with Vance, Keene is approached by Preston Davies, a clerk for a federal judge who has just committed suicide because, according to Davies, "Someone used a fake video to blackmail her into doing terrible things." Davies wants Keene to find out who was blackmailing the judge, but he's killed before she starts digging. Could Davies's murder be connected to the impeachment case?
To be clear, Rogue Justice isn't for political neophytes. Readers will have to log an alphabet soup of government-agency acronyms, and there are enough Beltway-insider characters to fill the Rose Garden. But Abrams is an assured writer and a boffo storyteller who makes diverting use of her knowledge of the American justice system. All politics aside, Rogue Justice is a nonpartisan thrill ride. --Nell Beram, author and freelance writer
Doubleday, $29, hardcover, 368p., 9780385548328
Second Shot
by Cindy Dees
CIA agent Helen Warwick is officially retired, but a bunch of shadowy people still want her dead in the rollicking mystery thriller Second Shot by Cindy Dees (His Christmas Guardian; Over the Top). At age 55, Warwick is done being a hit person for the CIA. Her three neglected kids are now fully grown--and a little bitter. To begin amends, Helen agrees to dog-sit for the puppy of middle child Peter and his partner, Li, while they enjoy a night out. Things go awry when four trained assassins burst in, shooting. Helen takes down three but one gets away, and Peter and Li's newly renovated house is left in shambles. Peter is livid, and the police don't understand how Helen got so lucky defending herself. Enter Yosef Mizrah, Helen's ex-handler, to help smooth things over. Yosef does some digging on who ordered the hit on Helen but is shot before coming up with a name. On her own and without a friend at the agency, Helen launches a rogue investigation. Meanwhile, the bullets keep flying, and both Helen and her family are caught up in the crossfire. Helen is older now and working alone without any idea of who is hunting her. She is kind of thrilled to have a second shot at her old job, but someone is determined to make it her last.
Author Cindy Dees's background (intelligence work and detainment by both the KGB and East German police during her military career) and the nuanced writing of Second Shot suggests more exciting adventures to come in a projected series. --Paul Dinh-McCrillis, freelance reviewer
Kensington, $27, hardcover, 320p., 9781496739759
Science Fiction & Fantasy
Perilous Times
by Thomas D. Lee
Thomas D. Lee brings past and future together in Perilous Times, his witty debut novel featuring Arthurian knights waking up from sleep to help Britain in its time of peril--as they've been doing for a thousand years. But this time when they wake up, the world is nearly ending from climate change. Sir Kay assists Mariam as she's blowing up a fracking facility and joins her group of eco-warriors fighting the oil oligarchs who now rule England. Meanwhile Marlowe, whose deal with the devil in Elizabethan England has kept him alive all these years, wants Lancelot to carry out some very sketchy missions for him. When the knights don't live up to Mariam's expectations, she has to look beyond legend for the world's savior.
Perilous Times is full of violence and intense themes, but it's also full of hilarity and absurdity. Lee draws on his expertise in Arthurian legend, the subject of his doctoral study, to comment on ways of understanding legendary stories of the past, especially stories upon which the fabric of a nation like England has been built. No prior knowledge of Arthurian legend is necessary to enjoy the novel, but Arthurian aficionados will delight in seeing bits of lore verified or debunked by Kay, Lancelot, Morgan, Marlowe, and the others. Featuring a diverse cast, including medieval knights who are Black and gay, Perilous Times takes readers on a wild adventure as Mariam, Kay, and Lancelot figure out how to save the world and what being a hero truly means. --Dainy Bernstein, literature professor, University of Pittsburgh
Ballantine, $28.99, hardcover, 496p., 9780593499016
The True Love Experiment
by Christina Lauren
Writing duo Christina Lauren has created another effervescent yet thoughtful romance in The True Love Experiment. Fans of some of Lauren's earlier novels will enjoy this return to their typical banter-filled rom-com style. Felicity ("Fizzy") Chen has had no luck on the dating scene, and it doesn't help that her best friend Jess (from 2021's The Soulmate Equation) is deliriously happy in her new relationship. Fizzy used to be a bestselling romance author, but writer's block is matching her woeful dating life, and she's struggling on all fronts.
Then a reality show producer approaches Fizzy about a love experiment. He wants her to star in a Bachelorette-type show, where she gets to date a bunch of men--and Fizzy thinks this might be just what she needs to get her writing career launched again. Unfortunately for Fizzy's plans, however, handsome producer Connor Prince is occupying much more of her thoughts than any of the men for whom she's supposed to be falling. Now she's worried that she's going to add "breaking all the reality tv rules" to her other problems.
Clever and knowing, Fizzy's take on the romance industry obviously owes a lot to Christina Lauren's real-life romance-writing experiences. With a bit of sly self-awareness, some hilarious romance tropes, and a cast full of engaging characters, The True Love Experiment is an entertaining foray into the realities of modern romance. Perfect for fans of reality dating shows or romantic comedies, The True Love Experiment is a ton of fun. --Jessica Howard, freelance book reviewer
Gallery Books, $27.99, hardcover, 416p., 9781982173432
Lost Son: An American Family Trapped Inside the FBI's Secret Wars
by Brett Forrest
In Lost Son, Wall Street Journal national security reporter Brett Forrest (Long Bomb; The Big Fix) tells the story of Billy Reilly, a Midwesterner who became enmeshed in the so-called War on Terror and the U.S.'s increasingly intense rivalry with Russia. Incorporating vast background material, shoe-leather reporting, and a constellation of high-profile and obscure sources, Forrest deftly blends international intrigue with personal drama and the satisfactions of hard-boiled noir.
A son of Oxford, Mich., in exurban Detroit, Billy Reilly was smart and bored with 1990s American life. But 9/11 awakened an immense interest in the outside world to which the family laptop and the Internet connected him. Reilly learned to read Russian and Arabic, converted to Islam, and virtually journeyed into Internet forums far from the physical safety of his parents' home. Drawing the attention of the FBI, Reilly--despite misgivings about U.S. foreign policy--became an informant. He possessed a keen ability to penetrate insular online communities of terrorist cells. However, he proved far less adept at real-world fieldwork and realized he was being exploited with no hope of advancement. Nonetheless, at the FBI's behest, he journeyed in 2015 to Russia and the Donbas region of Ukraine, what would become the beachhead of Russia's much larger invasion. Then he disappeared.
Forrest recounts Reilly's life and traces his disappearance, as well as the family's search for him, through the Kafkaesque labyrinths of the U.S. national security state. Lost Son is a gripping, provocative account of a tragic 21st-century American life. --Walker Minot, writer and editor
Little, Brown, $30, hardcover, 400p., 9780316591614
Burnt: A Memoir of Fighting Fire
by Clare Frank
Clare Frank's Burnt: A Memoir of Fighting Fire is a heart-racing, heartfelt story that will make readers laugh, cry, and consider what matters most in life. The author is an indomitable character, from self-supporting teen through a decades-long career in California firefighting (beginning in 1982, when women were few and generally viewed askance), with impressive achievements in her career and personal life. Frank's memoir is packed not only with adrenaline but with sensitivity, thoughtfulness, and creativity.
After talking her unorthodox parents into emancipating her at 16, Frank becomes a firefighter at 17 (faced with an age requirement of 18, she simply leaves her birthdate blank on the employment form). She is indefatigable: stubborn, hardworking, short-fused, and tenacious. Frank rises through the firefighting ranks in her 33-year career (with a five-year doctor-mandated medical break), finishing with the lofty position of State Chief of Fire Protection, six ranks above captain, the highest she once thought she would be willing to attain.
Frank is a renegade overachiever in all areas: athletic, career, and (after a late return to the classroom) academic. Her writing is not merely serviceable, but thoughtfully constructed; her memoir's sections are labeled for stages of fire development: ignition, sustained heat, free burn, growth, full development, and decay. By the end of this memorable book, readers will reconsider fire policy as well as family, risk, and hard work. With thrilling momentum and a heat of its own, Burnt is a sensation and an inspiration. --Julia Kastner, librarian and blogger at pagesofjulia
Abrams Press, $27, hardcover, 336p., 9781419763908
Under the Henfluence: Inside the World of Backyard Chickens and the People Who Love Them
by Tove Danovich
Journalist Tove Danovich's first book, Under the Henfluence, is a delightful blend of memoir, reporting, and straight-up chicken fangirling. While Danovich dreamed of owning backyard chickens during her years in Brooklyn, she never imagined they'd eventually take over her life. But when she moved to the Pacific Northwest and ordered three chicks (to start), the obsession began--and it soon went far beyond building a coop and finding the perfect names for her girls.
Danovich charts her journey from newbie chicken keeper to experienced manager of her own flock (mostly named after Mad Men characters, female detectives or country singers). She delves into the differences, cosmetic and otherwise, between breeds; visits a poultry show in Ohio; and talks to local vets about the difficulties of providing quality chicken care. Danovich also exposes the unsavory side of the poultry industry, admitting that even backyard chicken-keepers who treat their flocks like royalty are, in some ways, complicit in a system that's not good for either chickens or humans.
With wry, witty anecdotes and plenty of chicken jokes, Danovich makes backyard flocks compelling, even to readers who'd rather buy eggs than go hunting for them. She lovingly describes her chickens' personalities, chronicles her failures and triumphs in caring for them, and explores the complex human-chicken relationship: not quite livestock, not quite pets. Under the Henfluence is a fun, informative tour through the world of backyard chickens--for anyone who dreams of starting a flock or who wonders what the cluck all the fuss is about. --Katie Noah Gibson, blogger at Cakes, Tea and Dreams
Agate Surrey, $27, hardcover, 232p., 9781572843219
Deadly Quiet City: True Stories from Wuhan
by Murong Xuecun
More than three years after the outbreak of Covid-19 comes Deadly Quiet City, an inside account of the pandemic's earliest days in Wuhan, China. Bestselling Chinese writer and critic of censorship and corruption Murong Xuecun (Leave Me Alone) relates the testimonies of eight Wuhan residents from late 2019 and early 2020, and the risks he took to get them. The result is a dramatic human mosaic, an urgent chronicle of a pivotal period in world history, and a fierce indictment of the Chinese Communist Party (CCP).
Through the perspectives of a frontline doctor, a citizen journalist (who has since disappeared), a delivery and odd-jobs worker, a caregiver for elderly parents, and more, Murong imparts an astute view of Wuhan's extraordinary trials and heroes, from essential workers to ordinary people who risked everything to do what they could to save their fellow human beings.
Not only eyeing the personal, Murong pierces the veneer of CCP propaganda and holds the government to account for its many failures--such as withholding the fact of the virus's human-to-human transmissibility in late December 2019, Potemkin hospitals, draconian lockdowns with insufficient supplies that often amounted to mass house arrest, and the sclerotic and indifferent bureaucracy--all of which he alleges dramatically worsened the global outbreak.
Collectively, the testimonies of Deadly Quiet City form a riveting account of human strength and resilience free of sentimentalism or idolatry, and a cross-sectional portrait that begins to clarify and preserve for posterity a chaotic place and time. --Walker Minot, freelance writer and editor
The New Press, $27.99, hardcover, 320p., 9781620977927
The Book of Charlie: Wisdom from the Remarkable American Life of a 109-Year-Old Man
by David Von Drehle
In 2007, longtime Washington Post columnist David Von Drehle and his wife, tired of the "hassles of urban parenting," uprooted their children and moved from Washington, D.C., to the suburbs of Kansas City, Mo. One day, Von Drehle spied a neighbor across the street washing a car in the August heat. That man was 102-year-old Charlie White, self-made, "hale and sturdy and razor-sharp," who would become a very good friend of Von Drehle--and an influence so profound that he inspired The Book of Charlie, a splendidly woven, inspirational memoir that explores the meaning of life and the resilience of the human spirit.
Over the course of seven years, Von Drehle became fascinated by Charlie and his history. He was born when William Howard Taft was president, and he experienced life before the existence of highways, radio, movies, even penicillin. Whip-smart, independent, and crafty Charlie grew up with four siblings in a family that accommodated his father, a Christian pastor--who died at the age of 42 in a freak accident when Charlie was eight. The tragedy forged an indomitable, stoic resourcefulness in Charlie. He had a deeply rewarding career as a doctor, as well as marriages, children, and familial challenges. He chose not to dwell on unhappiness. He understood and accepted that "every life is a mixture of comedy and tragedy, joy and sorrow, daring and fear," and barreled on.
Charlie made an art out of living; in much the same way, Von Drehle (Rise to Greatness; Triangle: The Fire that Changed America)--with eloquence, care, respect, and admiration--makes art out of Charlie's life story. -- Kathleen Gerard, blogger at Reading Between the Lines
Simon & Schuster, $26, hardcover, 208p., 9781476773926
In Melissa Crowe's incandescent second book, the Iowa Poetry Prize-winning Lo, threats are everywhere, but love and beauty counteract them. Incorporating a variety of forms, this collection of 35 affecting autobiographical poems travels from impoverished girlhood to marriage and motherhood in the post-pandemic U.S.
Crowe (Dear Terror, Dear Splendor) delves into the reality of sexual abuse and growing up in rural poverty. Some days there was, literally, no money; she and her parents took turns washing in the same bathwater. The multi-part "When She Speaks of the Fire" remembers molestation by a friend's father, which was an open secret in her community; when he was arrested for related crimes, no one asked about her experience: "they didn't want to know." Guns are insidious here: whether used for hunting or for random and mass shootings (as in "America You're Breaking"), they reflect a violence as inescapable as the misogyny that lay behind her childhood abuse. Trauma lingers. "Maybe home is what gets on you and can't/ be shaken loose," Crowe wonders.
Yet the collection is so carefully balanced in tone that it never feels bleak. In elegies and epithalamiums (poems celebrating marriage), as well as free forms, Crowe honors the family ties that bring her solace, such as her husband and college-bound daughter. Time's elasticity means events could seemingly be "twenty years ago or/ Wednesday." Aching loss, teasing sensuality, fear, and wonder at natural beauty: the volume's emotional range is enhanced by alliteration and botanical imagery, with the poet's resilient "heart a foraged/ apple, still green." --Rebecca Foster, freelance reviewer, proofreader and blogger at Bookish Beck
University of Iowa Press, $20, paperback, 88p., 9781609388997
The Writer's Life
Amy Seto Forrester & Andy Chou Musser: 'Become a Teuthologist!'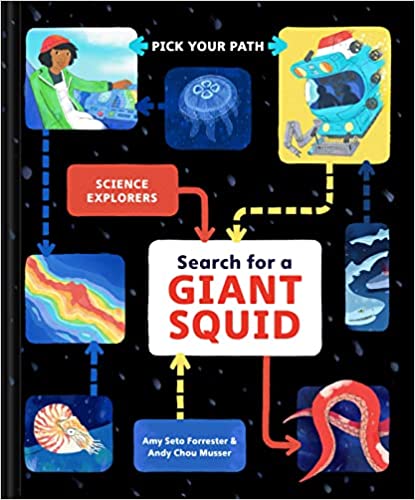 Amy Seto Forrester is a youth services supervisor at the Eugene Public Library, Ore., who is passionate about diverse, engaging books for beginning readers. She is co-founder and co-host of the Guessing Geisel blog.
Andy Chou Musser is the author/illustrator of A Home Under the Stars and the illustrator of Ploof, written by Ben Clanton.
Forrester and Musser are siblings and the author/illustrator team behind Search for a Giant Squid: Pick Your Path (Chronicle, $14.99), the first title in the nonfiction series Science Explorers. Here they discuss their shared passion for supporting early literacy, how a book like theirs gets made, and what it's like to work with your sibling.
Would you tell our readers what Search for a Giant Squid is about?
Forrester: Search for a Giant Squid is a nonfiction, choose-your-own-adventure-style book for transitional readers. It's the first in the Science Explorers series.
Musser: Readers step into the role of teuthologist, a scientist who studies giant squid. The first section gives kids information about giant squid, marine biology, how to prepare for an expedition, and more. Then our new teuthologists pick a submersible, a pilot, and a place to dive. Of course, the goal is to find the giant squid, but along the way you might also find a bioluminescent creature or a shipwreck. You might get stuck in a lost fishing net or use explosive bolts to free your submersible from the muddy ocean floor. There are 12 different endings.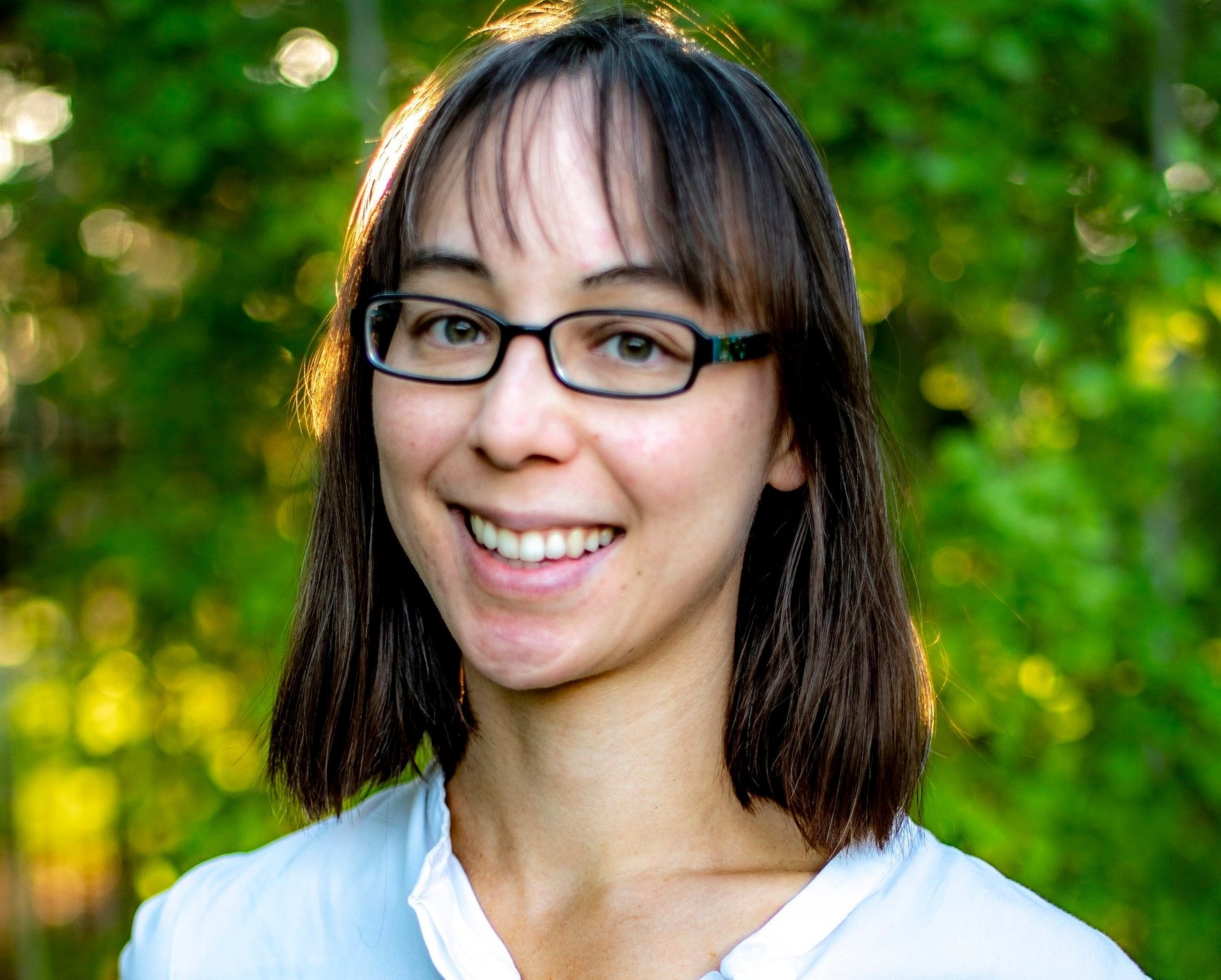 Amy Seto Forrester
How did you decide to work together?
Forrester: I was at an American Library Association conference talking with an editor about the kinds of beginning reader books I wanted to see on the shelves. She knew my brother was an illustrator and asked if we had ever thought about making books together. I floated the idea to Andy, and we decided to tinker around with some ideas.
Musser: It's funny, even though we had been homeschooled together and had both found our way to working in kid lit, I had never thought about making books with Amy. Once we dove in and started working, it was really fun.
The book has an unusual format for a nonfiction title--whose idea was it to set it up as a "pick your path"-style adventure?
Musser: Amy came up with the idea for the concept and format! I didn't really understand her idea until she showed me an early prototype version of the book, and then I was very excited. When Amy and I started writing books together, we talked a lot about the books we loved as kids, and the books we felt were missing from shelves, and her idea for Search for a Giant Squid felt like it was at the intersection of all those things.
Forrester: We've always been fans of interactive and puzzle books, and we wanted to make a book that allowed kids to make the decisions and to have the opportunity to try again if things don't go the way they'd planned.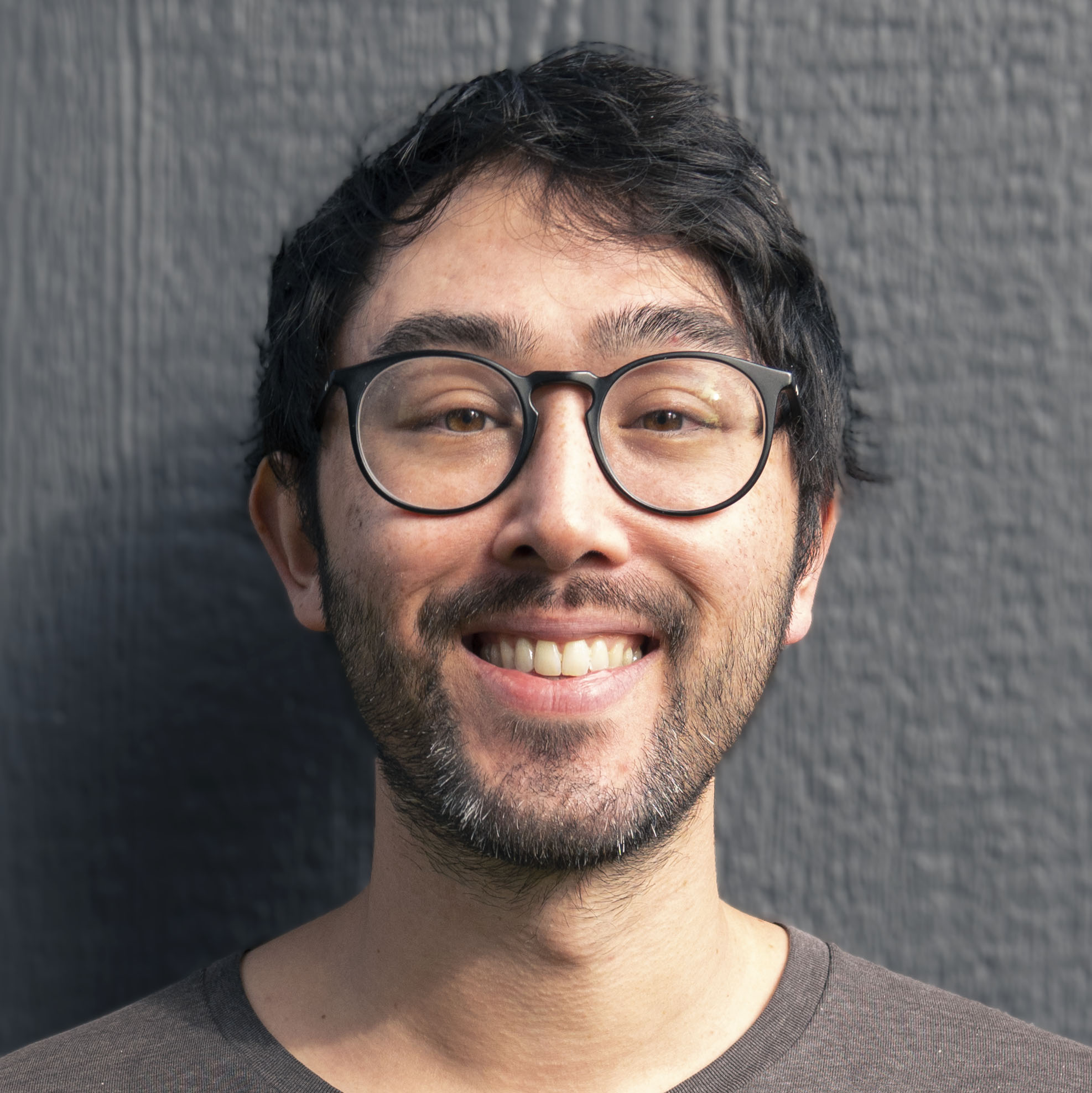 Andy Chou Musser
Musser: As far as how the book works, I think of it a bit like playing a video game.
Forrester: The reader is the protagonist and in charge of the expedition. They get advice from crew members on their team, but it's up to readers to decide where to explore, which animals to follow, and how to handle obstacles.
Did you two collaborate as you wrote and illustrated the book?
Forrester: We collaborated so much! When we're brainstorming, we try to think about the book as a whole, and we both share ideas for the words and pictures, and build on each other's suggestions.
Musser: We're each responsible for our pieces, and I guess you could say we have final veto powers, but we really welcome ideas and edits from each other.
Forrester: For this series, I've been the one to do the initial research, select the focal point species, determine the expedition sites, and interview scientists. I'll write up a draft and then share it with Andy and he'll leave me comments and let me know what's working/not working. Our editor, Victoria Rock, joins the process, and we'll do this a few more times before Andy will start laying out the dummy with the art director, Sara Gillingham. This helps us see how much text is on a page, how the page turns will work, which scenes need to be two-page spreads, etc.
Musser: Once the manuscript has been fact checked, it's time for me to work toward final illustrations using a lot of research and photo reference. Amy and I continue wordsmithing because our goal is always to convey information with developing readers in mind.
How did you do research for this?
Forrester: There were three phases of research for me. The first was to gobble up information about giant squids and deep-sea ocean exploration. Next, I interviewed a lot of scientists and submersible specialists. I asked questions like: "What can go wrong on a dive?" and "How do you poop in a submersible?" They shared photo reference and research, read drafts, and provided feedback. The last phase of research for me was going back and triple-checking all the details, and helping Andy to find photo references, which turned out to be tricky at times!
Musser: Yes, finding photo references proved to be a much bigger undertaking than I expected! Many of the animals I illustrated in the book have only been encountered by scientists a few times, so we had to dig deep to learn about them. Luckily, we found databases that allowed us to double check the photos we found and make sure the animals had been spotted in specific locations and ocean depths that would make sense for our story.
How are you hoping kids will interact with this book?
Forrester: Overall, we really hope that readers engage with this book and this series in a way that makes them wonder, question, and explore. I spend a lot of my time as a youth services librarian thinking about how to curate library spaces, programs, and collections in a way that invites exploration, autonomy, and sparks curiosity. I'm interested in the intersection between curiosity and intrinsic motivation. That's why I find interactive books--and pick your path books in particular--so enticing.
Musser: Including a lot of different types of representation is especially important to us. We hope that kids can say, "That scientist looks like me! I could be a scientist!" As siblings who identify as mixed-race Chinese American, we know firsthand what it's like not to see ourselves reflected in books. Also, I hope the unusual format of this book inspires kids to experiment with writing and illustrating their own unique stories.
And we're excited to currently be working on the second book in the Science Explorers series, which is all about fungi! Can't wait to share more soon. --Siân Gaetano, children's and YA editor, Shelf Awareness
Rediscover
Rediscover: Martin Amis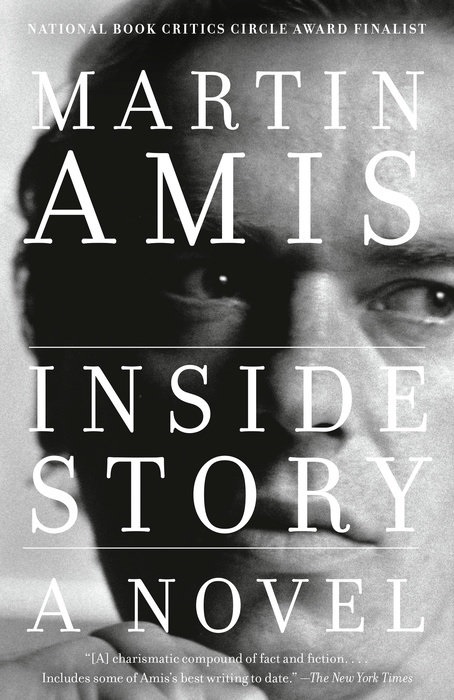 Martin Amis, "whose caustic, erudite and bleakly comic novels redefined British fiction in the 1980s and '90s with their sharp appraisal of tabloid culture and consumer excess, and whose private life made him tabloid fodder himself," died May 19 at age 73, the New York Times reported. Amis published 15 novels, a well-regarded memoir, works of nonfiction, and collections of essays and short stories. He is best known for his London trilogy of novels: Money: A Suicide Note (1985), London Fields (1990), and The Information (1995). Amis's most recent book was the "novelized autobiography" Inside Story (2020), which was shortlisted for the National Book Critics' Circle award for fiction.

Amis published his first novel, the Somerset Maugham Award-winning The Rachel Papers (1973), while working as an editorial assistant at the Times Literary Supplement. His darkly comic Dead Babies was published the following year. He worked as the literary editor of the New Statesman between 1977 and 1979, during which time he published his third novel, Success.

Amis's fame "built to a crescendo in the mid-1990s. One 'scandal,' as chronicled in English tabloids like the Daily Mail, followed the next," the Times noted, adding that in 1994, he dropped his longtime agent, Pat Kavanagh, for the rival agent Andrew Wylie, "whom the British press nicknamed 'the Jackal,' and a larger advance on a novel. The amount Mr. Amis wanted, a reported $794,500 (about $1.6 million today), was deemed unseemly." The same year, Amis made headlines after leaving his first wife, writer and journalist Antonia Phillips, for writer Isabel Fonseca; and for details about some expensive dental work, "although he saw it as an acute medical necessity."

Ultimately, however, it was about the writing. Amis's 1984 novel Money was named by Robert McCrum in the Guardian as among the 100 best novels written in English. McCrum called it a "zeitgeist book that remains one of the dominant novels of the 1980s.... The thrill of Money, which is turbo-charged with savage humor from first to last page, is Amis's prodigal delight in contemporary Anglo-American vernacular."

Amis was often compared with his Booker Prize-winning father, Kingsley Amis. Though Martin Amis made the 1991 Booker shortlist for Time's Arrow and was longlisted in 2003 for Yellow Dog, he never won. He once told BBC Radio 4 he wished he had put "greater distance" between himself and his father, with the "Amis franchise" becoming "something of a burden." He eventually wrote about his father's death in his memoir, Experience (2000).

In a statement, his publisher, Vintage Books, said: "For 40 years Martin Amis bestrode the world of U.K. publishing: first by defining what it meant to be a literary wunderkind by releasing his first novel at just 24; influencing a generation of prose stylists; and often summing up entire eras with his books, perhaps most notably with his classic novel, Money.... He was always unfailingly warm, kind and generous to those fortunate enough to work closely with him."