Week of Friday, November 17, 2023
Among the novels reviewed this week: Same Bed Different Dreams, a work of "incomparable speculative fiction" by Ed Park, about the history of Korea in the 20th century; The Manning Girl, Catherine Browder's debut novel, "a warmhearted and original reimagining" of George Eliot's Silas Marner; and Anbara Salam's "absorbing thriller" Hazardous Spirits, which follows a couple's tumultuous journey into the spiritualist movement in 1920s Scotland; plus Secrets We Tell the Sea, the Mexican award-winning middle-grade novel by Martha Riva Palacio Obón, a "profound work of magical realism" starring a 10-year-old girl who speaks openly to the sea in a "stunning translation" by Lourdes Heuer.
And don't miss The Writer's Life with Matt Mendez, author of The Broke Hearts, his follow-up to Barely Missing Everything.
The Best Books This Week
Fiction
Forgotten Trail
by Claire Kells
The stunning, harsh landscape of Pinnacles National Park, in California's Salinas Valley, makes a formidable background for Forgotten Trail, the third installment of Claire Kells's National Parks mystery series. Kells (An Unforgiving Place; Vanishing Edge) expertly weaves in the scenery and history of the Pinnacles, among the United States' newest national parks, into a highly satisfying plot that works as a procedural and a locked-room mystery.
Investigative Services Branch agent Felicity Harland and her partner Ferdinand "Hux" Huxley investigate the death of businessman Chris Denton. He was stabbed with a shard of glass in his cliffside suite during the opening of the Pinnacles Grand, a luxury hike-in hotel located four-and-a-half miles from the parking lot. The logical suspect is Colleen, his wealthy wife, who was found leaning over the body. The couple was estranged, though Colleen refused to accept the separation; she followed Chris to the hotel and stalked his room and his movements with his young lover, Aria Privar, who has disappeared, leaving a high-heeled shoe on one of the trails. Colleen even admits to Harland and Huxley that she had considered hiring a hit man to kill Chris. As park rangers scour the trails looking for Aria, Harland also looks into a 30-year-old cold case that occurred nearby.
Kells makes the most of the beautiful landscape, the lure of rugged hiking, and the intricacies of investigating crimes in the wilderness of national parks. Intelligent Felicity Harland guides the tense plot, with supporting characters who emerge as three-dimensional. --Oline H. Cogdill, freelance reviewer
Crooked Lane, $31.99, hardcover, 272p., 9781639105267
Fancy Meeting You Here
by Julie Tieu
Chinese American romance novelist Julie Tieu's Fancy Meeting You Here is a swoon-worthy ode to the power of female friendships. Floral designer Elise Ngo may be busy helping her three best friends--Jesse, Rebecca, and Beth--get married, but her design studio is still failing. So when Ben, Rebecca's self-serious younger brother, hires Elise to help with some of his mother's campaign events, Elise can't say no. But Ben's cold exterior begins to wear off the more Elise gets to know him. Soon, always-the-bridesmaid Elise finds herself falling hard for a guy whose trouble dealing with the stress of being part of a political family and lack of direction in life may not win the approval of the friends she loves so much.
As in other novels by Tieu, the center-stage romance in Fancy Meeting You Here is equal parts heart-fluttering and hilarious. Ben and Elise's chemistry is obvious, and Tieu demonstrates her skill at balancing laugh-out-loud mishaps with scenes of vulnerable self-disclosure. The lovable protagonists of her previous book, The Donut Trap, even make a brief reappearance. But Fancy Meeting You Here stands out from Tieu's other books and from many other romance novels by putting the chemistry between female friends on full display alongside its romantic longings. The quippy dialogue between Elise and her friends, and the dedication they show to each other despite--or even because of--each other's imperfections all make the love between this group of friends as squeal-inducing as the love between the novel's romantic leads. --Alice Martin, freelance writer and editor
Avon, $18.99, paperback, 304p., 9780063245198
Do Your Worst
by Rosie Danan
Sparks fly--sometimes literally--in Rosie Danan's steamy contemporary romance Do Your Worst, when a feisty curse-breaker meets a skeptical archeologist in a cursed castle in the Scottish highlands. Riley Rhodes was born into a family with a "unique talent for vanquishing the occult," and she's now trying to turn curse breaking into a proper consulting business, so Riley is thrilled to receive an invitation to work at the long-cursed Arden Castle in Scotland, which has driven off dozens of owners over the decades. Clark Edgeware, meanwhile, is at Arden for quite the opposite reason--not to launch a career, but to salvage his name and reputation after a spectacularly public controversy at his last archeological dig.
When Riley learns that the skeptical, yet drop-dead gorgeous, Clark has tried to get her fired from working at Arden, she vows revenge. Her attempts keep going sideways, though, and the two find themselves thrown together in increasingly tense situations in the castle, involving ladder falls, fire sparks, and freak storms, to name a few--all of which leave them both more than a little breathless.
In these increasingly inexplicable and seemingly inescapable situations, Danan (The Roommate) shows off her skills working with tried-and-true romance tropes in new and exciting ways: opposites attract, forced proximity, enemies-to-lovers. With no small amount of heat and the perfect smattering of steamy bedroom scenes throughout, Do Your Worst offers up a deliciously tense and perfectly believable romance with just a hint of the occult, as two unlikely lovers learn to let their guards down and let each other in. --Kerry McHugh, freelance writer
Berkley, $17, paperback, 352p., 9780593437148
American Vikings: How the Norse Sailed into the Lands and Imaginations of America
by Martyn Whittock
American Vikings: How the Norse Sailed into the Lands and Imaginations of America by Martyn Whittock (Mayflower Lives; Tales of Valhalla) is a vivid and highly readable history that teases out the most likely scenarios regarding early Norse exploration of North America.
Medieval sagas first recorded in Iceland in the 13th century CE claimed that Vikings reached land now known as North America somewhere around the year 1000 CE. Examining evidence from Erik the Red's Saga and The Saga of the Greenlanders, among others, Whittock teases out clues of topography for the most likely location of the North American settlement known as Vinland--and how much further beyond it Norse settlers may have ventured.
The true history alone--full of adventure and internal conflict, including both trade and confrontation with various Native American peoples they encountered--would make for a fascinating book. However, Whittock goes beyond the factual stories of Viking expeditions to the continent and delves into myths concerning American Vikings as well, examining hoaxes meant to "prove" that early Norse settlers ventured far into the interior of what would become the United States (often suspiciously close to parts of the country that would later develop large Scandinavian populations). Weaving in other origin stories of European culture in the Americas, including legendary Irish expeditions, the first English colonies, and Christopher Columbus's voyages, Whittock presents astute observations about what each creation story has meant at different times in the history of the United States. Popular-history readers will be enthralled. --Kristen Allen-Vogel, information services librarian at Dayton Metro Library
Pegasus, $29.95, hardcover, 272p., 9781639365357
Why Flying Is Miserable: And How to Fix It
by Ganesh Sitaraman
Why Flying Is Miserable by Ganesh Sitaraman (The Crisis of the Middle-Class Constitution) explains the history of U.S. commercial aviation in a concise 172 pages and proposes solutions for the mass cancellations, high fees, abysmal service, and the general discomfort incurred by travelers flying in the United States. In short, he believes, the problem is unfettered capitalism, and the solution is somewhere in the realm of regulated capitalism and socialism.
Sitaraman efficiently takes readers through 1938-1978, showing how decreasing regulation during that period worsened outcomes for travelers. Then the narrative shifts to how airlines became more like banks than transportation services, selling and trading in frequent-flyer miles. In his conclusion, Sitaraman makes the case to return to the U.S. tradition of regulated capitalism. Even readers with a limited understanding of economics will understand Sitaraman's well-constructed and thoughtfully explained case for more regulation in the industry and both national and publicly owned airline options.
An important book that expands beyond the title subject, Why Flying Is Miserable makes the case for more regulation in other areas of the economy as well. Sitaraman briefly discusses telecommunications, banking, and more in his intelligent conclusion. His call for additional regulation in those industries is brief but compelling, his argument strengthened by the fact that giant telecom companies are some of the least liked in the U.S.
Sitaraman's exploration is perfect for readers just beginning to question the costs and benefits of capitalism as well as those who are well-educated on the topic but looking for a deeper dive into the aviation industry. --Alyssa Parssinen, freelance reviewer and former bookseller
Columbia Global Reports, $17, paperback, 172p., 9798987053584
Among the Bros: A Fraternity Crime Story
by Max Marshall
Among the Bros is Max Marshall's investigation into the series of arrests and criminal charges related to fraternities at the College of Charleston in South Carolina and the individuals involved. A press conference during the College of Charleston's 2016 summer break caught the attention of Marshall, a journalist, recent college graduate, and fraternity member himself. Mug shots showed five fraternity members and three friends. These eight young men were accused of selling a variety of controlled substances, including Xanax. According to authorities, this case was also related to the recent murder of another fraternity member. Intrigued, Marshall follows the story of those eight arrests and the changing cultural identity of Greek organizations in the United States.
Among the Bros focuses on Mikey Schmidt, a Kappa Alpha, to whom Marshall spoke via a series of contraband cell phones as Schmidt served 10 years without parole. Age 21 at the time of his arrest, Schmidt is one of the flashiest characters in the story Marshall unearths, and he receives the most serious sentence of the group. He and his best friend, Rob Liljeberg III (also a Kappa Alpha), form the backbone of Marshall's reporting. They put human faces on an investigation into the intersection of Greek life, drug dealing, and criminal activity by a particularly privileged and overwhelmingly white male demographic.
Over the course of four years, Marshall consulted police files, court transcripts, and other documents, and conducted more than 180 interviews with 124 sources. Among the Bros finishes without moral lessons or final conclusions, and instead combines excellent journalism and deftly paced storytelling to lift a veil from a decadent and troubling lifestyle. --Julia Kastner, librarian and blogger at pagesofjulia
Harper, $30, hardcover, 304p., 9780063099531
Gator Country: Deception, Danger, and Alligators in the Everglades
by Rebecca Renner
In Gator Country, science and nature journalist Rebecca Renner delivers an astounding story about an alligator-poaching operation in the Florida Everglades. She grew up in Florida, the "swampy Deep South," one of the most biodiverse places in the country. At the age of seven, she encountered her first alligator up close, behind her family's home. By 2017, Renner was working to support herself as a high school English teacher when a student had turned in a well-informed, intimate wildlife essay on poaching--"the act of illegally taking flora or fauna from the wild"--and profiting from it. He feared Renner might snitch on him, and this planted a seed in Renner.
Years later, when she was working her way up the ranks as a nature writer for National Geographic and the New York Times, her interest in poaching resurfaced. In 2020, she became determined to learn more about alligator poaching from the points of view of the law and the poachers--those whom she identified as the economically poor struggling to live in Florida's diminishing wetlands. Her adventurous, in-depth study probes the nature of crime and human character, while also mining the far-reaching consequences of what it truly takes to survive--in the wild and in society.
Renner (Drift: Collected Short Fiction), a gifted and deeply empathetic writer, paints such sympathetic, well-rounded portraits of the justice-seeking rangers and wildlife officers versus the struggling-to-survive poachers that readers will have trouble taking sides. Her propulsive narrative reads as suspensefully as a well-wrought mystery novel as she uncovers an exciting true story that will educate, enlighten, and enthrall her audience. -- Kathleen Gerard, blogger at Reading Between the Lines
Flatiron, $29.99, hardcover, 288p., 9781250842572
Pandora's Box: How Guts, Guile, and Greed Upended TV
by Peter Biskind
Usually a "golden age" is something to look back on with a wry smile. In Pandora's Box: How Guts, Guile, and Greed Upended TV, Peter Biskind (Easy Riders, Raging Bulls; The Sky Is Falling) writes of "a second golden age of TV that we are lucky enough to be more or less living in today, courtesy of the deluge of streaming services." His invigorating and, at times, eviscerating book tells the origin story of what one industry insider has dubbed "Peak TV."
In the 1980s, premium cable arrived as an antidote to network TV, long considered an artistic dead zone for its creative limitations and insufferable ads. What Biskind calls HBO's "revolution" began with 1992's landmark comedy The Larry Sanders Show; follow-up HBO gold such as Oz (1997), Sex and the City (1998), and The Sopranos (1999) threw down the gauntlet, and other cable companies and freshly hatched streaming services rushed in to compete. A-listers (actors, writers, directors) signed on, reveling in the long-form-story format and appreciating the warm welcome to shows centered on network-TV-verboten antiheroes.
Pandora's Box reports on a dizzying number of hirings and firings, mergers and acquisitions. Biskind gathers firsthand insights from key players, many off the record, probably with good reason. In Biskind's telling, the contests for survival recall a sporting event, with seconds-remaining saves: Mad Men rescued a dying AMC. Ted Lasso resuscitated a moribund Apple TV+. All the behind-the-scenes maneuvering presents as a power-madness that someone should capture in a series, although surely it's already in production. --Nell Beram, author and freelance writer
Morrow, $32.50, hardcover, 400p., 9780062991669
The Writer's Life
Reading with... Matt Mendez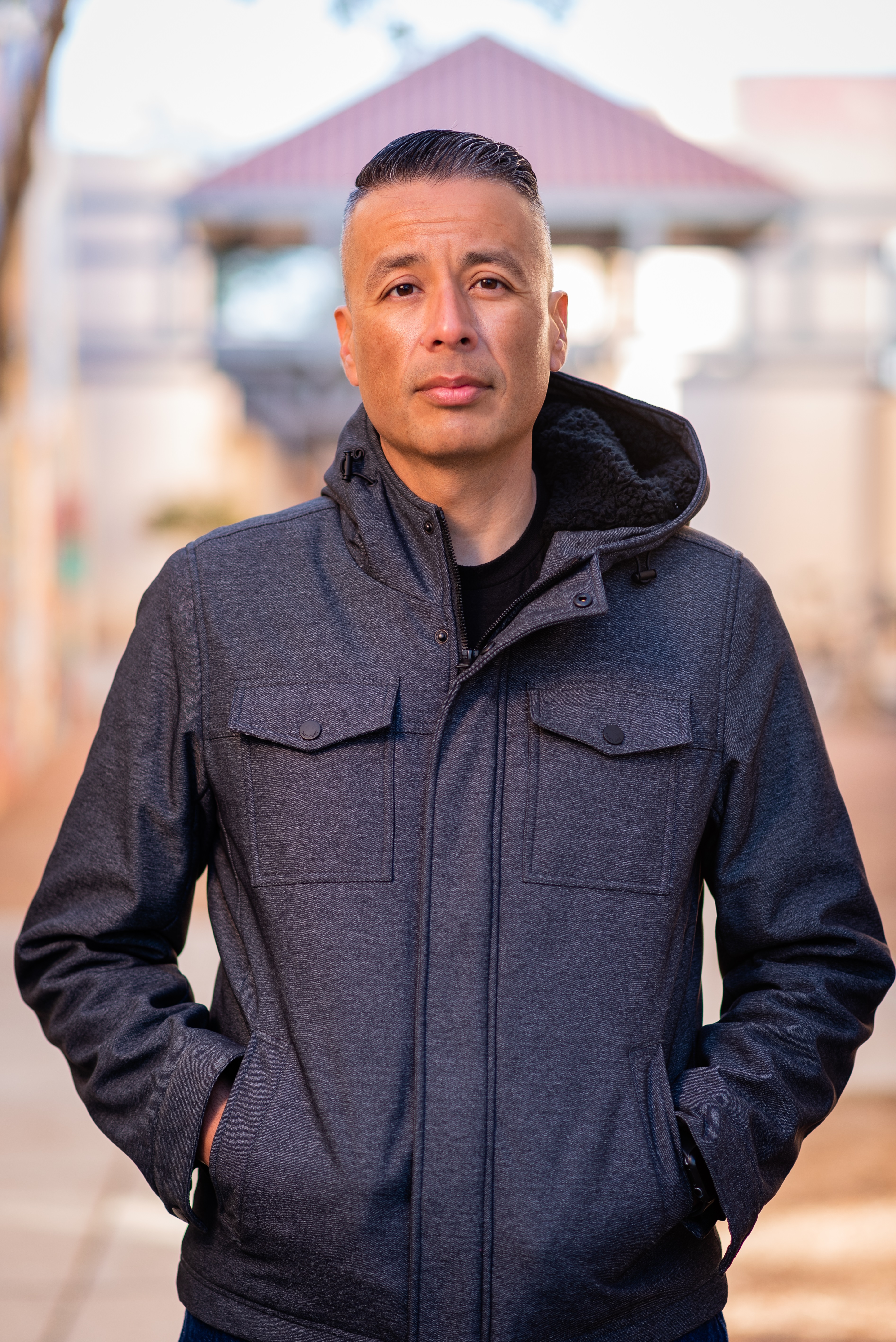 photo: Chris Summitt
Matt Mendez is the author of Barely Missing Everything, and the short story collection Twitching Heart. Like many of his characters, Mendez grew up in El Paso, Tex., and continues to live in the Southwest, now in Tucson, Ariz. He is a military veteran and earned his MFA from the University of Arizona, where he has taught creative writing. The Broke Hearts is his follow-up to Barely Missing Everything (Caitlyn Dlouhy Books, $19.99).
Handsell readers your book in 25 words or less:
The Broke Hearts is about fathers and sons. Friends and growing up. Art. How life can sometimes be like a lotería card. El Valiente. El Mundo. El Corazón.
On your nightstand now:
My nightstand is ridiculous--I don't even have a clock on it anymore.
Nightcrawling by Leila Mottley. It's hard to go to sleep after reading this. The energy of this book. My goodness.
Borderless by Jennifer De Leon. I loved her first novel, Don't Ask Me Where I'm From, and can't wait to read her newest, Borderless, about a young woman forced to cross the border.
You Never Get It Back by Cara Blue Adams. Adams is a master short story writer, and this linked collection deals with class, ambition, and--most of all--place.
Witches by Brenda Lozano. I read a review of Witches remarking on its multiple points of view--a thing I can't get enough of in fiction--and was sold! Also, the cover is just amazing.
And The Golden Frog Games by Claribel A. Ortega. My daughters and I were huge fans of Witchlings! We are excited to read this sequel together.
Favorite book when you were a child:
I didn't fall in love with books until I was an adult. The only book I remember reading as a kid (and actually liking) was Harper Lee's To Kill a Mockingbird.
Your top five authors:
Manuel Muñoz (who writes the way I wish I could)
Angie Cruz (who creates character like I wish I could)
Kelly Barnhill (a master of the epic and the delicate)
Louise Erdrich (who is funny and honest and true)
Jason Reynolds (who writes with so much wisdom, care, and tenderness).
Book you've faked reading:
Almost everything assigned in back-in-the-day high school lit classes (George Orwell's 1984, Aldous Huxley's A Brave New World, John Steinbeck's The Grapes of Wrath, etc.).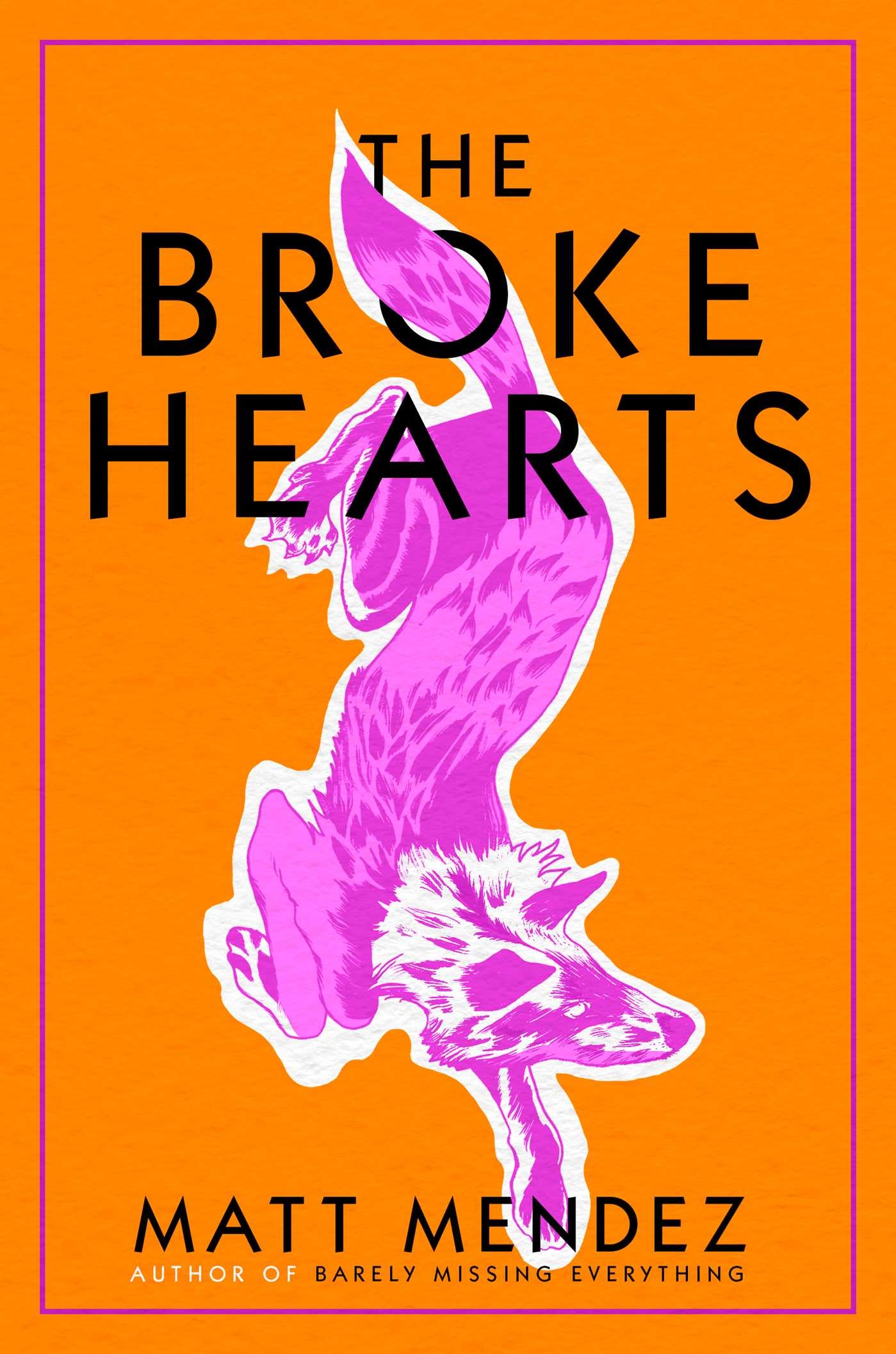 Book you're an evangelist for:
Gabi, a Girl in Pieces by Isabel Quintero. I have bought and given this book away multiple times. The voice and inventiveness of this novel always blows me away. It is one of the most alive books I've ever read.
Book you've bought for the cover:
Signs Preceding the End of the World by Yuri Herrera. The cover is mostly black, a midnight image of a mountain range spiked with saguaro cactus, and the title of the book is centered inside a full moon. The image is ghostly and matches what turns out to be a haunting book about the Mexican/American border.
Book you hid from your parents:
Every single math book, just in case they wanted me to read them.
Book that changed your life:
The House on Mango Street. Reading Sandra Cisneros's novel was the first time I ever felt like my world existed inside of a book.
Favorite line from a book:
"You want to tell a story? Grow a heart. Grow two. Now, with the second heart, smash the first one into bits." --Charles Yu, How to Live Safely in a Science Fictional Universe
I began The Broke Hearts with this epigraph, which I think shows how relevant it is to me and my work. All stories need heart, as do their writers. The bigger the better.
Five books you'll never part with:
The House on Mango Street by Sandra Cisneros. This book was my first love. I read it in college and had never identified with a book before.
The People of Paper by Salvador Plascencia. This novel is wild. There is war against sadness. A baby Nostradamus. A girl with a lime addiction. This book is a reminder that a story can be everything.
Dominicana by Angie Cruz. Ana Cancion is a character I still think about. Cruz's novel has the exact kind of impact I'm looking for in a book, in any kind of story. One where I feel changed at the end.
The Things They Carried by Tim O'Brien. Funny and absurd, brutal and beautiful. The best book about war I've ever read.
Century of the Wind (third in the Memory of Fire trilogy) by Eduardo Galeano. This Latin American history written in short, lyrical vignettes is astounding on every page, capturing the horrors and splendor of the Americas, from creation myths to the Reagan '80s. I go back to it all the time.
Book you most want to read again for the first time:
There There by Tommy Orange. The writing and construction of this book is amazing. It is so confident and subtle; everything comes together in such a powerful way. Reading it for the first time was a joy.
Rediscover
Rediscover: David Ferry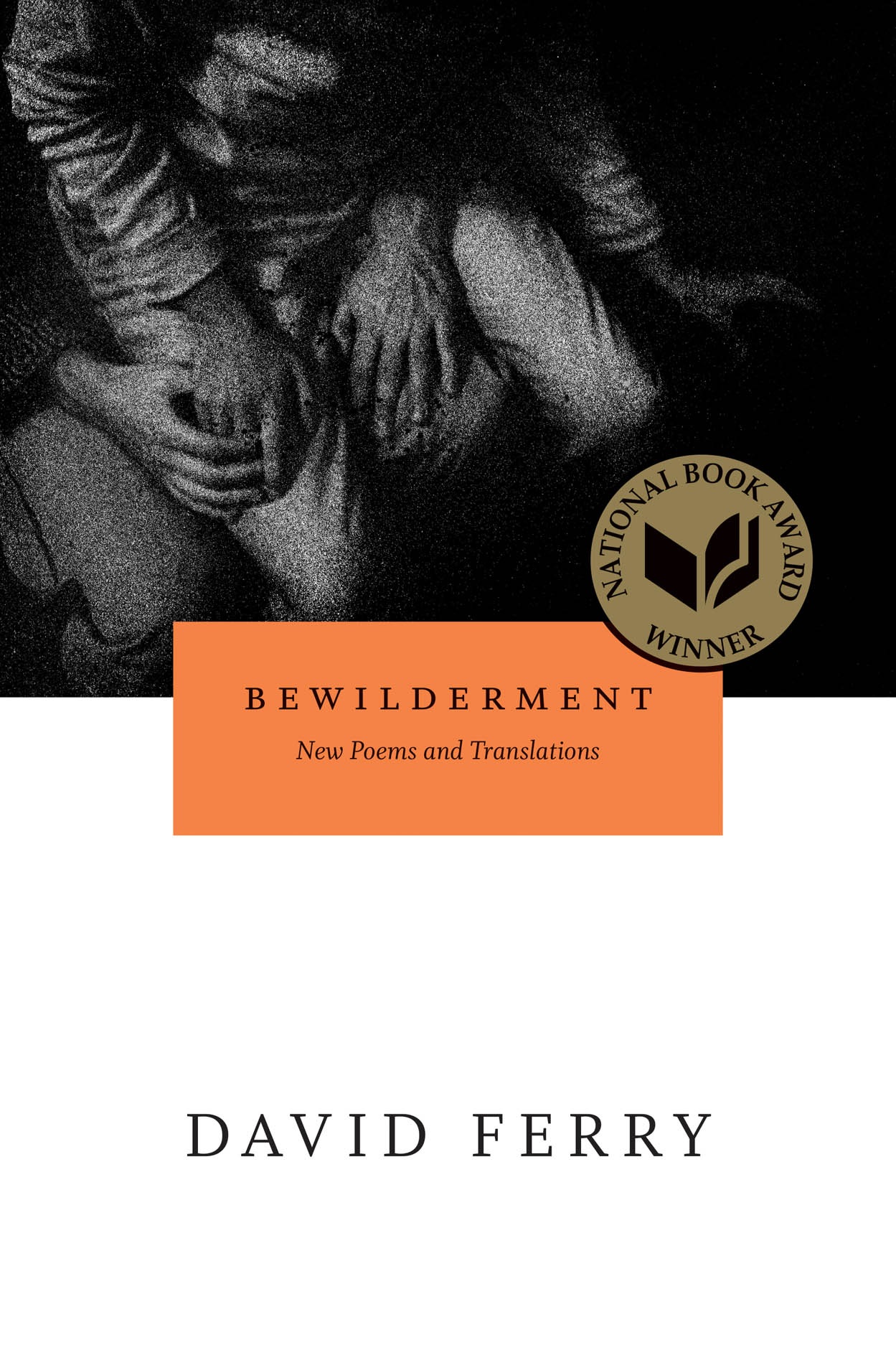 David Ferry, a poet and translator "whose direct, emotionally resonant work plumbing the chasms between the knowable and the unknowable won him broad praise and honors late in his career, including the National Book Award when he was 86," died November 5 at age 99, the New York Times reported. Ferry spent nearly 40 years teaching literature at Wellesley College, and "during that time he published just two books, both of poetry, with 23 years between them. He was admired as a critic and a teacher, but not as a poet, except within a small circle of admirers."

After he retired at 65 in 1989, he wrote 10 books over the next 34 years, including five of new and collected poems. Initially he translated classical texts, though he did not know Latin or Greek and lacked a grounding in classical writing. His first post-retirement book, a translation of the ancient Babylonian epic Gilgamesh (1993), was a New York Times Notable Book of the Year. He later won praise for translations of the Roman poets Horace and Virgil, including Virgil's epic The Aeneid (2017).

Ferry's reputation as a translator contributed to his poetry being at times overlooked, until he won the National Book Award in 2012 for Bewilderment: New Poems and Translations. Other works include Dwelling Places: Poems and Translations (1993), Of No Country I Know: New and Selected Poems and Translations (1999), and On This Side of the River: Selected Poems (2012). His final book, Some Things I Said, will be published in December by Grolier Poetry Press.

Ferry "spoke of living in a state of constant bewilderment--not just him, but everyone, and everything," the Times wrote. "The world is slippery, and nothing, not even words as concrete and precisely chosen as his, could capture it in full.... Even his poems were bewildered, he said, and believed his job was to help them find their way. When writing, he started with a line and worked it out from there on a path of mutual discovery, both for him and for the poem."

He revered Robert Frost and Wallace Stevens, "and like them wrote in a direct, quietly devastating style. It is not frilly or overly difficult, though in its richness it contains multitudes that reward frequent rereadings," the Times noted, adding that he "deployed metaphor sparingly and precisely, never to show off, as in his poem 'Lake Water,' an elegy to his wife, the critic Anne Ferry":

When, moments after she died, I looked into her face,
It was as untelling as something natural,
A lake, say, the surface of it unreadable,
Its sources of meaning unfindable anymore.
Her mouth was open as if she had something to say;
But maybe my saying so is a figure of speech.

Former U.S. poet laureate Robert Pinsky told the Boston Globe: "David Ferry inspired many other poets with his penetrating, unique verbal music. Also inspiring to me and many others is David's lifelong devotion to the art of poetry as a source of joyful wonder--for himself, for his friends and students, and for his readers." Bewilderment is available from the University of Chicago Press.