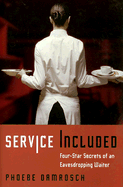 In the time-honored way of publishing hype,
Service Included
is likened to
Kitchen Confidential
crossed with
Sex and the City
. Sorry. There are no tantrums (well, a few meltdowns), heavy drugs or scandals. Instead, Phoebe Damrosch presents a witty mélange of passions for great food, perfect service and a sexy sommelier named André.
A few years ago she started waiting tables at a small café in Willamsburg (in Brooklyn, N.Y.), a place best known for brunch, crowded with bed-headed hipsters whispering their Bloody Mary orders and impatient for coffee. Already enamored of food and cooking, Damrosch soon realized she was drawn to the pulse and energy of restaurants. Her ability to remember orders and to stay calm in chaos compensated for lack of experience when she moved to a chichi place in Midtown, after she figured out she was posing as a writer to rationalize working as a waiter.
Eventually she got a job as a backserver at Thomas Keller's new restaurant, Per Se. She had had a crush on his
French Laundry Cookbook
for ages, "[stalking] it in bookstores, ogling the glossy photographs in dark aisles and secluded corners," but considered it beyond her skill and her price range. Now she could fulfill a fantasy. The first few months with Keller and staff were spent in extensive, exhaustive training before the restaurant opened. "There were philosophies, laws, uniforms, elaborate rituals, an unspoken code of honor and integrity, and, most important, a powerful leader . . . we were all starting at the beginning and [we] all had the same goal: finesse." By the time Damrosch had memorized the acreage of Central Park, the sculptors of the visible statues, the lineage of the imported tile and linen and the three-page sample menu, she "wanted to kneel on the floor--made of imported Italian bronze--and beg for mercy."
She had an arduous and exhilarating time at Per Se. After she was promoted to captain, a typical night in her section might include Frank Bruni from the
New York Times
on table six, "
Food & Wine
doing a VIP menu on table three, the Zagats doing their usual abbreviated, high-maintenance menu on table four, and . . . some guy who had just written a biography of some restaurateur." One critic was notorious for asking many questions, and made one of Per Se's best runners (servers) cry when he asked not what was in the dish, nor the source of the ingredients, nor where the china was from, but when he asked what the escargot ate. Damrosch agrees that attention to food can be obsessive, especially in our status-obsessed society, but food merits serious consideration: "I don't want anyone reading this to feel guilty about paying for good food. Or reading about people paying for good food. Gas-guzzling cars and blood diamonds, yes. Organic, heirloom, sustainable, local, real food, no. Now go out and buy some cheese."
As for that hot sommelier, their romance is both rocky and sweet, carried on at various cafes and wine bars, during visits to cheese purveyors in Vermont and late-night meals at the neighborhood diner. Damrosch practices what she's learned in the kitchen--"The art of kneading, and the importance of letting things rest"--and gets to drink really good wine. Yum.--
Marilyn Dahl