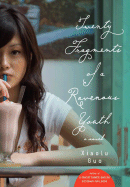 You expect the novel's title to refer to a youth who's ravenous for life and experience, and Fenfang is certainly that--but what the girl is really ravenous for is food. Fenfang has a serious hunger problem, so it's no surprise there are plenty of eating scenes in Xiaolu Guo's subtle, delicate Twenty Fragments of a Ravenous Youth. But this is no tale of bulimia or miraculous weight loss. The short novel is a slight, almost plotless sequence of sketches of life in modern Beijing, seen through the eyes of Fenfang Wang, a 17-year-old who gets tired of tending sweet potatoes and runs away from her provincial mountain home in Ginger Hill Village. At the age of 21, she fills out a fateful application form to be an extra at the Beijing Film Studio. It changes her life.

With frequent invocations to the Heavenly Bastard in the Sky, Fenfang wrestles for 10 years with a series of boyfriends, jobs and directors, writes her own screenplay about a simple, ordinary man and struggles against nosy neighbors who label any girl who veers even slightly from the social norm as a prostitute. With an artful simplicity, Fenfang weighs the joys and sorrows of life in this touching little mosaic of swiftly-drawn episodes, and as she lands a string of non-speaking walk-on roles, she grows increasingly independent and endearing.

Though the other characters remain little more than quick sketches, the gritty air and moody dust storms of Beijing unify the various adventures until the city itself becomes almost a character, dominating the story's mood. The novel takes a candid look at Beijing and modern China through the eyes of Chinese youth, as the future is faced by a young woman shaking off the restrictive roles of the past and trying to make her own decisions in the complex, contradictory modern world.

Talented documentary filmmaker Xiaolu Guo's autobiographical novel is so short and pretty it practically begs you to swallow it in a single gulp. The chapter titles are comically crooked, as though typed by a very poor typewriter. The book design is charming. The story is as light as froth but still somehow affecting, in this first novel (the second to be published here) by a young writer who is utterly sincere and mirrors the discontent of a generation.--Nick DiMartino

Shelf Talker: This autobiographical novel by filmmaker Xiaolu Guo about life in modern Beijing is subtle and delicate, looking at China through the eyes of a young woman who grows increasingly independent as she makes her way in a complex, contradictory society.