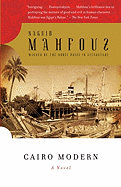 Four graduating university students are leaving campus arm-in-arm on a Thursday evening in Cairo as the story begins in Nobel Prize-winning Naguib Mahfouz's newly translated novel. The story of crisscrossing, intersecting lives unfolds at that exciting, unpredictable time in history when women first began attending universities. Of the four young men who form the emotional center of the novel, three are idealistic and righteous, the hope of Egypt--and one is a complete scoundrel, from whose viewpoint the story is told.

When his father suffers a stroke and can no longer keep his job, Mahgub's funds are cut off, just as he's about to graduate. Ruthless and merciless, borrowing desperately from friends and relatives, Mahgub is intent on working his way up the social ladder, and he's certainly bold and selfish enough, though not quite as seasoned as he thinks he is about the unpredictable rise and fall of government officials. In an attempt to save himself by landing a government job, he agrees to become a "husband" for the girlfriend of a powerful minister, Qasim Bey, sharing bed rights with the minister, never dreaming that he already knows the mysterious woman he is agreeing to marry sight unseen.

Egyptian master Mahfouz writes like an ancient Orient Express still chugging along in perfect condition, old-fashioned in almost every way, with a big Dickensian heart that seems to forgive and understand just about everyone. Crafty and unhurried, Mahfouz steers the narrative with a compassionate, frequently ironic hand, so subtle you're halfway to your destination before you realize where he's taking you. Midway through the novel, this cagey old master reveals a well-prepared shocker, which launches the story toward disaster.

The translation by William M. Hutchins is so clean you don't notice it. The morally compromised antihero is the perfect hero for our times, anxious and cunning, insecure and heartless, and somehow in spite of everything sympathetic. An ornate formalism in the plot structure moves the story at a slightly slower speed than most contemporary fiction would dare, and yet Cairo Modern remains constantly fascinating, down to the last detail.--Nick DiMartino

Shelf Talker: A story of intersecting lives in Cairo in the 1930s by Egyptian master novelist Naguib Mahfouz: fascinating, ornate and compassionate.