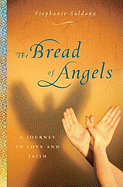 These are the bares bones of the story: in the fall of 2004, Stephanie Saldaña moved to Damascus on a Fulbright Scholarship to study Jesus in the Quran, not the most obvious pursuit for a Catholic from Texas. But after studying Arabic, Eastern Christianity and Islam at Harvard Divinity School, she was ready, and she wanted to go back to the Middle East. "Something in the Middle East awakened the deepest core of me. It made me a better person. It made me the best person I have ever been." But she was also running away from a broken heart. "I left for Damascus like a prisoner exiled to Siberia. By the time I arrived, it had become the last place in earth that I wanted to be."

She finds a charming room in Bab Touma, the Christian section of Damascus--arched windows, spearmint-colored beams, courtyard citrus trees and a pair of love-birds. She makes friends with her landlord and shopkeepers, she studies Arabic and she spends a lot of time in a desert monastery. After many months, she realizes she has fallen in live with Frédéric, a novice monk. This is usually the stuff of melodrama, but in Saldaña's hand, it transcends. It's a story told in exquisite prose, a story of a journey that saves her life.

This is how she describes learning Arabic that year:


"I learn that there will be no poetry, and that our classes will be an occasion to learn the language of Baathism, the story of class struggles and the cold and dry vocabulary of war. Though I still don't know how to order in a restaurant, in the next week I'll learn the words unemployment, depression, suicide, famine, and starvation. Instead or memorizing Arabic poetry... I'll memorize the words soldier and war, politics and explosion...."


Later, after her winter sojourn at the monastery and a long illness, she discovers that she is finally hearing Damascus--the way she listened in the desert to ghosts and angels--and she discovers a new vocabulary. The man who sells her mango juice tells her the word for straw, mussasa. "I love it. It is such a useless word, a luxury." And, "Today a woman ordering at a juice stall gave me carrot, a Greek Catholic priest gave me forgiveness, and a frustrated neighbor unwittingly taught me a handful of vulgar expletives, together with the rhetorical question, So, what do you expect me to do? I love them all. I feel like a lost wanderer scooped up from the side of the road, given directions and a glass of water to drink."

Stephanie Saldaña has created something of beauty out of her transformation from a life of chaos and her search for peace. The Bread of Angels is an absolutely compelling memoir, elegant and wise, written with dazzling detail and passion.--Marilyn Dahl

Shelf Talker: An elegant, dazzling memoir of a life lost and found in the ancient city of Damascus.