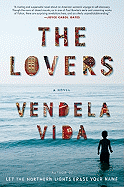 The Lovers is not about lovers--unless you count the growing relationship over several days in Turkey of a 53-year-old American teacher trying to forget the death of her husband two years ago and a Turkish boy of nine or 10 whom she befriends. "You two laugh and play like lovers," says the hostile café waiter who watches them. Though Yvonne and Ahmet can't understand each other, she buys the seashells he's selling and begins to seek him out on the beach every day.

The title of this short, mysterious novel is not the only thing that doesn't play by the rules. The plot refuses to go where you think it must. Author Vendela Vida has her own ideas of how to tell this story, and it seems to be more about parents and their children and letting go of deceased loved ones than about lovers. Themes of love, loss and parenting are picked up along the way as Yvonne journeys through Turkey to meet her son and his fiancée on a pre-wedding cruise.

Through Yvonne's various encounters--with tanned, well-preserved Deniz on her sailboat; with lovely, young Ozlem, the abandoned wife of Yvonne's landlord; with Aylin, the little boy's hostile sister--she slowly pieces together what went wrong with her married life, when she and Peter began lying to each other, and how their troubled, alcoholic and drug-addicted daughter transformed her relationship with Peter into one of hostility and deception. Vida brings her minor characters to life with quick, telling sketches.

Unexpected turns abound. An owl gets caught in the kitchen of Yvonne's rented Turkish home, and then takes up hiding in her basement--it turns out to be the grieving mate of an owl killed by neighborhood boys. Yvonne discovers a sex swing upstairs and a photo of the landlord's naked wife hidden under the couch--but she turns out not to be his wife at all. When Yvonne spots two gangster-like men swinging a third figure in a blanket at the edge of an ocean cliff, she assumes it's mob violence, only to see a little girl emerge from the blanket, laughing.

Ultimately a tragic accident throws everything that has happened so far into question and propels the plot into the book's final sequence, painful and touching and somehow redemptive. Like a good poem, the story's meaning is ambiguous, and as interesting for what it is as for what it is not. Long after its surprising last line, the reader is left to ponder the real meanings of Yvonne's troubled journey into self-knowledge.--Nick DiMartino

Shelf Talker: A short, mysterious novel, set against a Turkish backdrop, about a woman's troubled journey to self-knowledge.