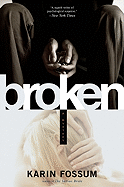 Norwegian crime writer Karin Fossum, best known for her well-loved Inspector Sejer series, makes a striking departure with this metafictional novel about a crime writer and her relationship with the characters she creates. It's a clever concept, albeit one with the potential to become too clever or even self-indulgent. Fortunately, Fossum has--in spades--the skill and subtlety needed to pull this off. It is less clear whether or not her readers (or those looking for thrillers in the Larsson/Mankell vein) will respond to this quietly unsettling story.

The narrator of Broken, who may or may not be Fossum herself, is preparing to start a new novel--this one--which requires picking a protagonist from the long line of possibilities who stand in her driveway waiting for their turn. But one particularly anxious character can't wait any longer. He cuts the line and enters the author's house, demanding that she tell his story before she drops dead and leaves him unwritten. The author, who names him Alvar Eide, decides to take him on and begins to write his story.

Alvar's story is fairly simple: he is 42, works at an art gallery and lives alone in a small, neat apartment. His life is ordered and predictable, if solitary. Although he "prefers men," Alvar has never had a relationship--of any kind. Naturally, this kind of stasis can't last. The author introduces all kinds of upsets into Alvar's life to test him and, of course, to create tension in the narrative. The first arrives in the form of a painting of a broken bridge that Alvar falls in love with and wants to buy, though it will cost him every krone in his savings. More unsettling, a teenage heroin addict, Lindys, shows up at the gallery one day and Alvar, trying to be "a good person," gives her coffee. She returns again for more and soon after that she shows up unannounced at his apartment, asking for money, which Alvar gives her. And then, she comes back once more and Alvar's ordered life begins to fall apart.

Intercut with these events are scenes between the author and Alvar, who checks in with her regularly to question his development and vent his increasing anxiety. The author explains what she can of her process and encourages him to move forward. These interruptions take nothing away from Alvar's story, which is precise, detailed and perceptive. Fossum's short but powerful novel is a treat for all writers but will appeal to any reader willing to look just a bit beneath the surface.--Debra Ginsberg

Shelf Talker: A smart, unusual suspense story about an author and her character by Norwegian crime writer Karin Fossum.