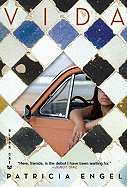 Patricia Engel's debut arrives with glowing endorsements from several literary luminaries, Junot Díaz and Uzodinma Iweala to name just two, and the praise is well-deserved. In this collection of connected stories, Engel explores timely questions of community versus personal identity, offers striking observations on the restrictions of class and race and does it all in a voice that is free of artifice and effort.
The common thread in Vida is Sabina, 14 years old when we meet her and living in New Jersey. The daughter of Colombian immigrants, Sabina describes her family as "foreigners, spics, in a town of blancos," who never manage to become accepted in their community. In the first story, "Lucho," the tomboyish, lonely Sabina strikes up a friendship with another outcast--a 16-year-old "bad boy" with a terrible secret--who takes a genuine interest in her. But this friendship, like so many others in Vida, has tragic overtones. In "Green," for example, the adult Sabina is contacted by Maureen, her high-school nemesis, who is dying as a result of her anorexia. Sabina's conviction that Maureen finally wants to apologize and make amends turns to horror when she realizes the real reason that Maureen has summoned her. In the beautifully constructed "Paloma," Engel packs a novel's worth of feeling into the story of Sabina's aunt and childhood caretaker, a complicated woman (and repository of family secrets) who is forced to yield her independence when she becomes ill. In the title story, perhaps the most poignant in the collection, Sabina (who has drifted to Miami in an effort to remake herself) befriends Vida, an illegal immigrant with a troubled past and dangerous future. Sold into prostitution and then freed from her brothel by one of its guards, Vida has become that guard's "girlfriend" and virtual prisoner. Placing both of them at considerable risk, Sabina cobbles together a plan to rescue her friend.
While some stories deal sensitively with Sabina's romantic relationships and her inability to sustain them, Engel is strongest when navigating the lives of Sabina's family and friends. Their struggles for acceptance, to become part of their wider communities without sacrificing their identities or values, and to work through pervasive cruelty and classism are rendered with precision and absolute honesty. These stories are quiet and deep, a function of Engel's clear, direct prose, which is devoid of frills and accouterments. These are real, three-dimensional characters and their stories are deeply moving. --Debra Ginsberg
Shelf Talker: A striking debut collection of linked stories tracing the life of an American-born daughter of Colombian immigrants.