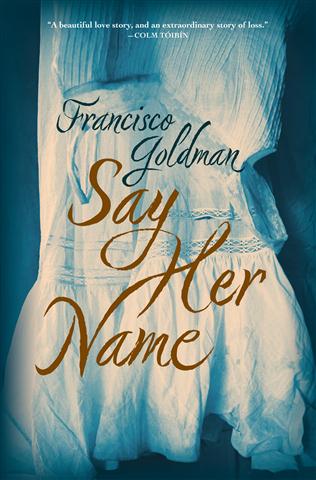 Say Her Name "was my way of mourning Aura, to make sure she would never be forgotten--not by me or by anyone else," explained Francisco Goldman about the inspiration for his new novel.
In 2007, Goldman and his 30-year-old wife, writer and Columbia University graduate student Aura Estrada, were enjoying a much-anticipated holiday at a Mexican beach town. But then she had an accident while body surfing and died from her injuries.
In Say Her Name, which will be published in April, Goldman melds fact and fiction to create a vivid, compelling portrait of Aura's upbringing in Mexico, her literary and academic pursuits, their courtship and marriage, its heartbreaking end and his journey through grief. Some scenes, like his wife's accident and its aftermath, are entirely factual, while other scenarios, such as ones depicting her childhood, were imagined based on conversations the couple had or snippets from Aura's diaries.
"It's emotional and moving, but there's so much humor in it as well," said Elisabeth Schmitz, v-p and executive editor. "Frank brings Aura alive for all of us who didn't know her."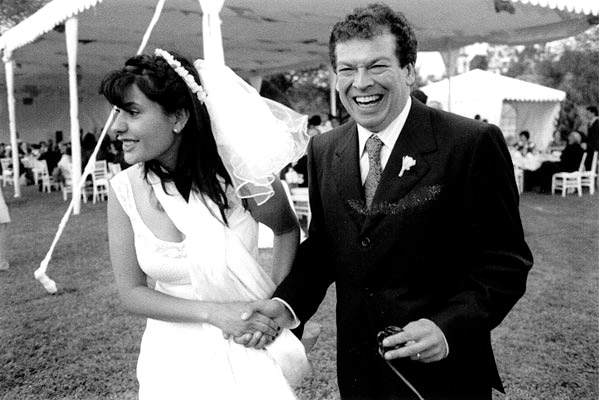 Goldman began writing Say Her Name five months after Aura's death and worked on it for three years. "Writing is my way to process things," he said. "I had no choice but to write this book. I always say that if I had been a mountain climber, after Aura's death I would have tried to climb the highest mountain. You deal with these things by relying on what you know how to do."
Goldman is the author of the novels The Long Night of White Chickens, The Ordinary Seaman and The Divine Husband and one nonfiction work, The Art of Political Murder, all of which have been published by Grove/Atlantic. (The cover of Say Her Name features an image of Aura's wedding dress taken by publisher Morgan Entrekin's wife, photojournalist Rachel Cobb.)
When his other novels were published, Goldman worried about readers' reactions and reviews. "I don't feel that way with this book," he said. "This is not a book that one feels comfortable taking congratulations for. This book has a complete humility built into it. It's painful. There's so much loss associated with it that your reactions have to be humbled, and they naturally are. I feel this preternatural calm about it."
Say Her Name has struck a chord with other writers. Kiran Desai called the novel "a tender and sacred narrative, many-angled, fearless, incandescent in its frankness." When Annie Proulx was asked on the Leonard Lopate Show what she had read or seen recently that moved or surprised her, she mentioned two books, one of which was Say Her Name.
Earlier this month, a piece Goldman wrote based on Say Her Name ran in the New Yorker and elicited an outpouring of responses. "It was gratifying that people were so moved by it," he said. He was surprised, though, by the many notes of condolence he received. "That was a little freaky because I've worked really hard, and I'm not in bad shape at all right now," said Goldman. "I realized that, in some way, because of the book, I'm fixed in the reader's mind as this person who is plunged deep in traumatic grief."
Writing Say Her Name was far from cathartic for Goldman, but he felt he owed it to Aura to keep going. "There were some days when I wanted to escape, when I didn't want to be going back into my memories," he said. "It was a kind of self-immolation. Writing it deepened my sadness, but once the book was done I realized what an important step it had been. It really made me feel like I had completed a promise."
Woven throughout Say Her Name are excerpts from Aura's own short stories, poems and other writings. In 2008, Goldman established the Aura Estrada Prize, which is awarded biannually to a female writer 35 or under from the U.S. or Mexico who writes creative prose in Spanish.
What does Goldman suppose Aura would make of Say Her Name? "I think she would see how much I loved her."--Shannon McKenna Schmidt
photo: Rachel Cobb