The bankruptcy case of Joseph Beth Booksellers, which filed for Chapter 11 reorganization late last year (Shelf Awareness, November 12, 2010), has not been smooth sailing. When the bookseller sought to extend the amount of time it has to file a reorganization plan, the unsecured creditors' committee filed a stinging challenge, saying that although Joseph Beth has "closed several stores and implemented certain expense-reduction initiatives (though not enough in the Committee's view), [Joseph Beth's] management and professionals have not yet defined the contours of their reorganized business and how they intend to exit from chapter 11." The committee noted, too, that Joseph Beth's debtor-in-possession financing expires on April 29 and said that the company has been "unable to obtain exit financing at a reasonable cost from a third-party lender, despite attempting to contact more than one hundred potential lenders." The committee's dire conclusion: "it appears that... unsecured creditors would fare better in a chapter 7 liquidation than they will under any reorganization scenario."

Still, last week Joseph Beth and the unsecured creditors' committee agreed to postpone a hearing on the extension at least several weeks "to facilitate discussions... regarding an exit strategy" in the case.
---
Coming from @ORBooks April 21: TWEETS FROM TAHRIR narrates the real-time Egyptian revolution. But who owns the rights? (via the NYT)
---
Book trailer (and voiceover) of the day: Soccer Dreams: Playing the Seattle Sounders FC Way by Clare Hodgson Meeker (Creating One). The voiceover for this chapter book is provided by longtime rep George Carroll of Redsides Publishing Services, his first voiceover--and the first of many, he hopes.
---
To celebrate its 40th anniversary, PBS's Masterpiece is offering a sweepstakes whose grand prize is a four-day, three-night trip to the U.K. to visit some of the locations from the series, including Greenway, home of Agatha Christie; Blenheim Palace, featured in The Lost Prince; Bath; and Oxford. More than 300,000 people have entered. For more information, click here.
---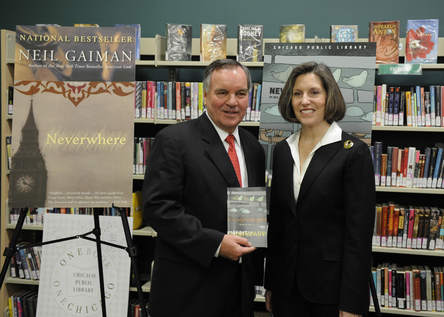 Neil Gaiman's Neverwhere is this year's selection for One Book, One Chicago, the Sun-Times reported. Library Commissioner Mary Dempsey said, "I'm not a fan of fantasy, generally. But, I actually loved this book. Loved it. It's like Alice in Wonderland. It's tremendous fantasy. It's beautifully written. It's the pedways. It's underneath the subway. You will never ride the subway again and look at it in the same way after you read this book."

In a letter included with the study guide, Gaiman said reading Free, Live Free by Gene Wolfe was part of his inspiration for Neverwhere: "I thought there ought to be a whole genre of stories out there--magic stories--in which people travel through a city that's as much a character as the people in it."


Gaiman added that he has a fantasy about the One Book, One Chicago promotion: "This is my fantasy: That everyone in Chicago reads Neverwhere. Everyone. All the people in Chicago Above and even--because we know they are there--the shadowy figures of Chicago Below who have stepped out of legend long enough to read about Richard Mayhew and to learn, as Richard does, that it all starts with doors."

---

"Artists love other artists," Flavorwire observed in showcasing "10 Real-Life Literary Power Couples" and observing: "Perhaps there is an electric connection between two people whose minds are always whirring, or literary snobs can't bear to date laymen, or perhaps for some writers, the only way they know their partner will understand them is if that person is also a writer."
---

This is National Book Critics Circle Awards week in New York City and includes several events featuring awards finalists that are free and open to the public:

Biography and autobiography finalists Sarah Bakewell, Yunte Huang, Kai Bird, Reiko Rehna Rizzuto, Patti Smith and Darin Strauss will converse with Eric Banks and Rigoberto Gonzalez tomorrow night at 7 p.m. at Elebash Recital Hall, the Graduate Center, CUNY, 365 Fifth Ave. between 34th and 35th.

Also tomorrow night at 7 p.m. nonfiction and criticism finalists Siddhartha Mukherjee, Isabel Wilkerson, Clare Cavanagh, Susie Linfield and Ander Monson will speak with Art Winslow and John Reed in the Regina Peruggi Room, Marymount Manhattan College, 221 E. 71st Street.

On Wednesday night at 6 p.m., the following finalists will read at the New School, 66 W. 12th St.: Jennifer Egan, Jonathan Franzen, David Grossman, Sarah Bakewell, Yunte Huang, Thomas Powers, Elif Batuman, Clare Cavanagh, Susie Linfield, Ander Monson, S.C. Gwynne, Siddhartha Mukherjee, Isabel Wilkerson, Patti Smith, Rahna Reiko Rizzuto, Anne Carson, Kathleen Graber, Kay Ryan and more.

The NBCC awards ceremony is on Thursday at 6 p.m. at the New School.

A reception after ceremony the will be held at the Lang Center, 55 W. 13th St., 2nd Floor, and costs $45. For more information, click here.