"When I was no more than nine years old, a tornado tore right close to my house," wrote Susan Gregg Gilmore--author most recently of The Improper Life of Bezellia Grove--in the opening chapter of her first novel, Looking for Salvation at the Dairy Queen, which is set in Ringgold, Ga. "I remember yelling at my little sister to run and hide in the basement. 'Martha Ann,' I warned her, 'if that twister hits this town, nobody's even going to notice it's gone.' "

Of course, people do notice and care when tragedy strikes any town. The devastating tornadoes that raked across the South two weeks ago caused major damage in Ringgold, and Gilmore wanted to do something to help. Fortunately, the seeds of an idea had already been sown. She was planning a supper and book talk at her home in Chattanooga, Tenn., to celebrate the paperback release of The Lost Summer of Louisa May Alcott by Kelly O'Connor McNees, "with one of my favorite indies [FoxTale Book Shoppe, Woodstock, Ga.] coming to sell the books."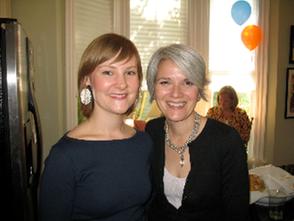 Kelly O'Connor McNees (l.) and Susan Gregg Gilmore
Although she had met McNees on Twitter, this would be their first meeting in person. "The Lost Summer of Louisa May Alcott was one of my favorite reads of 2010," said Gilmore. "I encouraged her to come South and introduce herself to some of the wonderful independent booksellers below the Mason-Dixon Line. I am a big believer in building community to get anything of any importance done--it does seem to take a village to introduce great books to readers." The dinner would be "an evening about building community, about thinking of new ways to introduce readers to great books even while Amazon is building a warehouse in my backyard." In addition, several of her guests were coming from Ringgold, and she hoped that they could brainstorm "about the best way for two authors and a bunch of readers to help a hurting community."

McNees recalled that Gilmore had helped her connect with FoxTale Book Shoppe in February to schedule a mother-daughter tea event for Mother's Day weekend. "My mom and I decided to drive to Georgia from Chicago for the event, passing through Chattanooga. Since Chattanooga does not have an indie, Susan offered to host a book party at her house a few days before the tea. I honestly couldn't believe she was willing to do this for someone she had never met. But I am coming to realize that is just the sort of person Susan is. All the plans seemed to be coming together until about a week before I was supposed to leave, when those devastating tornadoes swept through Tennessee and Georgia. I thought for certain we would cancel the event, but Susan insisted on forging ahead, even though during those first days she had no electricity and couldn't get in touch with some of the guests to make sure they were okay."

Despite all the obstacles, the event last week turned out to be "a wonderful success," Gilmore said. "Kelly and her mother could not have been more gracious. Heck, you'd think they were both from the South." More than 30 people attended, "including most of the members of my beloved Ringgold book club, the Not So Rapid Readers. Amazingly, every member survived the tornadoes with no injury or damage to their property. A few downed trees in the yard, but that was it. I will say that they all seemed to thoroughly enjoy an evening of wine, food and book talk--a bit of normal during a difficult time."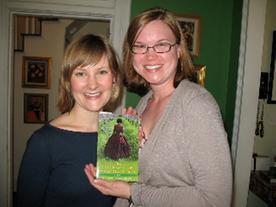 Kelly and Nashville-based blogger Becky Brothers.
What emerged from the discussion was an agreement that "we would band together--members of the Not So Rapid Readers, Chattanooga YA author Allison Foster, Kelly, myself, Rebecca Brothers (a Nashville blogger who started a similar campaign called A Dry Read after last year's devastating floods in Nashville), Ringgold blogger Julie Golden, as well as other members of the Chattanooga and Ringgold communities including Meg Patton and Bonnie Moses--and launch a long-term project to restock the shelves of the Ringgold Middle and High School libraries," Gilmore said. "Both schools were destroyed in the 195-mile-per-hour winds. I personally feel a responsibility to help this community that I love so much. And I am thrilled to report that Crown will be supporting us in this effort."

McNees, who "had seen Ringgold on the national news a few days before and was stunned to see how much damage that town suffered," said the event "gave us a chance to begin a conversation about how we can help Ringgold rebuild its school libraries, and I plan to be part of that effort from afar."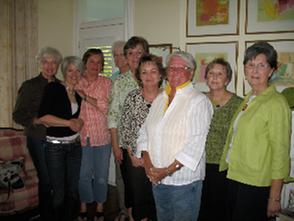 Susan and the Not So Rapid Readers.
She also noted that Gilmore's "community-building approach is an example of one way book lovers are trying to stay connected when they lose a great independent bookstore from their community. Readers and writers want to come together to share the books they love--the gloomy economy doesn't change that fact one bit. It's fantastic when those gatherings can happen in our neighborhood stores, but many book-loving towns have lost their stores. Perhaps we will be seeing more events of this kind in the future. I hope I have the chance to pay the generosity forward down the line back home in Chicago. And the event at FoxTale was a big success, too. The owners even dressed in Victorian costume."

FoxTale Book Shoppe co-owner Ellen Ward agreed, and observed that "one of the joys of being a bookseller is really getting to know authors and their readers, so the Gilmore/McNees event at Susan's lovely home was great fun in all respects. The kind of support between the authors and the enthusiasm for literature evidenced there is what keeps our indie bookstore alive and well in Woodstock. We followed the Chattanooga event with a Louisa May Alcott Tea Party for Kelly at FoxTale, complete with period dress. A lot of work? Of course; but unique events sell books and distinguish us as booksellers with passion, a niche that we embrace wholeheartedly."--Robert Gray (column archives available at Fresh Eyes Now)