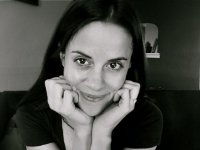 Bonnie Nadzam was born in Cleveland, went to high school in suburban Chicago, and has moved ever westward since then. Her fiction and poetry have been published in the Kenyon Review, the Mississippi Review, Story Quarterly and others. She taught at Colorado College, where she served for two years as the Daehler Fellow in Creative Writing. She is married to her childhood love and lives with him in the Rocky Mountains. Lamb (Other Press, September 13, 2011) is her first novel.
On your nightstand now:
I would never read in bed or off a nightstand. I read outside in the rain, snow and wind. Right now I'm reading How to Build a Storm Shelter. Also this beautiful book, John Ashbery's translation of Arthur Rimbaud's The Illuminations.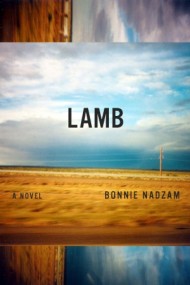 Favorite book when you were a child:
Aesop's Fables. It had magnificent, terrifying illustrations. I was convinced by all of them. Still am.
Your top five authors:
Louis L'Amour, Miguel de Cervantes, the Brothers Grimm, Herman Melville--but they change a lot.
Book you've faked reading:
My high school calculus textbook. It sat on top of a file cabinet in my parents' garage for six months, but I kept going to class. I still feel foolish and sorry about it, because Mr. Crowl was a fine teacher and seemed really to care about our progress.
Book you're an evangelist for:
Moby Dick. The entire book, but particularly the chapter about the whiteness of the whale and the early scene in which Ishmael enters Peter Coffin's Spouter-Inn, with the "old-fashioned wainscots" and the "large oil-painting so thoroughly besmoked, and every way defaced, that in the unequal cross-lights by which you viewed it, it was only by diligent study and a series of systematic visits to it, and careful inquiry of the neighbors, that you could in any way arrive at an understanding of its purpose."
Book you've bought for the cover:
I like the heavy, blank, smooth covers--the ones that look oily and used and punished and slept on. Old, big, drab covers. Like this old Catholic prayer book I have, and very small, very old cloth-bound volume of Shakespeare's tragedies and histories. It's pink.
Book that changed your life:
It was called How to Change Your Life. It totally worked.
Favorite line from a book:
"...Road to hell paved with unbought stuffed dogs. Not my fault." --A very undaunted Bill in The Sun Also Rises.
Book you most want to read again for the first time:
Larry McMurtry's Lonesome Dove, but only until they reach Montana.