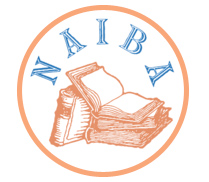 Faithful correspondent Chris Kerr of Parson Weems went to the New Atlantic Independent Booksellers Association fall conference in Atlantic City, N.J., last week and, with the help of partners Eileen Bertelli and Linda Cannon, sends this report:


Intrepid booksellers and others braved the construction site of the new Golden Nugget Monday evening, September 19, through Wednesday afternoon, September 21, for the New Atlantic Independent Booksellers Association fall conference.

On the site of the little-lamented former Trump Marina, almost 200 booksellers grabbed room rates a fraction of the adjacent Borgata to see friends, join workshops and visit with current authors and future bestsellers.

A Preview Dinner featured local "comfort food" and authors Hillary Jordan, Jack Gantos, Doron Weber and Heather Poole, followed by the annual Quiz Bowl, a NAIBA favorite. Among fun people at the show were Lanny Parks and her husband, state judge Floyd Parks, of the Compleat Bookseller, Chestertown, Md. The judge's first comment: "When does the Quiz Bowl start?"

Christine Onorati, owner of Brooklyn's WORD, commented, "I liked the new format of the show floor; it was a bit more informal. It's always fun seeing our reps in that setting. I also liked the split of having all the book info on day one and the business info on day two. I think we're on the road to invigorating the organization and doing some really interesting things."
In a change applauded by most, this year's show devoted an entire day--Tuesday--exclusively to books, with a program of events called Bookcentric, which included pick of the lists programs, an afternoon of publisher exhibits and an exhibit area cocktail party before the Awards Banquet.

Bookcentric Tuesday began with an Author Breakfast with Colson Whitehead, Kenneth Oppel and Peter Brown. Arielle Eckstut and David Henry Sterry, authors of The Essential Guide to Getting Published, were morning keynote speakers. They've conducted their popular Pitchapaloozas across the country and had lots of ideas to share. Following that, children's reps offered their Pick of the Lists. An Editor Buzz for adult books was led by Marysue Rucci of Penguin, Kate Miciak of Random House, Jamie Levine of Hachette and Carl Lennertz, lately of HarperCollins. During lunch, publishers sales reps pitched their key adult books. The exhibit floor also featured Speed Dating with Children's Authors & Illustrators during the afternoon.
NAIBA executive director Eileen Dengler noted that more booksellers attended meal functions this year, which she attributed to increased publisher sponsorship of these events.
Jane Bell of B Is for Books, Orchard Park, N.Y., noted, "I love coming here to see the kid's books and other booksellers."

P.K. Sindwani, owner of Towne Book Center, Collegeville, Pa., said, "Our new store location allows for expansion in some categories; at the show, it is always good to see the actual books."

During the evening's Book of the Year presentations, Middle Reader winner Laurie Halse Anderson, author of Forge, thrilled the crowd with an account of her breathless dash from the tarmac after spending a day waiting for weather-delayed flights. We caught up with her afterward chatting with her daughter Stephanie Anderson, manager of WORD, Brooklyn, N.Y.

Peter Brown was hilarious while accepting the Picture Book Award for his Children Make Terrible Pets, and Stephen Alcorn, accepting the Carla Cohen Free Speech Award for Odetta, was especially moving when talking about working with this iconic folk singer.

The evening's longest standing ovation was reserved for longtime PGW rep Bill Getz, winner of this year's Helmuth Sales Rep of the Year Award.

Ellen Mager, owner, Booktenders' Secret Garden Children's Bookstore & Gallery, Doylestown, Pa., won the first Joe Drabyak Handseller of the Year award. The award is named for the beloved Chester County Books and Music bookseller and former NAIBA president who died last year.

At the Author Reception, the last event of the day, I was particularly thrilled to meet Suzzy Roche of the famous three-sister band the Roches, whose novel Wayward Saints pubs in January. I also enjoyed chatting with Ellis Avery, author of The Last Nude, a novel framed by art deco painter Tamara de Lempicka, also pubbing in January.

Wednesday's program was themed Bizcentric, with numerous sessions focused on the business of bookstores, including a session on hosting successful YA events, led by Suzanna Hermans of Oblong Books, Rhinebeck, N.Y.; efficiency translated for booksellers, led by WORD's Stephanie Anderson; and a publicity workshop led by Margot Sage-El, Watchung Booksellers, Montclair, N.J.

After the sessions, Tom and Tori Williams, Mendham Books, N.J., commented, "We are totally dependent upon our author events. We come to this show looking for ideas on how to promote and authors we can recruit for appearances." And Kate Reynolds of the Colgate University Bookstore, Hamilton, N.Y., said, "I'm spreading the word about event opportunities at the store and university.

Bill Skees, owner of the new Well Read Books, Hawthorne, N.J., said he was "still feeling my way around. This show has been helpful."
Susan MacAnalley, manager of BrowseAbout Books, Rehoboth Beach, Del., summed it up nicely when she said, "We started coming back to the show a couple years ago; it has gotten so much better."