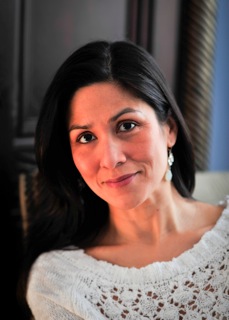 The child of a Filipino father and an Anglo-American mother, Marisa de los Santos was born in Baltimore and grew up in Northern Virginia. She spent many years as a poet before she began, quite suddenly, to hear a voice in her head, which turned out to be that of Cornelia Brown, the protagonist of her first novel, the New York Times bestseller Love Walked In. Now hopelessly addicted to fiction-writing, Marisa went on to write another novel, Belong to Me, also a bestseller. With her latest novel, Falling Together (William Morrow, October 4, 2011), Marisa got the chance to write about the Philippines, which made her very happy. She lives in Wilmington, Del., with her husband, David Teague, and their two children.
On your nightstand now:
We Need to Talk About Kevin by Lionel Shriver; Sleep: A Groundbreaking Guide to the Mysteries, the Problems, and the Solutions by Carlos Shenck; The Family Fang by Kevin Wilson; an advance copy of Heather Barbieri's The Cottage at Glass Beach; a Fall 2011 J.Crew catalog; After the Funeral by Agatha Christie; and Gone-Away Lake by Elizabeth Enright, whose books I adored as a kid and have read over and over again as an adult.
Favorite book when you were a child:
The Four-Story Mistake by Elizabeth Enright, about a family of gifted, interesting kids who live in a big, rambling house in the country. I love all of Elizabeth Enright's books and have quite possibly learned more about writing from her than from any other writer. Her sentences are exquisite and her characters are as alive as any real person I know.
Your top five authors:
E.M. Forster, Barbara Kingsolver, Ann Patchett, George Eliot, Jane Austen.
Book you've faked reading:
Bleak House. Actually, I faked it twice, once in high school, when I relied heavily on the Cliffs Notes (never tell my children this) and once in college when I skimmed huge sections of it.
Book you're an evangelist for:
The Solace of Leaving Early by Haven Kimmel. I worship Haven and this book. I read it once a year, usually more. Everyone knows her memoirs, which are funny and marvelous, but her fiction is even better, smart and witty and grave and gorgeously, gorgeously written.
Book you've bought for the cover:
Kate Christensen's The Great Man. The hardcover cover with the paintbrush and the streak of white paint is brilliant. And so is the book.
Book that changed your life:
To Kill a Mockingbird. It was a crash course in empathy for me. I read it when I was way too young, and then I read it again when I was about 10 or 11, and I can remember the lightning-bolt realization that other people are the centers of their lives just as much as I am the center of mine. That thought blew me away.
Favorite line from a book:
"Only connect! That was the whole of her sermon. Only connect the prose and the passion and both will be exalted, and human love will be seen at its height. Live in fragments no longer." --Howards End, E.M. Forster