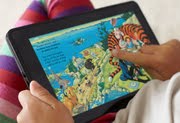 Is Apple looking to build a low-cost iPad to douse the Kindle Fire's momentum? AppleInsider reported that Ticonderoga Securities analyst Brian White "has been touring China and Taiwan and meeting with component suppliers, where he has heard rumblings of a so-called 'iPad mini' arriving next year. The 'mini' name doesn't necessarily refer to the size of the device, he said, but a lower entry-level price."

"We believe this lower priced iPad could be priced in the mid-to-high-$200 range," White observed in a note to investors. "We expect this will be followed by a much more powerful, feature rich standard-priced iPad 3 in (the second quarter of 2012)." AppleInsider wrote that the timing of Apple's presumed release date for the "iPad mini" would be about the same time that Amazon is expected to introduce a larger, more powerful touchscreen tablet.

CNet noted that "the tablet market is changing. Apple may have to change along with it. Smaller 7-inch and 8.9-inch tablets from Samsung, HTC, RIM and others are prevalent now. And if the Kindle Fire approaches the iPad in sales--which analysts say is possible--that would make smaller, cheaper tablets a category that rivals the 10-inch iPad in popularity."

But Fast Company was not convinced and offered its own prediction: "Aware that it's facing increasing competition in the core iPad market, Apple will ace it with the iPad 3 as a mid-to-premium price device. Also aware that strong sales of the Fire mean consumers do want a cheaper device that delivers good performance, Apple will keep perhaps just one size of iPad 2 on sale (perhaps the 16GB Wi-Fi edition, entirely untouched inside) and drop the price to something crazy--like $350 or perhaps $299. This will still let them make a small profit on every one, as well as incremental profits from ongoing spends in the App Store by consumers. Apple won't compete directly with the 'cheap' but technologically inferior Fire, instead tempting customers to spend just a few dollars more on the 'real deal' that has a bigger screen and can play games--and lets you write novels on it too, should you want to release your inner Paula Fox/Paul Auster."