Cinder by Marissa Meyer (Feiwel & Friends/Macmillan, $17.99 hardcover, 9780312641894, 400p., ages 12-up, January 3, 2012)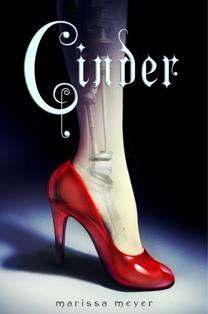 Once upon a time, Cinderella was a cyborg supporting herself and her adoptive family as a skilled mechanic in a plague-ridden future.
Marissa Meyer's wildly inventive debut YA novel opens with 16-year-old Cinder yanking her foot from the socket where the screws are rusting. As she waits for Iko, her android-assistant and constant companion, to return with a new, proper-size foot, a customer arrives at her booth at New Beijing's weekly marketplace. Cinder recognizes him before her retina display finishes scanning his features: Prince Kaito, crown prince of the Eastern Commonwealth.
Meyer creates here a feminist fairytale for modern teens. The prince comes to Cinder because of her reputation as the most skilled mechanic in the land. His android suddenly stopped working and he needs her to fix it, preferably before the upcoming festival. They meet as equals, and a friendship takes hold. He will return the following week to pick up his android. Just after his departure, Cinder hears a scream. It's Chang Sacha, the baker who shuns Cinder because she's a cyborg. The woman has contracted the plague, and an emergency hover arrives to place her in quarantine, separating Chang Sacha from her young son. The author smoothly places these cornerstone elements in the first chapter, then builds a coming-of age story layered with an intergalactic threat of war and plague.
Cinder knows little of her past, and the guardian who took her in at age 11 died soon after. Her stepmother, Adri, though not especially cruel (she permits Cinder to use a cramped, chilly storage space in the basement to do her work), treats her own daughters, Pearl and Peony, as superior to Cinder. In a refreshing twist on the fairytale classic, Peony shows kindness to her stepsister, and the two share a true friendship. However, when tragedy strikes, Adri hands over Cinder to the "cyborg draft" for the financial reward she receives. Rather than becoming soldiers, cyborgs instead serve as guinea pigs for doctors and scientists to test antidotes for Letumosis, the plague that claimed Chang Sacha, which is quickly taking hold in New Beijing. Even the emperor is in the plague's final stages, with Prince Kai his imminent heir.
The draft, however, delivers an unexpected silver lining. Dr. Demetri Erland, who examines Cinder, recognizes her abilities, and the two strike a deal to give her liberties to come and go freely, so she can continue her own work and return to the lab to aid the doctor. Prince Kai frequently visits the lab, and an alliance forms between him and Cinder. But time is running out for the emperor, and Queen Levana, who rules Luna (the moon), applies pressure for a marriage between herself and Prince Kai--or else she threatens war on Earth. Meanwhile, Cinder begins to unlock other mysteries, such as the one Prince Kai's android keeps, as well as clues to the origins of Letumosis and also to Cinder's own identity.
Meyer takes the essentials of the original fairytale and uses them to reexamine the ideas at its root. Cinder is a cyborg. What makes someone human? Is it purely flesh and bone? Queen Levana manipulates a glamour to maintain a veneer of enchanting looks (literally: for her visit to Earth, she orders all mirrors covered in advance of her arrival). How do we define beauty? And what contributes to a lasting connection between two people?
While Meyer does not take Cinder to happily-ever-after in this first book of a planned quartet, she does bring this thought-provoking twist on Cinderella to satisfying completion, and also puts in place the markers for the heroine's larger journey.