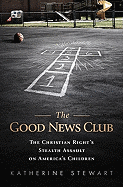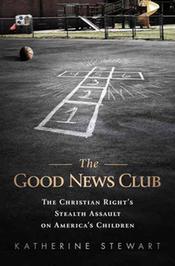 Journalist and novelist Katherine Stewart has written a powerful exposé about the innocuously named Good News Club, a ministry of Child Evangelism Fellowship (CEF). In 2001, the Supreme Court, in Good News Club v. Milford Central School, ruled that an outside organization may proselytize after hours in public schools. In his dissenting opinion, Justice Souter wrote that "it is beyond question that Good News intends to use the public school premises... for an evangelical service of worship calling children to commit themselves in an act of Christian conversion." As Jerry Falwell put it in 1979: "I hope to see the day" when churches will have "taken over" the public schools "and Christians will be running them."
As Stewart points out, the Club isn't in a few schools here or there--by 2010 "there were 3,439... in public K-6 schools around the country." The group trains some 275,000 children's workers each year to come into a school like a Trojan horse. This movement rejects the values of inclusivity and diversity and has set its "sights on destroying the system of public education--and it is succeeding."
She visits a school in Seattle where the Club's presence has resulted in arguments between young students over who is going to hell. She attends a CEF convention where Matthew Staver of the Liberty Counsel gives a speech telling attendees that any opposition to the GNC is the work of Satan. She explores the rise of Christian fundamentalism since the '60s and '70s, and examines the influence Jay Sekulow, chief counsel of the American Center for Law and Justice and owner of a popular Christian radio talk show, has had in shaping their judicial strategy. She covers the Texas textbook wars and the influence of the Christian Right in rewriting textbooks to suit their beliefs. And then there is the "See You at the Pole" movement--students gather at the flagpole before school and nail slips of paper with non-Christian classmates' names to a cross.
Howard tells us that she has met a number of nice people in the GNCs, but their good intentions "have been harnessed in service of a national agenda that will ultimately erode our communities and undermine our public schools." --Tom Lavoie
Shelf Talker: The truth about a Christian Right organization whose goal is to infiltrate public schools and religiously "bully" young children into accepting a fundamentalist religion.