The inspiration for bookseller Eowyn Ivey's debut novel, The Snow Child (Reagan Arthur Books, February 1), came while she was shelving books in the children's section at Fireside Books in Palmer, Alaska. An illustrated edition of a Russian fairy tale about a snow maiden caught her eye.
"I had never seen the book before or heard of the fairy tale," said. "It really was like a lightning bolt. As I flipped through the pages there by the shelf, I knew this was it--this was a story I was meant to tell." She set aside the novel she had been working on for five years and within a year had a first draft of The Snow Child, which is loosely based on the classic tale.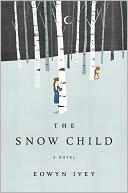 Set in 1920, The Snow Child is the story of Mabel and Jack, homesteaders on the harsh Alaska frontier. They're overcome by loneliness and despair, unable to conceive and breaking under the weight of maintaining their farm. In a fleeting moment of levity, they build a child out of snow. The next morning their creation has disappeared, but a girl named Faina enters their lives--and what they eventually learn about the mysterious child changes them all.
The setting is one that Ivey knows well. Born and raised in Alaska, she currently lives with her husband, a fishery biologist, and their two daughters in a semi-rural area north of Palmer. Along with writing and selling books, Ivey's day-to-day routine includes tasks like hauling water and wood, feeding chickens, hunting and fishing, growing vegetables and harvesting wild berries.
"While the fairy tale jump-started this specific novel, Alaska is really what inspires me to write," noted Ivey. "The landscape is such a strong force, a character unto itself that I find impossible to ignore. I can imagine writing lots of different kinds of fiction, but it's difficult for me to picture writing about any other place."
Ivey opted to set the novel in the 1920s to push the characters to the limits of survival. "Alaska is a hard place to live, but in the modern era there are a lot of safety nets," she explained. "I wanted them to be struggling in the wilderness, for their lives to be hard-earned. The contrasting texture of a wilderness homestead with the ethereal, fantastical elements of a fairy tale really fascinated me."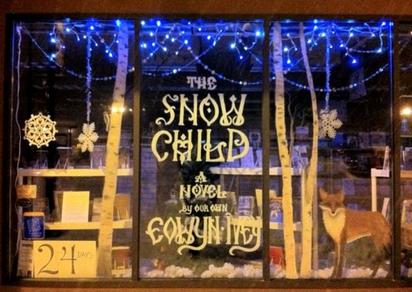 The Snow Child is receiving the royal treatment at Fireside Books, where Ivey, a former newspaper reporter, has worked for eight years. The novel is featured front and center on the store's website, and those who order a copy before pub date receive a tote bag with their purchase. Another Fireside staffer, artist Ruth Hulbert, painted the store's front window with images from the story and the tag line, "The Snow Child, a novel by our own Eowyn Ivey." (The author's literary-minded mom named her for a character in J.R.R. Tolkien's Lord of the Rings trilogy.)
Ivey's novel has gone global, a turn of events she never anticipated, even in her "wildest dreams," she said. "As a bookseller who sees wonderful books sitting ignored on the shelf day after day, I knew the odds were against The Snow Child even being published, much less receiving any attention. So it is truly humbling, and somewhat overwhelming, to get e-mails from places like Italy and Norway and Australia from readers who have read it and enjoyed it."
The Snow Child has been sold in numerous countries and is a #1 bestseller in Norway. An interview Ivey did with the BBC radio show Outlook, which reaches a worldwide audience of more than 40 million, elicited responses from readers in India, France and elsewhere. Next month she'll head overseas to promote the book in the U.K.
Stateside soirées include a launch party in Palmer on February 1 and the day-long "Writers Respond to Readers" event with three other authors at the Tattered Cover in Denver, Colo., that took place January 28. The Snow Child is an Indie Next pick for February and a selection of Barnes & Noble's Discover Great New Writers program. Among the book's many other accolades was being named by the Christian Science Monitor as one of "six books you should resolve to read in 2012."
Ivey is at work on another novel that shares some similarities with The Snow Child. "It's set in Alaska and has some historical and fantastical elements," she said. "But it's more epic and adventurous. I'm having a lot of fun with it. As a reader, I feel I can tell when a novel comes from the heart, when authors are writing about places and people and ideas that matter to them. The Snow Child is from my heart, and I hope that comes through." --Shannon McKenna Schmidt