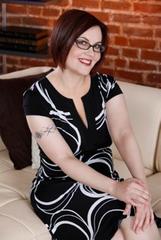 The editor of 16 volumes of the Lambda Literary Award-winning anthology series Best Lesbian Erotica, Tristan Taormino is a former columnist for the Village Voice, has written for a variety of publications, from the Yale Journal of Law and Feminism to Penthouse; lectures at colleges and universities, and teaches sex and relationship workshops around the world. She is the author of seven books, including Opening Up: A Guide to Creating and Sustaining Open Relationships and The Ultimate Guide to Kink: BDSM, Role Play and The Erotic Edge (Cleis Press, March 13, 2012).
On your nightstand now:
There's actually a stack: Pack of Two: The Intricate Bond Between People and Dogs by Caroline Knapp, Shaking the Money Tree by Morrie Warshawski, Radical Acceptance by Tara Brach and an advance copy of Ecstasy Is Necessary by Barbara Carrellas.
Favorite book when you were a child:
Tuck Everlasting by Natalie Babbitt.
Your top five authors:
Susie Bright, Pema Chödrön, Andrew Vachss, Patrick Califia and David Sedaris.
Book you've faked reading:
Sarah by J.T. Leroy. Yes, ironic, but I didn't know it at the time!
Book you're an evangelist for:
Buddha's Brain: The Practical Neuroscience of Happiness, Love and Wisdom by Rick Hanson and Richard Mendius. I recommend this book to friends as well as complete strangers; for a budding Buddhist like me, reading it was a game changer.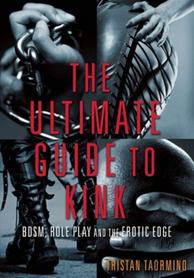 Book you've bought for the cover:
Brazen Femme: Queering Femininity by Chloe Brushwood Rose and Anna Camilleri. Seriously hot.
Book that changed your life:
The Places That Scare You: A Guide to Fearlessness in Difficult Times by Pema Chödrön. When I first read it, I wanted to throw it across the room and scream. It was a dark time for me, and the book wasn't comforting at all. Now, I adore it and re-read it as often as I can.
Favorite line from a book:
"It is, at the end of the day, the individual moments of restlessness, of bleakness, of strong persuasions and maddened enthusiasms, that inform one's life, change the nature and direction of one's work, and give final meaning and color to one's loves and friendships." --from An Unquiet Mind by Kay Redfield Jamison. Jamison's memoir of mental illness is brave, genuine and just remarkable.
Book you most want to read again for the first time:
House Rules by Heather Lewis. It's just such an exquisite, powerful novel by a genius who left this world way too soon.
Book on your coffee table:
Puppies Behind Bars: Training Puppies to Change Lives by Christopher Makos and Paul Solberg. It's a photography book that documents Puppies Behind Bars, a program where prisoners help to train service dogs.