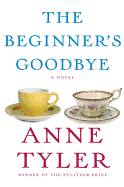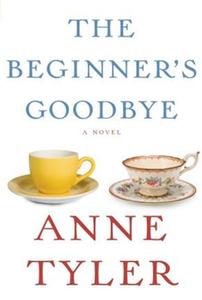 Anne Tyler's 19th novel, The Beginner's Goodbye, is a slender but touching story about an editor-publisher of thin-spined "Beginner's" guides whose grieving for his late wife is stalled--until she comes back from the dead. Tyler's introduction of a conversing and strolling ghost in the first chapter is not as jarring as you might expect. The Pulitzer-winning novelist (Breathing Lessons) does nothing to distort her clear style, nor does she whip up any mumbo-jumbo dialogue to account for the lone paranormal character. In fact, the ghost of Dr. Dorothy Rosales seems just as stolid and practical as her pre-demise self, whom the reader sees in retrospect in the ensuing chapters, as widower Aaron Woolcott looks back on the year before Dorothy's visitations began, beginning with the event that abruptly deprived him of her under-appreciated companionship.
Once the reader meets the appealing ghost-Dorothy in the first chapter and apprehends how desperately and tenderly Aaron covets her intermittent presence, it's somewhat frustrating to wait so long for her reappearance. The compensation is Tyler's supreme narrative control. Her ability to inculcate meaning and emotion into her hidebound narrator, the accuracy with which she nails the entrenchment of tiny misalignments between spouses, the swiftness with which she delimits Aaron's bossy sister and well-meaning colleagues and the sneakiness with which she insinuates romance into the blandest of Baltimore living rooms--all these combine to beguile the reader while Aaron catches the novel's timeline up to the first time he encounters Dorothy's ghostly manifestation. When Tyler finally delivers, she's simultaneously regained the element of surprise and loaded the reader's sympathy for the death-divided lovers because Aaron has been perseverating over the sore spots in their unfinished marriage. It's a bravura scene, heady with scent-memory and character-appropriate lyricism.
At first, Aaron doesn't believe ghost-Dorothy has a message for him, yet his tentative, delicate encounters with her teach him and the reader a life-seizing lesson: look now, listen now, love now. Fans of Ann Tyler won't be surprised that the ending of The Beginner's Goodbye gives Aaron a second chance to say both goodbye and hello.--Holloway McCandless, blogger at Litagogo: A Guide to Free Literary Podcasts
Shelf Talker: A slender and subtle novel about how grief can teach us to live and how to love by the patron novelist of second chances.