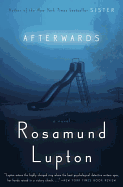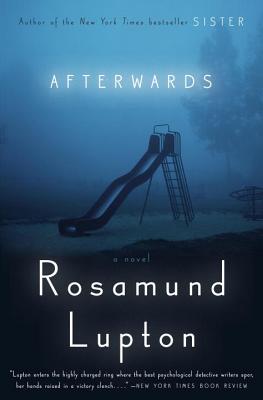 Rosamund Lupton (Sister) offers up an intricately plotted combination of thriller, speculative fiction and mother-daughter celebration in Afterwards. On an afternoon seemingly like any other, Grace Covey expects to collect her eight-year-old son, Adam, and 17-year-old daughter, Jenny, from their exclusive school and meet her husband to celebrate Adam's birthday. When the school building bursts into a fiery inferno and Grace runs into the blaze to save Jenny, the family's calm suburban life devolves into a nightmare.
Grace and Jenny wake up inside the local hospital--outside their badly burned, comatose bodies. They can hear and see everything that happens, but can only be seen or heard by each other. Grace must watch as doctors tell her distraught husband that she and Jenny may never wake up, while also providing guidance and emotional support to her daughter even though she herself has no idea how to explain their ghostly state or how to reawaken their bodies. Meanwhile, the police, labeling the incident as arson, receive evidence Adam started the fire. Grace believes her son has been framed by an adult intent on harming Jenny; so does her sister-in-law Sarah, a police investigator. Grace shadows Sarah's dogged and sometimes illegal investigation, learning disturbing information about the school she considered above reproach--as well as the tragic secrets behind her best friend's carefree exterior. The key to the mystery may ultimately lie with Jenny, however, driving Grace to help her daughter find the strength to remember the events surrounding the fire.
Lupton delivers a top-notch mystery with red herrings galore; even the most seasoned mystery reader will do a double-take at the arsonist's identity. However, the rich emotional topography is the most spellbinding feature in Afterwards. At its heart, Lupton's story deals with parents and children, the bonds that allow family members to share their joy and their pain and the struggle parents face between wanting their offspring to stay children forever and needing to let go. While clinging to her memories of Jenny's childhood, Grace is slowly forced to admit that her daughter has become an adult. As she watches Sarah's investigation, she realizes that her own feelings of inadequacy made her see her loving and fallible sister-in-law as cold and intimidating. Most touchingly, she sees the strength and intensity of her husband's love for her, a force that sustains their lives and yet is sometimes forgotten in the minutiae. Grace's narration addresses her husband, allowing the reader to walk in his shoes as well as share Grace's every thought.
Readers are encouraged to grab a box of Kleenex, put Mom on speed dial and discover what comes afterwards. --Jaclyn Fulwood
Shelf Talker Lupton follows Sister with an intricately plotted combination of mystery and fantasy in a love song to family ties.