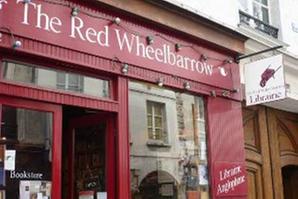 Does owning an English-language bookshop in the Marais district of Paris sound irresistible to you? Here's your chance. Penelope Fletcher, owner of The Red Wheelbarrow, has put her shop up for sale "fonds de commerce (the location, the lease, the goodwill, the clientele and the name, but excluding debts). Inventory available on consignment or at one-third value. 38/40 square meters."

Fletcher noted that "a location on a much-traveled street in the heart of one of Paris' trendiest and liveliest quartiers, a clientele of alert (or lucky) tourists and of branché and interesting expatriates have made The Red Wheelbarrow a joy of a bookstore and a local institution. More than simply a shop from which to sell books in English, it has been a center for readings by authors as they swing through Paris, and a magnet for conversation between old friends encountering each other by design or fortune, and between strangers who find themselves talking with each other about Paris and, of course, books. It has become the bookstore in Paris we have all--at one time or another of our lives--dreamed of owning. Unfortunately, as Keats too learned, nothing lasts forever."

Because "circumstances are demanding a rapid sale," Fletcher said she would consider "a very low" sale price to "fulfill a dream of your own." Inquiries can be made to Penelope Fletcher, The Red Wheelbarrow Bookstore, 22 rue Saint Paul, 75004 Paris; 33 (0) 1 48 04 75 08.