This is the third in an occasional series of interviews of young, smart booksellers who are both the present and the future of bookselling--and whose enthusiasm and presence are encouraging many older folks in the industry who feared they might be a dying breed. Our intrepid reporter is George Carroll, an independent publishers rep and principal of Redsides Publishing Services.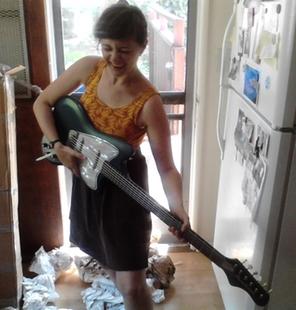 Jenn Witte, 29, works at Skylight Books in Los Angeles, where she co-manages children's books and curates several other sections. She's also a talented artist, and examples of her work can be found on her blog.
You have uncanny good fortune landing bookstore jobs.
The day I moved to San Francisco, I walked into the nearest bookstore, Books Inc., to find a Muni map. Everybody was laughing behind the counter, and I thought it looked like a fun place to work, so I asked if they were hiring and I got a job within the week.
After two years, I thought the place I would most love to work in the Bay Area was Green Apple, so I typed up a résumé, dropped it off, flew to Hawaii. When I landed, there was a message on my phone saying I was hired.
When I moved to Los Angeles, I was catching a ride with my boyfriend's mom, and Skylight Books called to ask if I wanted to come in for an interview the next day. At the interview, the only question I felt I failed was "Everybody here does something else, and we love to encourage your talents. What do you do besides sell books, Jenn?" I answered, "I don't know... I like cats."
Your boyfriend is bookstore-famous, yes?
He's one of the stars of the infamous Green Apple videos, maybe most recognizable as the creep in "Little Bee."
And you've had your screen time as well.
I'm in a few videos, too. You may remember me as the girl who skips through a field for Toussaint's Running Away.
You have kids from a local middle school write reviews of forthcoming YA titles for display in the store.
Sometimes their reviews help me decide what to order (and what not to--I keep trying to remind them that it is okay to send me a negative review).
You've worked in the world literature sections for both Green Apple and Skylight. And erotica as well.
I stepped in for Stephen Sparks at Green Apple when he was interning at Dalkey Archive. I was asked to create their world literature section from scratch. That was deep. I walked up and down the new fiction section asking myself, "What is World Literature?" for a few days, and came up with a pretty inclusive, gnarly looking section.
Skylight has a really incredible section for translated literature that was perfectly curated by Monica Carter. She left not long after I started working here, and I've been in charge of keeping it healthy ever since. I am really fortunate that she and I were mostly on the same page about what the section is and what it should do.
Do people just love to give the young female employee the erotica section?
When you were recommended to me, everyone told me I had to check out your Tumblr, which is really wonderful.
Living in Los Angeles, I've begun to value my odd creative compulsions, partially because I am surrounded by millions of people who make their living in creative ways. I took a couple of amazing book arts classes in San Francisco, but you would never know by looking at things I make now. The small books I copy are for display in the store, they indicate when a book is sold out and mostly spend their time hiding behind the last copy of a book. Since I've started blogging, I've had requests to make signs for coffee shops, possibly curate a gallery, participate in group shows... it's pretty wild.
I think I should ask you what you're reading.
I'm reading the new translation of Agua Viva by Clarice Lispector, and I'm falling deeply in love with it. I think she broke through language and was able to use it in an otherworldly way. I wish I could do the same.
What's your take on the future of independent bookstores?
The demographic in Los Angeles is inclined to value the book-as-object, which really is what I hold onto when I think about the scary future. I'm particularly excited about the zine section I put up; zines are kind of a beautiful example. I believe that independents maintain their humanness with handmade objects.
Stephen Sparks, the last interview, gets to ask the last question: "One of the best things about indie bookstores is our ability (our desire!) to curate sections of locally produced literature/zines/ephemera. Are there particular items you're excited about having at Skylight?"
My brother shocked me recently with a handmade poetry-slash-graffiti chapbook for consignment. I knew he had poetic sympathies, but had no idea that he has secretly been writing for who knows how long. Whenever I see strangers in the big city pick up his chapbook I levitate a little.