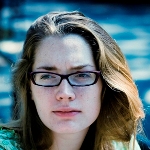 Stephanie Anderson, aka bookavore, manager of WORD, Brooklyn, N.Y., is leaving at the end of June to become head of readers' advisory at the Darien Public Library in Darien, Conn. Before joining WORD, she was a bookseller at the Moravian Book Shop, Bethlehem, Pa. She has also been a contributor to Shelf Awareness--and we hope she continues to do so!
WORD owner Christine Onorati said, "Stephanie has been crucial to the growth of our business these last three years. While I'm sad to move forward without her, I'm so grateful for the immense dedication and hard work she's given this store. Knowing how excited she is to take on this new opportunity makes us all very excited for her and we wish her only the best in her new role."
WORD is seeking a new manager with recent bookstore experience and preferably management experience. Send a résumé to info@wordbrooklyn.com.