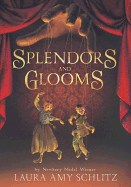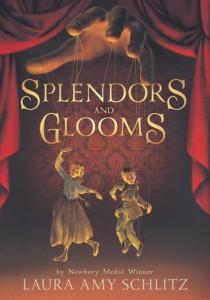 Laura Amy Schlitz turns from the airy medieval town of her Newbery Medal–winning Good Masters, Sweet Ladies and the garden setting of her The Night Fairy to a hauntingly claustrophobic tale set in an 1860 London enveloped in thick fog and a dilapidated estate in England's lake district.
The author entwines the fates of a 70-year-old witch named Cassandra, a girl named Clara Wintermute who's the only child of a rich physician and his wife, and the wizard Grisini, who doubles as a gifted puppeteer that keeps his two orphaned assistants on as tight a string as his extraordinary marionettes. Clara, with her 20 perfect ringlets, 10 on either side of a center part, catches sight of a puppet show in Hyde Park: "The Phenomenal Professor Grisini and His Venetian Fantoccini." She decides that this should be the entertainment at her 12th birthday party. "They work with strings--only you don't see the strings. They're like fairies," she explains. She cries to get her way, then coerces her housemaid to help her invite the two child puppet workers, Lizzie Rose and Parsefall, to tea--alone--before her party begins.
Schlitz weaves together the individual chapters, which move smoothly among the third-person viewpoints of each character, into an edge-of-your-seat tale. Young Lizzie Rose, who once had a loving home where her parents taught her to read, is the first to suspect Grisini after Clara Wintermute disappears the night of her birthday party, and the police come to search Grisini's flat. But Parsefall, who's spent more years under Grisini's influence, knows the evils of which the man is capable and tells Lizzie Rose to keep mum, though he, too, thinks Grisini may have engineered Clara's disappearance.
As the author unravels the mystery, she explores the many levels on which the characters themselves serve as puppets. Clara Wintermute, whose four siblings all died of cholera, feels compelled by her parents to be solemn and grieving in a home decorated with the children's death masks. She longs to be as free as Lizzie Rose and Parsefall seem to be. But Grisini's orphans are beholden to him for their food and lodging--the puppeteer is master of their fates. As for Cassandra, high in the tower of her decrepit house, she once controlled the power of the phoenix-stone, a fire opal "the size of a crow's egg, blood red, veined with ribbons of changing color," but now it's beginning to consume her. Though she once desired him, Cassandra now detests Grisini, but she needs him to tell her how she can be freed of the fire opal's spell. Schlitz proves herself a master storyteller as she skillfully maneuvers the strings of this gothic tale right up to the astonishing climax. --Jennifer M. Brown
Shelf Talker: Like a master puppeteer, Schlitz manipulates her characters with agility and skill to a thrilling climax.