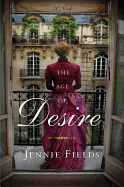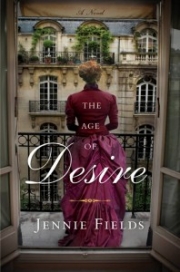 Jennie Fields (Crossing Brooklyn Ferry) has concocted an irresistible tale that transforms the upright, starched and intellectual Edith Wharton we think we know into a supine, disheveled and reveling erotic protagonist. Fields's access to Edith's journals and letters give The Age of Desire an authentic air; we see the creator of Lily Bart and Undine Spragg in a whole new way.
Edith Jones married Teddy Wharton, 12 years her senior, when she was just 23; it was a disastrous union. Intimate relations with the manic-depressive Teddy were largely nonexistent, and Edith comes to see her husband as a buffoon. Then she meets William Morton Fullerton.
Fullerton, an American journalist living and working in Paris, is, to her surprise, noticeably attracted to Edith. He's a known womanizer (and a not widely known bisexual)--handsome, utterly charming, Edith's intellectual equal. Edith, by contrast, has no experience and, though she was in her mid-40s, behaves like a teenage virgin when Morton was around. They play a push-me, pull-you game: Morton sulks when Edith teases; she writes passionate notes when he absents himself. Of course, the inevitable finally takes place and Fields gets it all right--the innocence of Edith matched by the experience of Morton as romance, tenderness and passionate heat flow from Fields's great writing.
As a backdrop to the love affair, we have Edith's writerly life and her ever more complicated relationship with her one-time governess, now secretary, Anna Bahlmann. From the age of 12, Edith looked to Anna for instruction and friendship and later, perhaps more than she cares to admit, for a gentle critique of her writing. But Anna is also very fond of Teddy and does not approve of Fullerton; she lets Edith know it and is sent away. Edith and Fullerton now have time to themselves and make the most of it.
Fields tells the story of lifelong devotion on Anna's part, a midlife awakening for Edith, the deterioration of Teddy's mental state and life in the Gilded Age among the very wealthy. She paints with a broad brush and occasionally allows herself an epigrammatic comment: "A woman in love is an ostentatious thing." Indeed. --Valerie Ryan
Shelf Talker: An intriguing novelistic look at the life and times of Edith Wharton, and her adulterous affair with a rascal.