Indie booksellers "are still buzzing about the overwhelming response from their communities" to last month's "Find Waldo Local" campaign, the promotion launched by Candlewick Press to celebrate the 25th anniversary of the children's series and to encourage shopping locally, Bookselling This Week reported.

"Over the past week, I've received dozens of over-the-moon e-mails from booksellers singing the praises of Find Waldo Local," said Elise Supovitz, Candlewick's director of field sales. "Virtually every bookseller has asked the same question: 'Can we do it again next year?' The answer is a resounding 'Yes!' Candlewick will definitely roll out a similar event in 2013 with the goal of expanding upon the amazing reach this year of 250 cities and more than 5,000 participating indie businesses."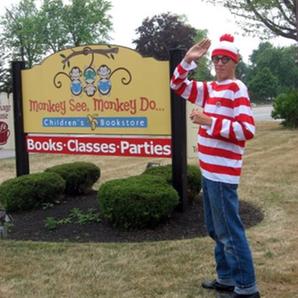 "In terms of the effect it had on other businesses, we were blown away!" said Janet Geddis, owner of Avid Bookshop, Athens, Ga. "So many participating businesses said they had higher-than-usual summer traffic as a result of the scavenger hunt, and a good portion of the hunters said they had never been in many of the businesses before the 'Where's Waldo?' search."

Becky Milner, owner of Vintage Books, Vancouver, Wash., agreed: "Twenty-one local businesses participated in Where's Waldo in Vancouver, and we were sprawled across the city--but that didn't stop the Waldo seekers. The enthusiasm was so much more than we hoped for, both from families and merchants, several of whom have asked if we can do it again next year."

At Hooray for Books! in Alexandria, Va., co-owner Ellen Klein noted: "The folks who searched for Waldo were happy and excited. It was just as much fun for residents as for tourists, and many said they bought something at nearly every place they went. Our in-store sales were up more than 27% from last July."

Village Books, Bellingham, Wash., "saw an increase in traffic and sales too," said events coordinator Christina Claasen. "Our store is three levels and it was the biggest challenge to find Waldo in our store, but often the most rewarding." She added that it also increased the visibility of other local retailers: "One customer said, 'I didn't realize how much you could shop for in Fairhaven!' "