When you want to know about a place, ask the people who live there. When you want to read about a place, read the writers whose words reveal more than just the surface of a region's past and present. What does that have to do with self-publishing? This: For a bookseller considering the possibility of stocking a self-published book, one reliable sign of a winner is a title with a tangible sense of place. Whether or not such a book eventually finds readers beyond the region, it must begin at the center--a pebble dropped in a local pond--before concentric retail sales circles can spread.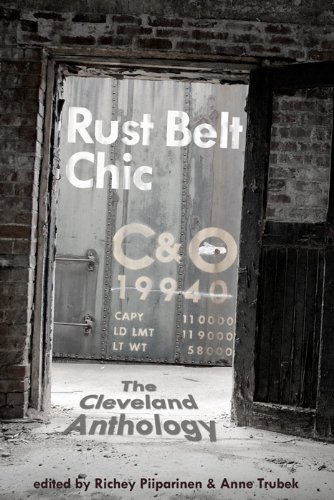 In their introduction to Rust Belt Chic: The Cleveland Anthology, editors Richey Piiparinen and Anne Trubek describe the project as "a community effort to tell the story of a city." And that's just what it is. If I were a bookseller in Northeast Ohio, I'd stock this book.

Harriett Logan of Loganberry Books in Shaker Heights does. "Rust Belt Chic has been well-received and is selling well," she said. "It's gotten lots of local press (which helps), and it includes so many local writers, both well-known and not, that it has lots of appeal to many. It's a good-looking book, too."

Discovering marketable self-published books can be a challenge. Logan noted that when she first heard about the anthology, she approached the editors regarding wholesale terms, and they "have been very good about getting the book to me (hand-delivered!), including frequent re-stocking. As an indie bookseller, I love carrying books like these, and appreciate their local content and high standards. That's what being local is all about."

Rust Belt Chic has sold well for Suzanne DeGaetano's Mac's Backs Books in Cleveland Heights. She observed that "neighborhood and independent bookstores always do well with local interest books. I think there is a hunger for people to understand local history and culture and Rust Belt Chic hits that sweet spot." When she describes the book to customers, "I say that it is a book about what it means to be a Clevelander. It is entertaining and illuminating to read all of these diverse stories that describe our Rust Belt DNA."

The book also speaks to her retail sense of place: "In the same way that people are hungry to learn about their city, they are dedicated to support their city's independent enterprises. Cleveland has a very strong buy local movement that has helped stabilize and revitalize the neighborhoods. People want their bookstores to exist and thrive--browsing the bookstore is a cultural activity akin to visiting the gallery or going to hear a favorite band."

One of the anthology's contributors is Philip Turner, whose family owned and operated Undercover Books in the Cleveland area for several years. Although he moved to New York City in 1985 to begin his career in publishing, Turner was eager to explore an aspect of his Rust Belt roots in "Remembering Mr. Stress, Live at the Euclid Tavern." Along with "other Cleveland transplants living in NYC," he will be reading from Rust Belt Chic January 3 at Public Assembly in Brooklyn.

As a publishing industry veteran, Turner was intrigued by the business proposition the co-editors offered: "They asked each of us, if, in the event the book sells well enough to make back its expenses and reaches profitability, would we want an honorarium payment, or would we choose to plow the earnings back into another indie project, to be chosen from among book ideas presented by the contributors, with one (or if we're really fortunate, more than one) project being chosen for funding? It's sort of like our own Kickstarter. With a book idea of my own in mind, I happily chose the second option."

Although Rust Belt Chic has "about zero presence outside of town," Trubek is pleased with the regional response thus far: "Since the book's release, we have enjoyed a lot of community love and enthusiasm." In addition to bookstore and online sales, the book is available at a number of other venues, including the Cleveland Art Museum, a local clothing boutique, a Cleveland-themed clothing store, a newly opened hostel and a bike shop. "We have been asked to readings and signings at all the local bookstores, and to do readings at series held at bars, etc.," Trubek added. "A really unusual event we did was to have a signing at a hair salon."

Turner called the Rust Belt Chic project "an excellent example of community-oriented publishing." There's definitely a place for that in our evolving book world. Concentric circles always start at the center, wherever it may be.--Robert Gray, contributing editor (column archives available at Fresh Eyes Now).