We asked Shelf Awareness Pro reviewers to choose their favorite 2012 books--and they came up with a baker's dozen for fiction. Their choices for mysteries, SF and nonfiction will appear later this week (and the official Shelf Awareness Best Books will run in the December 28, 2012, issue of Shelf Awareness for Readers).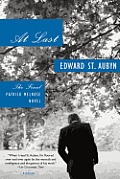 At Last by Edward St. Aubyn (Farrar, Straus & Giroux, $25; Picador, $15)
With ironic flair and sharp observation, Edward St. Aubyn masterfully concludes a cycle of novels spanning 20 years. Strip away all the money, and his fictional Melrose family--with its history of child abuse, rape, murder, addiction and bad marriage--still possesses a little something that touches almost everyone. –-Bruce Jacobs, founding partner, Watermark Books & Cafe, Wichita, Kan.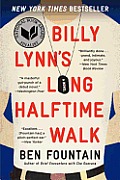 Billy Lynn's Long Halftime Walk by Ben Fountain (Ecco, $14.95 paper)
On the face of it, this is the story of Bravo Squad, eight brave survivors of a horrendous firefight with Iraqi insurgents, selected to be celebrated at Texas Stadium on Thanksgiving Day as the Dallas Cowboys take the field. It is also an indelible portrait of kids who enlisted because they didn't have a better idea. This blustery interlude of back-slapping and bonhomie is more for their hosts than for them--and some of them know it. --Valerie Ryan, Cannon Beach Book Company, Ore.
Bring Up the Bodies by Hilary Mantel (Holt, $28)
Continuing where Wolf Hall left off, Mantel's dark and gorgeous depiction of Tudor intrigue follows the historical figure of Thomas Cromwell. Trapped in a game that could cost his life, Cromwell sets out to engineer the destruction of the enigmatic queen Anne Boleyn. --Ilana Teitelbaum, book reviewer at the Huffington Post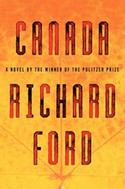 Canada by Richard Ford (Ecco, $27.99)
Prize-winner Richard Ford's Canada is a ruminative novel that tells the story of a young man's abrupt initiation into the mysteries of adult life. When 15-year-old Dell Parsons's parents are imprisoned after a bungled bank robbery, he flees across the border into Saskatchewan, into an even darker world. Dell's compelling narrative voice gives this bleak but strangely beautiful novel real power. --Harvey Freedenberg, attorney and freelance reviewer
Dear Life: Stories by Alice Munro (Knopf, $26.95)
In one of her strongest collections to date, women from a variety of eras struggle with questions of identity and love. Munro has also added a treat for her longtime readers: a handful of recollections from her own life. --Ilana Teitelbaum, book reviewer at the Huffington Post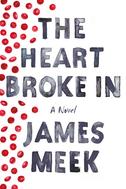 The Heart Broke In by James Meek (Farrar, Straus & Giroux, $28)
James Meek's smart, generous look at contemporary morality is the kind of novel to press into the hands of someone who asks, "Why read fiction?" Set mainly in Britain, it offers an attractive cast of characters for whom the Big Questions--mortality, integrity, forgiveness and sexual fidelity--haven't disappeared, even if the source of ready answers has. --Harvey Freedenberg, attorney and freelance reviewer
Juliet in August by Diane Warren (Amy Einhorn/Putnam, $25.95)
On a hot and blowy day in Juliet, a fine-looking Arab shows up on Lee Torgeson's property. He idly mounts the horse and starts out on a short ride that turns into a hundred mile meander through lives and stories, ruminations and reminiscences, seeing people and sorting out what's next. --Valerie Ryan, Cannon Beach Book Company, Ore.
The Listeners by Leni Zumas (Tin House, $15.95)
I started evangelizing for The Listeners before I finished reading it. Here, the singular Leni Zumas conducts her wildly inventive prose through narrator Quinn, a formerly successful musician who hasn't recovered from the adolescent trauma of her sister's violent death. Devastating, hilarious and truly original. --Hannah Calkins, blogger at Unpunished Vice
NW by Zadie Smith (Penguin Press, $26.95)
In NW, Zadie Smith stretches ordinary language into a lyrical representation of thought and motivation as she follows the lives of two young women and one man on their varied migrations through Northwest (NW) London. NW is a daring and beautifully-written novel of 21st-century identity, aspiration and heartbreak. --Holloway McCandless, blogger at Litagogo: A Guide to Free Literary Podcasts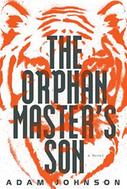 The Orphan Master's Son by Adam Johnson (Random House, $26)
Even at its funniest--and there's a lot of humor in Adam Johnson's novel about life in Kim Jong-Il's North Korea--there's a fatalistic strain to the proceedings. It sets an appropriately surreal tone for this stunning portrait of the reality-warping power totalitarian regimes have over their citizens. --Ron Hogan, founder of Beatrice.com
Shine Shine Shine by Lydia Netzer (St. Martin's Press, $24.99)
Sunny Mann has the perfect husband, perfect hair and perfect life--except her husband is en route to founding a lunar colony, her hair is a wig and her perfect life is smothering her beautiful, imperfect son. Netzer artfully and lovingly chronicles Sunny's journey back to her true self. --Jaclyn Fulwood, blogger, Infinite Reads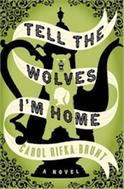 Tell the Wolves I'm Home by Carol Rifka Brunt (Dial Press, $25)
In this fresh yet nostalgic debut novel, a 1980s teen who loses a beloved uncle to AIDS finds herself by befriending his grieving boyfriend. This bittersweet coming-of-age story gives a strong nod to the lasting power of art and family. --Jaclyn Fulwood, blogger, Infinite Reads
The Yellow Birds by Kevin Powers (Little, Brown, $24.99)
The Yellow Birds burns with the authenticity of serving in Iraq, from drops of Tabasco in a sleepy soldier's eyes to the omnipresence of dust to talismanic bargains with fate. A nearly lyrical portrait of young men before, during and after war that illuminates more than it strafes. --Holloway McCandless, blogger at Litagogo: A Guide to Free Literary Podcasts