We continue with our Shelf Awareness Pro reviewers' choices for their favorites of 2012. We'll start with nonfiction titles, where Cheryl Strayed scored the trifecta--two picks for Wild, plus one for Tiny Beautiful Things--and then some more fiction: a potpourri of mystery/thriller/fantasy/horror/apocalyptic vision.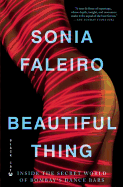 Beautiful Thing: Inside the Secret World of Bombay's Dance Bars by Sonia Faleiro (Grove/Black Cat, $15 paper)
In Beautiful Thing, reporter Sonia Faleiro reveals the underworld of Bombay's "bar dancers" and sex workers through Leela, a 19-year-old dancer of enigmatic charm and vitality. Gritty and glamorous, sad and inspiring, this is a riveting story and a fantastic work of investigative journalism. --Hannah Calkins, blogger at Unpunished Vice
Fire in the Belly: The Life and Times of David Wojnarowicz by Cynthia Carr (Bloomsbury, $35)
This is a dense biography of an artist you probably haven't heard of. Before you move on, wait: it's also a masterpiece. Both intimate and huge in scope, Fire in the Belly is an astonishingly thorough and lovingly composed tribute to an extraordinary person--and the most humane chronicle of the early years of the AIDS crisis I've ever read. --Hannah Calkins, blogger at Unpunished Vice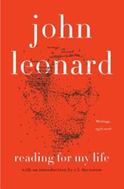 Reading for My Life: Writings, 1958-2008 by John Leonard (Viking, $35)
This exhilarating selection of 50 of the late John Leonard's reviews and essays (culled from the five million words the former New York Times Book Review editor and CBS Sunday Morning guest critic estimated he'd written in the course of his long career) is fueled by an infectious enthusiasm, as Leonard invites us to join him on a roller-coaster ride in the amusement park of contemporary culture. --Harvey Freedenberg, attorney and freelance reviewer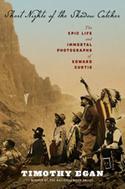 Short Nights of the Shadow Catcher: The Epic Life and Immortal Photographs of Edward Curtis by Timothy Egan (Houghton Mifflin Harcourt, $28)
This has taken some hard hits in reviews (e.g., the New York Times) but I loved the book. I loved it for being oh so readable, fascinating, informative and uplifting, about a man who was flawed, yes, but who cared and did what he set out to do. --Tom Lavoie, former publisher
Tiny Beautiful Things: Advice on Love and Life from Dear Sugar by Cheryl Strayed (Vintage, $14.95 paper)
This aptly named collection offers exquisite essays on some of life's biggest challenges. Strayed boldly confronts the darkest corners of the human experience with the torch of an unfailing optimism and above all, love. --Ilana Teitelbaum, book reviewer at the Huffington Post
Wild: From Lost to Found on the Pacific Crest Trail by Cheryl Strayed (Knopf, $25.95)
Wild was the best book I reviewed for all of 2012. It was a revelatory, gut-wrenching memoir by a young woman dealing with the death of her mother and the personal ordeal of hiking the Pacific Crest Trail alone--all presented in beautiful, powerful, captivating prose. Book prizes, please. --Tom Lavoie, former publisher
Cheryl Strayed holds nothing in back in Wild, her brave memoir of setting out on a 1,000-mile solo hike with a gargantuan backpack, toe-hobbling boots and a life-stalling grief. Strayed puts the reader on her shoulder for a journey that is alternately lonely, bizarre, physically and emotionally painful and ultimately exhilarating. --Holloway McCandless, blogger at Litagogo: A Guide to Free Literary Podcasts
---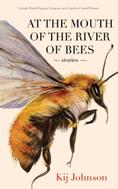 At the Mouth of the River of Bees: Stories by Kij Johnson (Small Beer Press, $16 paper)
Three Nebula-winning stories anchor Kij Johnson's collection of stories, where psychological realism and hallucinatory vision combine to masterful effect. Johnson shifts easily from domestic dramas to conflicts on alien worlds, touching on small emotional moments that will linger in your memory as vividly as her fantastic imagery. --Ron Hogan, founder of Beatrice.com
Between Two Fires by Christopher Buehlman (Ace, $25.95)
Christopher Buehlman's second novel, set during the worst ravages of the Black Plague, starts out like a medieval variation on True Grit, but subtly shifts into a horror story with welcome echoes of early Stephen King. This story of a disgraced former knight and a young girl on a holy mission secures Buehlman's status as one of this generation's best dark fantasy writers. --Ron Hogan, founder of Beatrice.com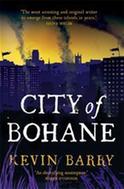 City of Bohane by Kevin Barry (Graywolf Press, $25)
It's so much fun and so exciting when you come across a novel that is "out there" and doing things you hadn't encountered before, where you need to learn how to "read" anew. Who would have thought a dark tale about a futuristic run-down Irish town could be so engrossing. --Tom Lavoie, former publisher
The Dog Stars by Peter Heller (Knopf, $24.95)
Peter Heller's accomplished first novel rises above the inherent darkness of a world stripped bare by disease, climate change, and violence. Like Didi and Gogo in Beckett's Waiting for Godot, his two protagonists are lonely survivors in a post-apocalyptic world waiting for whatever comes next, a time and place where hunting, fishing, and farming (and flying and killing) are the only skills that matter. --Bruce Jacobs, founding partner, Watermark Books & Cafe, Wichita, Kan.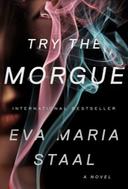 Try the Morgue by Eva Maria Staal (Liveright, $24.95)
Staal, a pseudonymous former arms dealer, fictionalizes the dilemma of a young woman caught between the thrill of international gunrunning and the security of family and home. She doesn't take sides, but instead lets the narrator Maria tell her own story, where the sides she must choose between are not political, but personal... and that choice is the most difficult. --Bruce Jacobs, founding partner, Watermark Books & Cafe, Wichita, Kan.
Up Jumps the Devil by Michael Poore (Ecco, $13.99)
Meet John Scratch, aka the Devil himself. He's handsome, powerful and plays a mean blues riff, but unless he can woo his angelic ex-girlfriend from Heaven to Earth, all is meaningless. Luckily, he's crafted a secret weapon: the USA. But the master of human temptation has a thing or two left to learn about humanity in this hilarious, heartwarming debut. --Jaclyn Fulwood, blogger, Infinite Reads