"Yes, bookstores are closing," American Booksellers Association CEO Oren Teicher conceded during his Thursday morning presentation at the Tools of Change digital publishing conference, "and they will continue to close. But the real story is that new stores are opening and existing store sales are better than they were before." And though Teicher stressed his belief that physical books will continue to be the dominant component of the indie bookstore economy, "being able to say yes to our customers when they want to order e-books is a huge strategic asset," and he expects that digital book sales through indies will continue to grow.
Teicher was particularly enthusiastic about the recently launched partnership between participating ABA stores and Kobo, which he said has led to "thousands and thousands" of new Kobo accounts--as well as a distinct profile in the types of e-books indie customers are ordering as opposed to the wider Kobo customer base. And though "our major online competitor [Amazon.com] has lots of built-in advantages," he said--including the Department of Justice's imposition of "a wrongheaded solution where there was in fact no problem"--he remains confident that "there isn't yet any online equivalent to the experience of browsing and discovery in a physical bricks-and-mortar bookstore."
That point was subtly reinforced during a Wednesday presentation by Goodreads CEO Otis Chandler, sharing data from a recent survey of Goodreads members. Although recommendations from friends remain the most frequent way people learn about new books (and Goodreads reviews compete very closely with "the media" as another means of discovery), bookstores are still playing a prominent role, especially when it comes to trade paperbacks. The Goodreads survey also had some insights into e-book usage: 37% of those surveyed who own smart phones use them to read e-books, as do 86% of tablet owners (and for 32%, the tablet was the only device on which such reading took place). People are also less passive e-book consumers than some observers may have assumed; 73% claim to "shop around" with different vendors looking for the best price, and many are reading on two or more different platforms. iPad owners, for example, are likely to buy and read e-books via the Kindle or Nook apps as well as through the iBookstore.
Underscoring the current industry obsession with "discoverability," Chandler pointed out that when they're done with a title, 83% of those surveyed look for other books by that author, while 75% conduct a wider search for similar books.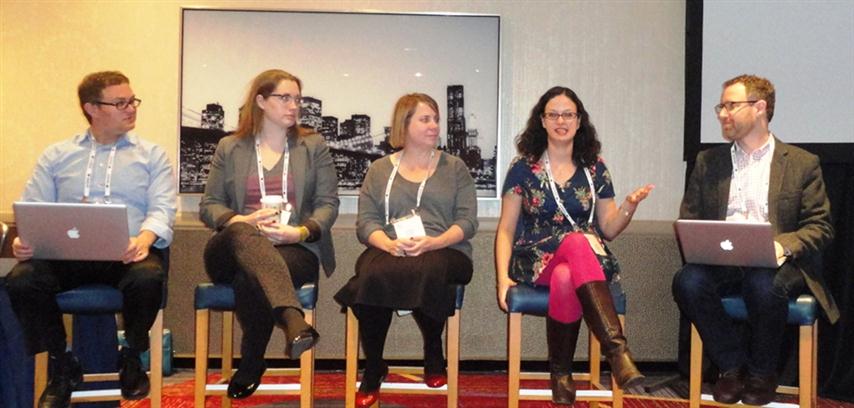 Talking about literary economies: Kevin Smokler, Stephanie Anderson, Kassia Krozser, Rachel Fershleiser and Dan Blank
The discoverability problem also came up during a Tuesday session on "local literary economies," with Stephanie Anderson, the head of reader's advisory for the public library in Darien, Conn., observing that "we keep getting these half-formed technologies that have a lot of promise--and then never get any better." Tumblr's Rachel Fershleiser concurred: "A lot of people in tech suck at talking to people in the book world and asking if they'd ever use this thing."
Fershleiser also warned against getting caught up in the numbers of online audience building: "Ten thousand users is not a community. Ten million users is not a community"; a community, she explained, is distinct from a user base in that its membership will actually talk among themselves about a product or a book without prompting by the developer or publisher.
Events programming, the panelists agreed, had a vital role in any local literary community. As We Grow Media consultant Dan Blank said, however, "too often, we do events around the idea that 'I need to sell my book,' " so it's useful to come up with other "hooks" around which to create an event. (Fershleiser shared some of her prior experience as an events director at Manhattan's Housing Works Bookstore.) Booksquare's Kassia Krozser stressed the need to schedule events around customers' availability, citing her own occasional frustration as a Los Angeles commuter who found it next to impossible to get back to Pasadena by 7 p.m. for author events at Vroman's.
The dominant mood at any TOC conference is always one of barely constrained optimism, and Tim O'Reilly's Wednesday morning keynote address set the tone. "Fear of the future is abating," he proclaimed, and the role of TOC's attendees was to figure out "how to make the right futures happen." To that end, he spoke approvingly of YA author John Green's success in building an online community so robust it could sell out Carnegie Hall in just a few hours, and singled out Green's blurring of the line between "publishing and making stuff on the Internet." Closing presentations by Mark Waid of Thrillbent Comics and Brain Pickings' Maria Popova might be seen as underscoring that point--and, to some extent, ratified O'Reilly's belief that producing things that "matter" is more important than making money from them. As Waid said after demonstrating a digital comics platform with an amazingly fluid transitional style impossible on paper, "All I really want to do is move the football another 30 yards down the field." --Ron Hogan