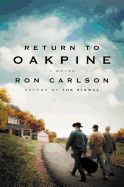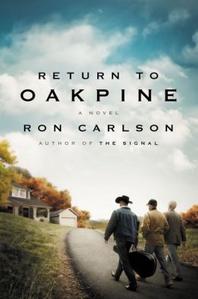 Ron Carlson's fourth novel, Return to Oakpine, is a lean, weathered and big-hearted tale that asserts, contra Thomas Wolfe, you can go home again--at least you can if you come from a place like (fictional) Oakpine, Wyo. Back in the day, Jimmy Brand, Mason Kirby, Craig Ralston and Frank Gunderson bonded as members of a high school garage band whose graduation celebrations were overcast by the tragic death of Jimmy's brother. The four bandmates dispersed: Craig to serve in Vietnam, Mason and Frank (briefly) to college and Jimmy to New York. Although Craig and Frank came back and settled in Oakpine, Mason, caught up in a Denver legal career, visited rarely. For 30 years Jimmy remained in exile, visiting Oakpine only in his fiction.
When Carlson's novel opens, in the fall of 1999, illness has forced Jimmy to move into his parents' garage at the same time Mason decides to spruce up and sell his childhood home. What happens next is not a rah-rah reunion, but a subtle regeneration of connections informed by the present as much the past. The stakes in these men's lives, and in their families', are as grand and prosaic as their band's name: Life on Earth.
Carlson shares his empathetic scope across three generations, from the elderly Mrs. Brand to 17-year-old Larry Ralston and his friends. Return to Oakpine's ensemble of voices is just as affecting as those of Winesburg, Ohio, but free of solemn gloom or perky piety. Among the characters who strive to live with grace and meaning are a philosophical football star who runs off his excess energy on dark streets ("each breath three gallons of September"); an adult novelist shut out by his father because it's too late to say the "five or six sentences" that needed to be said 30 years ago; a "together" mom whose second-phase career as a museum coordinator is quickened with adulterous possibility. In Carlson's expert prose, the adults' midlife reckonings are revelations and the teenagers' discovery of adult agency are both touching and raw.
Return to Oakpine is suffused with evocative landscapes and the practical yet lyrical details of work, whether a character is renovating a garage or editing a short story. The novel's emotional work shows that life on earth can yield enough fellow feeling to sustain us through great sadness, as long as we put our efforts in the right place. --Holloway McCandless, blogger at Litagogo: A Guide to Free Literary Podcasts
Shelf Talker: Carlson (The Signal; Room Service) delivers a moving novel about the importance of home, work and friendships forged in high school.