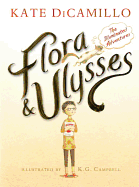 Ten-year-old Flora Belle Buckman has read enough superhero comics to know it's best not to underestimate anyone... not even a squirrel. Indeed, as one cartoon bubble posits: "Who can say what astonishments are hidden inside the most mundane being?" Newbery Medal–winning author Kate DiCamillo's (The Tale of Despereaux) latest adventure begins when a Ulysses Super-Suction, Multi-Terrain 2000X vacuum cleaner sucks up an ordinary squirrel by accident, thus transforming him into a super-strong superhero who can type poetry, if not vanquish villains. Flora, a quirky-smart girl as lonely as a giant squid, fears for the life of her extraordinary new friend Ulysses, with good reason. Her mother (an unhappy romance novelist who might love her monstrously frilly shepherdess lamp more than she loves her own daughter) wants Flora's father to whack the critter with a shovel and bury him. Arch-nemesis, check.
The heart-tugging story of Flora's loneliness, her rocky relationship with her divorced parents, and a peculiar but possible new friend, William Spiver, interweaves seamlessly with the side-splitting shenanigans and ponderings of a sentient squirrel superhero. When we get inside the fuzzy head of Ulysses, we discover that not only is he always very hungry, he's enamored with the world: "He loved all of it: smoke rings and lonely squids and giant donuts and Flora Belle Buckman's round head and all the wonderful thoughts inside of it." K.G. Campbell's charming, funny, cartoon-panel, black-and-white pencil-sketch vignettes zero in on Ulysses in action, whether typing, flying or outmaneuvering an evil cat. (The squirrel's love of the world most often excludes cats.)
Eccentric characters, snappy prose and the fantastical plot give this delightful novel a giddy, over-the-top patina, but the core is big and hopeful, contemplative and bursting with heart. No small feat, even for a superhero like DiCamillo. --Karin Snelson
Shelf Talker: Newbery Medal author Kate DiCamillo tips her hat to the comic-book world in this winningly illustrated, slapstick-yet-soulful novel about a thoughtful squirrel superhero and the lonely girl who loves him.