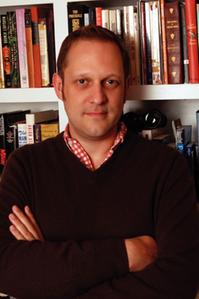 photo: Jim Ferguson
Peter Swanson has degrees in Creative Writing, Education and Literature from Trinity College, the University of Massachusetts at Amherst and Emerson College. His stories and poems have appeared in the Atlantic, Mysterical-E, Vocabula Review and Yankee magazine. His first novel, The Girl with a Clock for a Heart, was just published by Morrow. He lives with his wife in Somerville, Mass., where he is at work on his second novel.
On your nightstand now:
Solo by William Boyd. Boyd was fortunate enough to be asked by the Ian Fleming estate to write a Bond novel, and, so far, it's a terrific read. He really captures James Bond as Fleming originally imagined him. Also on my nightstand, Errol Flynn's autobiography, My Wicked, Wicked Ways.
Favorite book when you were a child:
Impossible to pick just one, but I've found a way that's only a partial cheat. There was a Roald Dahl box set published by Bantam Skylark in the 1970s that included Charlie and the Chocolate Factory, Charlie and the Great Glass Elevator, Danny the Champion of the World, and The Fantastic Mr. Fox. I must have read each of those books 30 times.
Your top five authors:
Today they are John D. MacDonald, Ruth Rendell, Ira Levin, Kingsley Amis and Stephen King. And Philip Larkin is my favorite poet, today and every day.
Book you've faked reading:
I faked a little Jane Austen reading years ago to impress a girl. I remember agreeing with her that Sense and Sensibility was the most comforting of all of Jane Austen's books when, in fact, at that time, I'd only read Pride and Prejudice.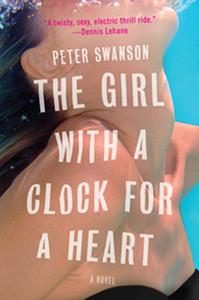 Book you're an evangelist for:
Lucky Jim by Kingsley Amis. To me, the funniest book ever written, and a book that I read every year. Also, the novels of Barbara Pym, a little-known English writer, are all near-perfect. For those Austen fans out there looking for something new, Pym, who wrote nine novels from 1950 to 1980, is your woman.
Book you've bought for the cover:
I'm a sucker for pulp novels from the middle of last century, and will buy any book with a cover illustration by Robert McGinnis. He's the reason I bought several Modesty Blaise books by Peter O'Donnell, all of which turned out to actually be great reads.
Book that changed your life:
Jaws, probably, by Peter Benchley. I stole it from my mother's bookshelf and read it when I was far too young. It's not even a particularly favorite book (personally, I think the film outclassed it), but it opened up the world of thrillers to me--that adult books had suspense and violence and sex and romance and complicated emotions--and I've been reading, and now writing, thrillers ever since.
Favorite line from a book:
"There was no end to the ways in which nice things are nicer than nasty ones." --from Lucky Jim by Kingsley Amis, and a pretty good philosophy of life.
Book you most want to read again for the first time:
I wish that someone was just now telling me about John D. MacDonald and handing me the complete set of Travis McGee novels.
Do you have a dream writing project?:
I do. Thanks for asking. I would love to write a really clever and suspenseful thriller for the stage. There are only a few great ones: Patrick Hamilton's Gas Light, Ira Levin's Deathtrap, Frederick Knott's Dial M for Murder. But the problem is two-fold: one, I don't have a good idea (or even an idea, period) and, two, I have no notion how to begin to write a play. But one can dream.