I'm a minimalist from Minnesota,
Don't waste my time and I won't waste yours.
You are the woman I love, of course.
I'm crazy about you and always have been.
And don't make me say it again.
Cause I'm a minimalist from Minnesota,
A man of monumental brevity.
That's me.
--Garrison Keillor's poem "That's Me," from O, What a Luxury: Verses Lyrical, Vulgar, Pathetic & Profound (Grove Press)

Love is in the air today, but who says it can't continue through spring if you're up to the challenge of entering "Love Letters": Common Good Books' Second Annual Poetry Contest"? Author, entertainer and indie bookstore proprietor Garrison Keillor is "putting up some serious cash" in support of good verse, with a $1,000 first prize and four $250 runner-up prizes. Judges for the contest are Keillor, Tom Hennen and Patricia Hampl. Finalists will be named April 20 and winners announced April 27 at a celebration of poetry in St Paul, Minn.

"Proclaiming one's love is the great test of a poet, to put irony and satire aside and the great everlasting litany of complaint and to put your heart on the line. That is where you reveal yourself as a human being. It's not for the timid," said Keillor.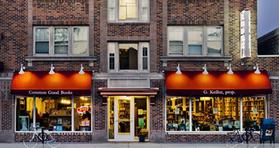 David Enyeart, the bookstore's event coordinator and assistant manager, explained that transitioning from a regional contest to a national one has been a natural evolution for the store: "Having fun and drawing some attention to poets sounds like a good day to me. But this isn't altruism. We're living up to our motto--'Live Local, Read Large'-- by showing everyone that reading and writing are important because they connect us with each other and with the whole world. That message is worth a little effort, we think."

He also noted Common Good Books "is fortunate among bookstores to have a solid base of poetry fans among our customers. So of course, we're serving them by running this contest and helping them to become better writers and readers of poetry. Last year's contest was well received here in St. Paul, and we're pleased to continue our burgeoning tradition with this year's bigger prizes.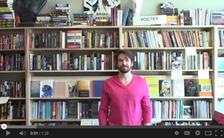 Colin McDonald in promo video for this year's Common Good Books' Poetry Contest
"Poetry isn't just something that Minnesotans like; it's for everyone. The more people are talking about poetry and writing, the better for all of us in the book world. If our contest sends someone into a bookstore in Wichita, Kansas, or Portsmouth, New Hampshire, looking for a writing guide or a slim volume of inspiration, we'll be happy. If a bookseller in Michigan can use our contest to lure a customer into their Poetry section, our efforts will not be in vain."

Poets, aspiring poets and even non-poets are welcome to enter. For those who need a little help, the Common Good Books tumblr features a contest advice page, where tips will be shared "on how to win at (writing) love from some of our country's best poets," including Tony Hoagland, Deborah Garrison (poetry editor at Knopf), Richard Blanco, Henri Cole, Sophie Cabot Black, Kathleen Flenniken, Jim Moore and Kristin Naca. Sage counsel on "How to Write a Love Poem" begins today with Graywolf Press executive editor Jeff Shotts.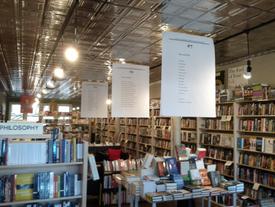 Last year's poetry finalists on display at Common Good Books
To enter the Common Good Books Poetry Contest, "just craft a paean to your favorite person, place, or thing. Pour your love onto the page, shape it well, and mail your love letter to Common Good Books before April 15. Fame and fortune could be yours," the organizers proclaimed.

Why snail mail entries in a digital age? The answer is both traditional and practical, according to Enyeart: "I'm going to make entrants mail us their poems because we are proponents of ink on paper and because I need a signed release so we can publish their work."


The rules:
The contest is open to anyone living within the United States.
The poem must be a declaration of love for a specific person, or being, or object, or place--i.e., something tangible.
The entries must be unpublished anywhere, and the author must have full rights to the material.
Only one entry per person.
Entries must be mailed to Common Good Books (38 S. Snelling Ave., St Paul MN 55105), postmarked no later than April 15, 2014.
Entries must include a signed release, available at http://commongoodbooks.tumblr.com/advice

"My dream is to spark a nationwide conversation about poetry. I'd love to see grandparents and grandchildren sitting down together and writing odes to breakfast cereal or mud puddles," said Enyeart. "I'd like to know that lovers across the country will craft slightly better text messages because they honed their skills writing poems for our contest. I want to eliminate the wrinkled noses and shy stammers that come when you say the word 'poetry' in airports and shopping malls. I want to discover the next Poet Laureate in an overlooked ZIP code.

"More realistically, we'd like to show everyone that poetry is not only something that you read, it's something that you can make. And whether a poem earns a thousand dollars or just one smile, our contest aims remind people that words on paper can change lives. As booksellers and book lovers, we're big believers in the power of words on paper to move people." --Robert Gray, contributing editor