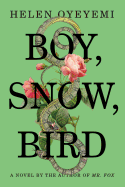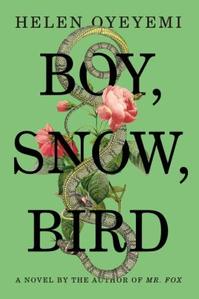 Readers who have followed Helen Oyeyemi's career have come to expect the unusual from her, rendered in virtuoso prose. Boy, Snow, Bird delivers once again, though it is in many ways more down-to-earth than her previous offerings. While it has surreal echoes of myth and fairy tale, as well as some plot twists that just barely fall short of defying what is plausible, Boy, Snow, Bird feels like a venture into a more mainstream accessibility. Unlike the delightfully dizzying Mr. Fox, it offers a clear and linear plot even as Oyeyemi incorporates her trademark use of fairy-tale symbolism. In Mr. Fox, Oyeyemi reconfigured the tale of Bluebeard; with Boy, Snow, Bird she takes on Snow White, cleverly weaving together the "white" obsession inherent in the fairy tale and the mirror of the wicked queen--in which she constantly assesses her own beauty--to explore questions of identity, specifically with regard to race and gender.
Though it's set in 1950s America, Boy, Snow, Bird resounds with an immediate relevance. Much of the novel is narrated from the perspective of the oddly named Boy Novak, a pale blonde growing up in New York City with an abusive father who is known as "the rat catcher." After a particularly brutal episode when her father nearly feeds her face to his rats, Boy flees New York City, taking a random bus out of the Port Authority and ending up in Flax Hill, Mass. Soon she meets the symbolically named Arturo Whitman, whose stepdaughter, Snow, is beautiful, pure--and needs no interpretation.
When Boy gives birth to a dark-skinned daughter, Arturo's secret (and the irony of his last name) is made clear; his family is African-American, though their fair skin enabled them to blend successfully in the white community of Flax Hill. Questions of identity whirl about in the events that unfold--in the character of Bird, Boy's free-spirited daughter; in Snow and her enigmatic appearance of perfection; and in Boy herself, whose behavior toward Snow shows all the markers of the wicked queen from the fairy tale. But like all the characters in Boy, Snow, Bird, Boy's identity is mercurial, ever-changing; she retains a choice until the end as to what she will ultimately become. --Ilana Teitelbaum
Shelf Talker: Granta Prize winner Helen Oyeyemi turns her ingenuity with language and folklore to Snow White, using it as the basis of an exploration of race and gender identity in 1950s New England.